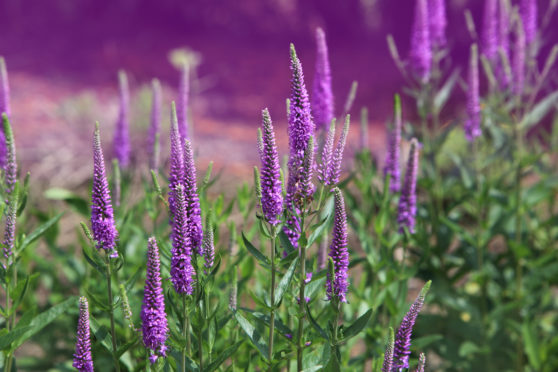 This week should have been the high point for holidaymakers in Scotland, with thousands jetting off in search of sunshine.
At least this summer we don't have to worry about our gardens suffering in our absence or make elaborate arrangements to keep plants and greenhouses ticking over.
Staying at home does have its compensations and if you are one of the many who devoted time and energy to their garden when lockdown got under way then you'll be reaping the benefits now, with a garden that's looking its very best.
I've used the time spent at home to plant lots of perennials and some of them, including agapanthus, Gillenia trifoliata, which produces lots of small white flowers, and Veronica spicata Red Fox with its fuchsia pink spikes, are now in flower.
I also planted Sanguisorba tanna, which by now should be covered in dozens of bobble-shaped red flowers but for several weeks it has seemed as if the plants themselves were getting smaller and that some of the flower stems were disappearing before they had a chance to open.
Finally I've discovered the cause of the problem.
A vole has dug a hole behind the plants and early every morning pops out to pick leaves, stalks and flower stems, hiding them in a stash under the leaves of a neighbouring hosta. Sometimes it's joined by a baby rabbit, which I've noticed doesn't touch the sanguisorbas but does snack on everything else.
Aside from being a favourite food of voles, sanguisorbas, or burnets, to give them their common name, are a useful addition in any garden, growing happily in full sun or partial shade. They have an airy appearance and their toothed leaves look as if they've been cut with pinking shears. I've got only a handful of plants, but once these mature, voles permitting, my plan is to divide them and spread them across the garden where they should produce flowers from late June until early autumn.
I love plants that can be propagated easily. It's a great way to fill space and it's fun to swap things you've grown yourself with friends. I'm just about to trim the box balls, but before I do I'll take lots of cuttings. Over the last week I've been pricking out hundreds of primulas grown from seed and I'm picking a spot for the climbing rose that started out two years ago as a cutting.
Everything grown in this way gets pinched out regularly in order to produce sturdy plants and I remove flower buds in the first years so that all the energy goes to the roots. Plants you raise yourself are already acclimatised to conditions in your garden…many things will grow, all it takes is patience.