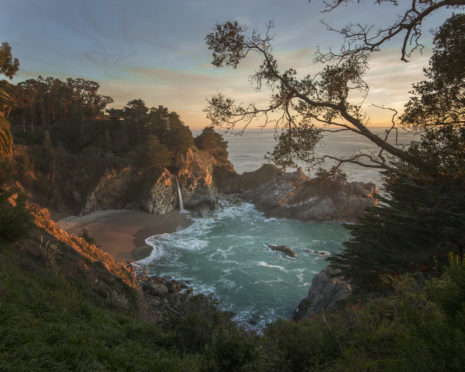 Windows down, wind in our hair, we cruise out of Las Vegas, towards the vastness of Death Valley. California, here we come.
Dreaming of the iconic US road trip, five friends and I have rented an RV and begun a 1,300-mile journey, covering the huge expanse of the Golden State in just 10 days.
And, while the usual Californian hotspots of San Fransisco and Los Angeles are on our list of stops, it's the road trip itself and the great unknown which we are most looking forward to.
With Vegas retreating in the rear-view mirror and the sun starting to set, we ease ourselves into the journey. Our first stop, Furnace Creek, is just a couple of hours' drive from Sin City. Smack-bang in the middle of Death Valley, the little settlement lives up to its namesake. Holding the record for the world's highest air temperature, its hot, dry, and boundless desert plains stretch as far as the eye can see.
But as the sun lowers over this wilderness of nothing, the shadows and changing hues of the earth create a magnificent spectacle: a real-life artwork of reds, browns, oranges and ochre, painted by the setting sun.
The next morning, we pack up the RV and head west, just like they do in the movies.
Our destination: Lone Pine.
Speaking of movies, this little wild-west village, nestled in the foothills of the Sierra Nevada mountains, has featured heavily in Hollywood blockbusters. After an afternoon's exploring, we set up camp at Owens Lake – bonfire, barbecue and s'mores at the ready.
Another sunset spectacular unfolds behind Mount Whitney. Purples, blues and reds illuminate the snow-capped peaks.
Rarely will even the most meticulously prepared road trip go fully according to plan and, in this case, our route through Yosemite National Park is thwarted by 3ft-high snow drifts.
But, thankfully, with our beds, supplies and everything else we could possibly need packed into the van, a change in plan isn't a problem.
Looking at our maps, we decide to continue north to Lake Tahoe. The largest alpine waters in North America, the azure fresh water is flanked by forests, mountains and huge rock formations.
After a few days of looking at nothing but desert, the waters ignite a fresh need to see the ocean, so we continue west towards San Francisco.
Route 1, familiar from The OC and Big Little Lies, is one of the most iconic coastline highways in the world.
Kissed and thrashed by the Pacific Ocean, the route runs from San Francisco, passing through Monterey and Big Sur, before merging with Route 101 in Santa Barbara.
The thrill of the road trip truly hits us as we experience the winding cliffs and glistening horizons of Big Sur. Sea otters frolic in the kelp forests below us, the legendary Bixby Creek bridge comes into view, and more and more unexpected, wonderful surprises leave us spellbound. McWay Falls, flanked by wildflowers and lush fauna tumbling into the ocean, is one of them.
We next take in the sights of Santa Barbara – the Santa Ynez Mountains forming a dramatic backdrop to the city's upscale boutiques and restaurants.
Instead of heading into LA, as we know having the van in such a huge city would prove tricky, we pitch up in nearby Santa Monica, parking next to what looks like a rundown seafood bar.
Another moment of road-trip spontaneity wins out. We have unintentionally stumbled across Chez Jay, Santa Monica's most star-studded hangout. With just 10 tables and 12 bar stools, Chez Jay's shabby decor and complete absence of pretension has for decades drawn big-name performers seeking an escape from the media glare.
For us, it's our very own road trip movie moment that would never have happened had we been travelling any other way.
Heading back to Las Vegas to drop off our RV, with the highway stretching ahead of us one last time, we all agree there really is no better way to travel.
---
P.S. California has a number of different climates, ranging from Death Valley – the hottest place on Earth, to areas of year-round snow. Don't be caught out and pack wisely.
---
Factfile: Hire an RV from Cruise America, prices start from £93 per night based on six sharing. Flights from Edinburgh to Las Vegas start from £500, time of year dependent.