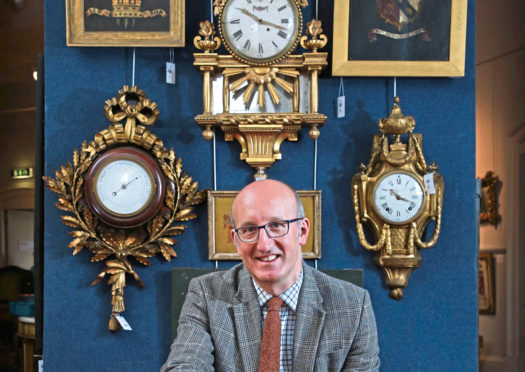 Spending more time at home than ever before over the past few months, our attention has, naturally, turned to cleaning, clearing and decluttering – something that has made Gavin Strang exceptionally busy.
Since lockdown hit, the Edinburgh-based auctioneer has seen his work – and calf muscles – go from strength to strength, spending up to 12 hours a day on his feet to host virtual sales of everything from rare books to antique furniture as demand for his services has skyrocketed.
Although initially worried bidders would miss the buzz and excitement of waving their paddles in person, Gavin soon found online sales were a big hit, with thousands of people from around the world logging on to bid with the click of a mouse.
"We've had to reinvent the way we auctioneer over the last six months, switching to live online sales, and people have been bidding away furiously," explained Gavin, who is manager director of Lyon and Turnbull auction house.
"At the beginning of lockdown, we had a lot of items already in stock to sell so we switched to doing everything remotely – and it worked. The next worry was where we would get new lots, as we couldn't get out and about to people homes.
"We did wonder how that would work, but people were happy to just send their items to us, using videos or photographs rather than in-person meetings. And, as lockdown eased and we were all able to move around a bit more, people started going crazy sending stuff in for valuation."
He added: "I suspect people have been looking around the house, deciding to change things a bit if they're not spending money on holidays and that sort of thing.
"Online we could have a couple of thousand people, easily, whereas you would only ever have one or maybe 200 in the room, so the auctions have been really strong. It's been a bit of a shock to the system. Honestly, we keep waiting for everything to hit the skids but it really hasn't."
If countless episodes of Antiques Roadshow have taught us anything, it's that unique and valuable items can turn up in the most unusual of places – and, during lockdown, while hunting in an old country house attic, Gavin was lucky enough to make a find even he was shocked to discover.
He explained: "One of the best sales we had, which was put together during lockdown and sold just after, was a sale of items from the attic of Balcarres House in Fife, which is home to the Earls of Crawford and Balcarres. The sale was about 280 lots and included some amazing finds. There were some old curtains – which actually sold very well – and tucked in amongst them, in a wee plastic bag, was a 17th Century Indo-Portuguese needlework, which was incredibly rare. In fact, it was so rare and in such good condition, we couldn't quite believe it was that old – but it was, and it went on to sell for £15,000.
He added with a laugh: "When you are the Earls of Crawford and Balcarres, all sorts of interesting things end up in your attic.
"Part of the fun of the job is certainly hunting for buried treasure – that's the way I like to think of it, anyway. We're always on the lookout for things that have been forgotten about."
As a specialist in the valuation of tapestries, rugs and carpets, Gavin has a fondness for all things woven and sewn – items which, he believes, can often be overlooked by not only collectors but also homeowners, who don't realise the true value.
Having started his career at Christie's in Glasgow in 1997, the 48-year-old admits he's had the pleasure of handling and selling a variety of artworks and antiques, but the sale that most stands out over the past two decades was a dusty old carpet.
"Years ago, I was put in touch with a couple who were moving out of an old house in the Borders," he explained. "They were putting a lot of old stuff in a skip, including a massive carpet, which was threadbare, had loads of holes and really needed a very good clean.
"A friend of theirs said they should check with me before throwing it away, and I received a load of blurry photographs – this was very much pre-digital – in the post.
"Even from the photos I could tell the carpet had potential, mostly because of its size, type and design. On the day of the auction, it ended up selling for £120,000, which was much better than putting it in the skip!"
He continued: "You can go into the most unexpected places and find incredible things. I remember going into a rundown flat in Glasgow and finding the classical-type treasures – things like Charles Rennie Mackintosh furniture and colourist paintings. You just never know where you're going to find real treasures."
And after all these years, and countless lots sold under the hammer, Gavin admits he's still often tempted to keep some of his finds for himself – or he would if he was allowed.
He said: "One of the reasons we're all in this business is because we all have an innate love for art and artworks. It's a real pleasure to handle and be associated with these objects, even if it's just for a couple of months while it passes from one owner to the next. Would I love to keep most things? Of course, yes. But I don't think my wife would be too happy about it."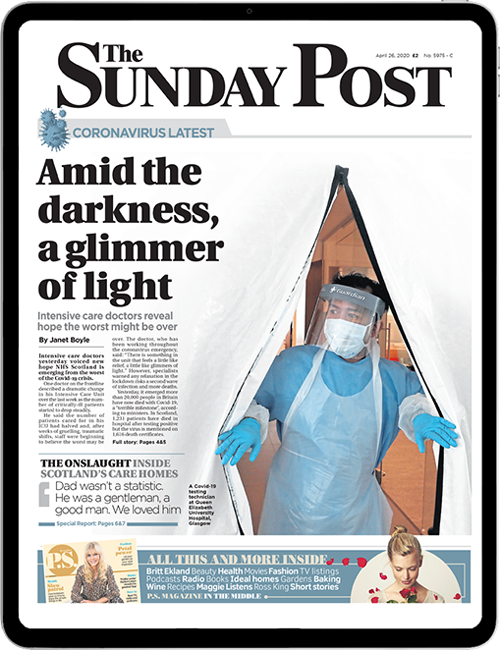 Enjoy the convenience of having The Sunday Post delivered as a digital ePaper straight to your smartphone, tablet or computer.
Subscribe for only £5.49 a month and enjoy all the benefits of the printed paper as a digital replica.
Subscribe