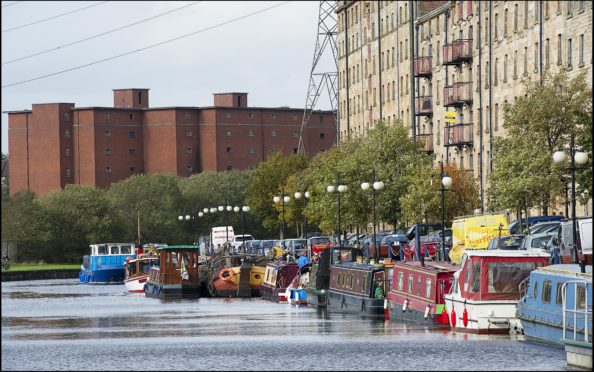 Glasgow's canal area is to be transformed with boat taxis and trips, an outdoor classroom and community food events thanks to a £36,000 funding pot.
Local groups and initiatives have been awarded monetary support to create exciting new activities and innovative projects across the area.
It is hoped the funding will bring the unique heritage of the city's canal to life, engaging local communities and attracting new visitors after the current coronavirus lockdown has been lifted.
The Heritage Project Fund, which supports and empowers the local community, is funded by The National Lottery Heritage Lottery Fund and overseen by the Glasgow Canal Co-operative on behalf of Glasgow City Council. The Co-op received innovative proposals to transform the canal from across the community.
Christine Kuhn, Glasgow Canal Co-op chair, said: "Glasgow's canal is a truly special landscape with a unique history. This pot of funding will help empower people to help capture the strong cultural identity and sense of place that is engrained within communities lying along the edge of the canal, or for those that have lived in, worked near or enjoyed the canal over generations.
"It's fantastic to see such a breadth of projects put forward which put the canal's heritage at the centre and will engage local communities, attract new visitors and help the continued regeneration of our area, from within. We can't wait to see them come to life – it gives us lots to look forward after what will have been a tough time for all."
Among the organisations to benefit is Navvies' Barge, who plan to use the funds to launch a free monthly boat bus service along Glasgow's stretch of the canal and offer free boat trips for organisations and charities working in deprived areas nearby.
The floating social enterprise will also train volunteers to be qualified skippers, paint the barge in a traditional canal art style and transform the boat's back room into a 'history snug' exploring the background of the waterway.
An outdoor classroom for children and families in the Claypits Urban Nature Reserve, complete with an outdoor shelter, will be created by Hamilton Family Learning Centre, allowing families to continue exploring the nature and wildlife on their doorstep in Glasgow.
New social enterprise Gathering Ground has plans to run food-focused events with its share of the funding to bring the community together. It will design and create a large set of hand-thrown crockery based on local people's ideas, memories and stories of the canal district, which will be based at the renovated Old Basin House.
The crockery will be used at a celebratory supper as well as at food events and workshops throughout the year.
An outdoor cooking and eating area is also planned for near Civic House thanks to Agile City, while Saracen Street Traders will animate the bustling street with a new look and signage inspired by the canal.
Councillor Kenny McLean, City Convener for Neighbourhoods, Housing and Public Realm at Glasgow City Council, said: "These projects on Glasgow's Canal and its banks will in the future be of great benefit to a whole range of people, making use of this treasured open space in the city.  Such schemes will continue the rebirth of the canal when they begin."
Catherine Topley, Chief Executive of Scottish Canals, added: "Like the city, Glasgow's Canal has a proud and rich history. The area has seen a tremendous transformation in recent years, with people and community remaining at the heart of these changes to bring real benefits to the people of North Glasgow and beyond.
"This funding will allow even more people to experience, enjoy and celebrate the incredible environments and heritage Glasgow's Canal has to offer. We would like to congratulate all the successful applicants, who we look forward to working alongside when it is safe to do so."