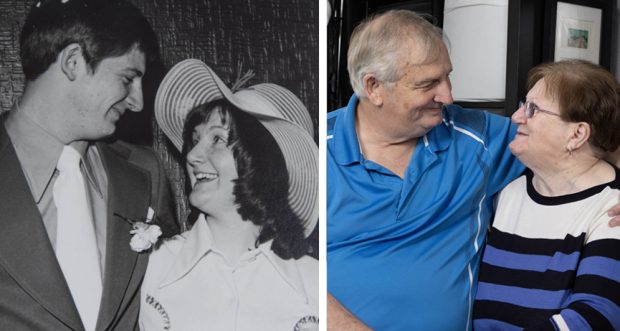 Rattling along the M8 at 30mph in a Green Goddess fire engine, a young RAF airman from Yorkshire had no idea his life was soon going to change forever.
Steven Bentham-Bates was just 18 years old when he was drafted in to cover strike action by Glasgow's firefighters 50 years ago this week.
After a quick crash-course on how to extinguish blazes at Edinburgh's Redford Barracks, he was assigned to a crew when they reached Maryhill.
Little did Steven know that saying yes to a soldier, who asked him to switch places so he could team up with his friend, would lead to him meet the love of his life.
He found himself placed at Springburn fire station, where, in the chemist's shop just across the road, worked a young lady by the name of Marion.
It ignited a flame that still burns strong, 50 years later, as the couple look forward to their golden wedding anniversary next year.
'I just knew that I was going to marry him'
"Who knows how things would've worked out if I'd said no to the swap," Steven said.
"There was a pub straight across the road and the chemist on the next corner. There was a fish and chip shop too, so we had all the important things there.
"I'd gone in for some toiletries, because we'd literally packed a bag with nothing, and she'd taken a shine to us!
"She caught my eye as well and we got chatting and then managed a couple of dates."
Marion, who was 19 and from nearby Balornock, recalls their initial encounters like they were yesterday.
"He came in and that was it. I just knew then I was going to marry him," she laughs. "It's strange, I said it to the girl I worked with.
"She said 'how are you gonna marry him when you don't know him?' I didn't expect to get to know him. I was waiting for my bus to go home, and they came out the fire station. He knew where the chippy was but he asked me anyway. A typical man chat-up line, eh, where's the chippy? The English patter certainly wasn't the same as the Glasgow patter!"
The unofficial walkout in Glasgow was the first in the Fire Brigades Union's history.
Three years before firefighters across the whole country took part in a national strike, spanning nine weeks, the dispute centred around overtime pay and lasted 10 days.
The strike was seen as a warning that firefighters were prepared to walk out, officially or not.
Much to the relief of the young men, and after attending many a bin fire set by local youths for their entertainment, Glasgow's firefighters returned to work for Bonfire Night.
Steven's crew was shipped to Dundonald Camp in Troon, ready to be dispersed back to their regular units.
But, before he went was sent back down south, he jumped on a train back up the coast.
"The courtship started from there," he said. "I was based in Yorkshire, so it was a three to four-hour trip at the weekends to come back by train.
"I was only a junior rank and couldn't afford it so I suggested we get married – we can have a married quarter on camp and then I don't have to traipse all the way up to Glasgow and back. How romantic was that? But it worked!"
The couple have been together ever since, marrying at the Martha Street Registry Office in Glasgow in 1974.
"I could've done worse!" Marion jokes. "He has his moments. He does a lot of good work for homeless veterans and he's a good man, doesn't blow his own trumpet."
The flame still burns
Fifty years, 18 homes, two children, eight grandchildren and a dozen dogs later, the couple look back fondly on the 10 days that changed their lives.
"I look back now and I think, crikey, we were young," Steven says. "Four of my grandkids are older now than I was then.
"Glasgow had a terrible reputation for fires so we couldn't have got a worse place to come and pretend to be firemen, because that's all we were doing really.
"We had senior fire brigade officers, who weren't on strike at each incident telling us what to do, point it that way, do that, do this. All we ever did was go and pour water on a few little bonfires and things. We had it lucky.
"We didn't really think too much about it. As youngsters you just get on with it – it was a bit of fun mostly.
"Marion grew up underneath the Red Road flats. I'd have been panicking if we'd had to go up and fight a fire in one of those."
The troops were also well looked after by the striking firefighters.
"As we were driving up for the first time there were about a dozen of them stood out on a picket just outside the entrance," Steven said.
"I was a little bit apprehensive because I didn't know how that was going to go.
"But they knew we had no choice in the matter and they were good to us. One of the officers at Springburn sent me a badge afterwards to say well done and thank you, which I've still got in a frame on the wall."
All change
Steven's RAF career took him to Germany, Cyprus and the Falklands before he retired for medical reasons. He's now the CEO of the Help 4 Homeless Veterans charity.
The couple returned to the scene of their first meeting to celebrate their 25th anniversary, but found that all had changed.
By then the fire station had gone, replaced with a block of flats, and all the surrounding buildings had been flattened as a dual carriageway was rolled through.
Marion said: "I always used to say that Harry Lauder would have a shock because he always says he belonged to Glasgow but it's all changed.
"The Springburn when I was growing up is totally gone. It was a thriving community. But nothing stays the same.
"I went to do a video of where I grew up and my schools to show my grandkids, and they were totally gone. It's sad but that's progress.
"I'm watching Rab C Nesbitt and Still Game and Taggart to see places I know but they're not there any more."
The couple celebrate Marion's 70th birthday and their golden wedding anniversary next year.
Steven is currently undergoing treatment for prostate cancer, but is looking forward to many more special memories with his family.
He said: "With all these anniversaries next year, I want to make all those and then anything after that's a bonus.
"Glasgow Fire Service will always have a special place in our hearts for bringing us together."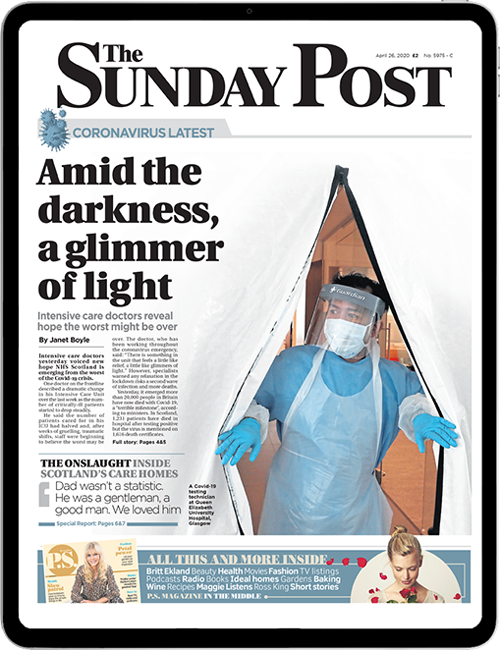 Enjoy the convenience of having The Sunday Post delivered as a digital ePaper straight to your smartphone, tablet or computer.
Subscribe for only £5.49 a month and enjoy all the benefits of the printed paper as a digital replica.
Subscribe