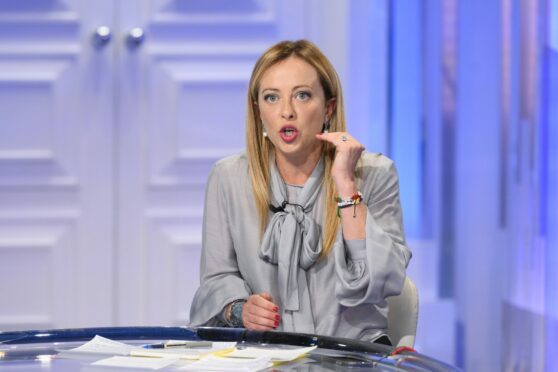 Mussolini's heirs are marching on Rome. That is the stark warning from those fearful a new right-wing government in Italy could herald a return to fascism.
Ahead of elections next Sunday, the hard-right anti-immigration Brothers of Italy are topping opinion polls, putting them in pole position to lead a right-wing coalition government.
International media coverage warning of a return to the 1930s, and pointing out Italy's new government will be sworn in around the time of the 100th anniversary of Mussolini's March on Rome, has struck a nerve. Is the country really in danger of a fascist revival?
The Brothers' leader Giorgia Meloni, 45, joined the youth wing of the post-fascist Italian Social Movement as a 15-year-old. She was a minister in Berlusconi's 2008 centre-right government but later led a breakaway.
Today, her party is nationalist. It calls for a naval blockade to stop immigrants arriving by boat, opposes rights and protection for LGBT people, and has sought to undermine abortion rights in regions under its control. For Laura Boldrini, an MP in the Democratic Party, the Brothers of Italy is infiltrated by fascist elements. Meloni's party speaks to "the far-right, which has never had a reckoning with its past" and wants a country "that denies rights to those she doesn't like."
Pointing to a speech in Spain at a campaign event by the far-right Vox party, in which Meloni expressed opposition to immigration and LGBT rights, Boldrini said: "She showed that she is not a moderate."
Giovanni Orsina, professor of political history at Luiss University in Rome, said it would be "the most extreme-right government in the history of the Italian republic". But to typecast Brothers of Italy as fascist or neo-fascist was a misrepresentation, he said, adding: "This is a party that is entirely in the liberal democratic camp. There is nothing they have said that goes against the constitutional principles of Italy, or against individual rights, freedom of speech."
"Their ideology is nationalist populist, like Trump," agreed Mauro Magatti, sociologist in political science. Meloni has rejected claims of fascism, and compares her party to Britain's Conservatives.
The Brothers of Italy "unambiguously condemn Nazism and communism" and "fiercely oppose any anti-democratic drift," she said recently.
The right consigned fascism to history decades ago, she claimed, "unambiguously condemning the suppression of democracy and ignominious anti-Jewish laws."
Rafaelle Fitto, Brothers of Italy MEP and co-leader of the European Conservatives and Reformists (ECR) group in the European Parliament, called the fascism narrative "an exploitative fairy tale" peddled by the left in absence of any real issues, when one in four Italians said they wanted to vote for Meloni.
The party was the true defender of democracy, he said, as it had refused to support unelected governments led by technocrats such as Mario Draghi.
The fascist label stings because the Brothers has been at pains to present itself as trustworthy, moderate and ready for government.
Meloni's hardest task is to reassure the EU that her party is not in favour of leaving the euro or the EU, or planning to weaken Italian democracy, but that it wants to give Italy a stronger voice in Europe.
Since 2019 the party has been part of the ECR group founded by David Cameron, rather than the nationalist eurosceptic Identity and Democracy group of Marine Le Pen. Meloni has built ties with US Republicans, speaking at Conservative Political Action Conference events.
While in the past she praised Vladimir Putin, since the invasion of Ukraine Meloni has been resolutely pro-Nato and clear that Russia is the aggressor, unlike her ally, Matteo Salvini, of the League.
Analysts are confident that even if the Brothers takes power, Italy's position on the EU and Nato won't move far.
Italy's high public debt, which puts it at the mercy of the international bond markets, means a commitment to the EU is necessary in order to avoid spooking international investors and prevent the cost of borrowing spiralling out of control.
Italy also needs to reassure the EU Commission that it should continue funding Italy's huge post-pandemic economic programme, said Orsina. "Italy's international alliances leave little room for manoeuvre," he said.
Nonetheless many in Italy, particularly on the left, have concerns about the prospect of this kind of government.
It is likely that Meloni will have more freedom to take extreme positions on social issues, which are less of a concern to international allies. Some of her most extreme proposals, including detention for immigrants and the naval blockade, may never happen as they are likely to clash with international law.
The party wishes to bring in a directly elected president, as in France. But the path is complicated by the need to rewrite the constitution.
Sabino Cassese, a constitutional judge, is confident that Italy's democratic checks and balances will obstruct any bid for an authoritarian takeover. He said: "Freedom and democracy are well rooted enough at every level of government to not fear a force on the left or right will put them in doubt. Italy has enough antibodies to correct illiberal or undemocratic drifts."
There are still ambiguities that need to be addressed in a party that wishes to govern. It is still a natural home for those nostalgic for fascism.
Meloni refuses to remove the fascist flame from the party logo, a symbol which is on Mussolini's tomb, despite calls from Auschwitz survivor and senator Liliana Segre.
The party has fielded descendants of Mussolini as candidates in local elections, and party representatives have attended events celebrating Mussolini, even when fascist salutes were performed.
But even Mussolini's actual heirs claim that talk of fascism is anachronistic. Rachele Mussolini, a city councillor in Rome, said: "They have no credible arguments with which to attack us so they turn to this science fiction."
And as support for the party has grown, the extremist elements are becoming less significant and less influential. "That there are nostalgic people in the party is beyond question", said Orsina. "But among the 24% of voters who support Meloni, they are a small minority."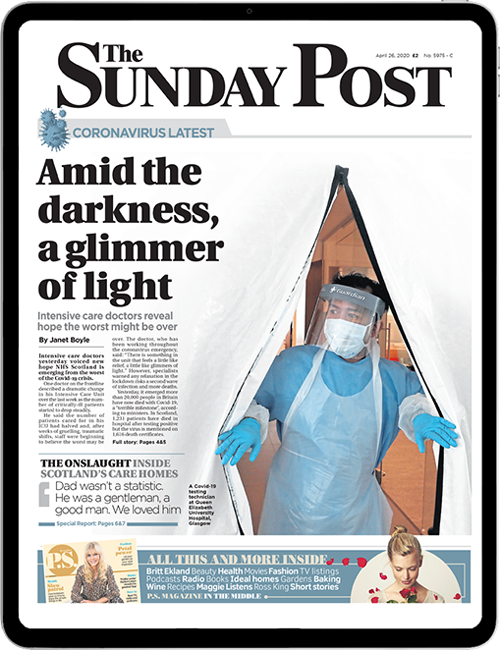 Enjoy the convenience of having The Sunday Post delivered as a digital ePaper straight to your smartphone, tablet or computer.
Subscribe for only £5.49 a month and enjoy all the benefits of the printed paper as a digital replica.
Subscribe