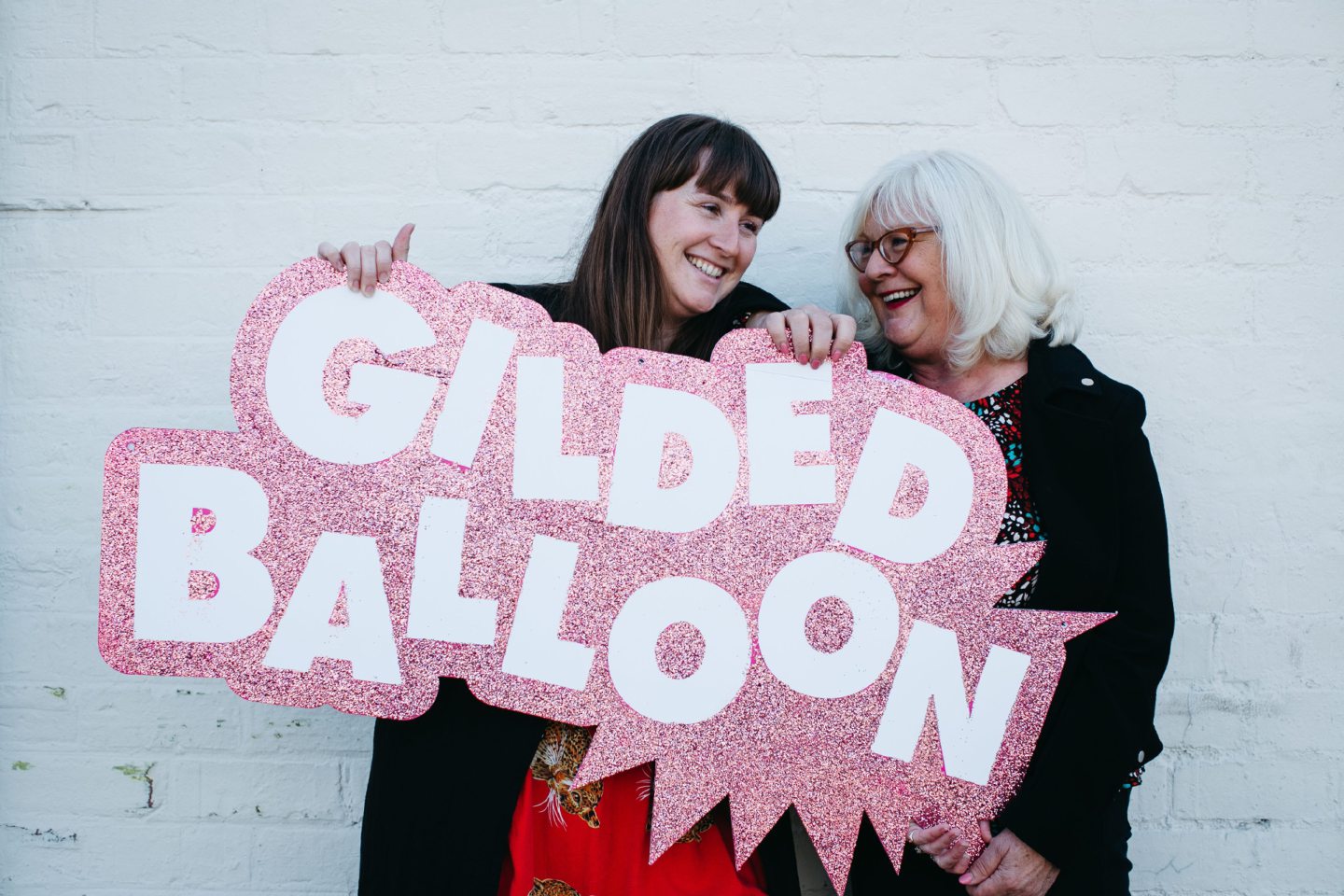 Karen and Katy Koren don't so much finish each other's sentences as derail the other's train of thought.
Witnessing a conversation between the pair is an entertaining spectacle, a collision between two generations, of a mother-and-daughter dynamic, and of two strong-willed personalities.
There might be continual, but mostly playful, bickering, and frequent annoyance between the two – Koren Senior towards her daughter repeatedly calling her Karen rather than Mum; and Koren Junior's irritation at Karen – or Mum – talking over her. But none of that dulls the passion and determination they display individually and, most importantly, as a team.
Those character traits, that teamwork, has never been needed more than during the past two-and-a-half years. As the artistic directors of the Gilded Balloon, one of the biggest and most important comedy venues and promoters at the Edinburgh Fringe, the laughs have been few and far between recently as the pair have fought fires just to keep the business afloat during the pandemic.
With the 2020 Fringe cancelled and last summer's event a drastically pared-back affair, just getting to the point where they can curate a Fringe programme in 2022 has seen them having to make a number of difficult decisions and sacrifices in what they say will be a five-year recovery plan.
Katy said: "The past two-and-a-half years has been a fight for survival, a time to batten down the hatches. We had some support from the Scottish Government's emergency funding but that didn't go towards a brighter future – it made us still be here today. We're starting from a difficult position and this summer is more important than ever, for sure.
"In 2020, we had to make 15 staff redundant, give up our year-round 130-seat theatre, reduce all of our costs, get rid of storage and sell various assets and try to save as much as possible. And, because of those savings, we're still here today. I think the support we've given each other over the past two years is the only reason we're still going. A lot of times we thought it wasn't going to happen, so the business of being a family has meant we can keep going and still be positive about the future."
Karen founded the Gilded Balloon in 1986, a short time after she'd begun promoting comedy – as a hobby, at first – in Edinburgh. Katy was born two years later and so grew up around the business. At first, she railed against following in her mum's footsteps but eventually joined the company in 2014 and has been co-artistic director since 2017.
Katy said: "Karen used to bring me into the office and dump me on a staff member's knee and they would have to look after me for the day, so I did a lot of painting venues black and putting stamps on letters and laminating passes."
"I'd come back later and say, 'What have you done to her?' because she was black from head to toe," said Karen, who also has a son, Kristian, born in 1969.
Katy added: "I went to the Fringe every year and worked at it from 16, but I resented it because it took up so much of Karen's time and it was all about Karen. She was the figurehead of the company, and I thought I'd never be that person because no one can fill her shoes. I went to London and did a degree in industrial design but then found my way into events and operations management and realised it was what I was good at."
Karen, 71, said she had been working hard for so long to keep the Gilded Balloon afloat that she didn't know quite how she would develop it for beyond her lifetime. Then Katy called.
"She said she would like to come into the business, and I said, 'Really?' My first thought was how on earth am I going to pay her, and how will she make a career out of it, but she was in London and cycling to work every day and I was scared she was going to be knocked down – you know, mum stuff. So we talked a lot, she tiptoed gently in, and she learned.
"We talked to a lot of people about the transition, of letting go and pulling back – and, as you can imagine, after more than 30 years that was quite a vulnerable thing for me to do – but because it's Katy and she's my daughter and I have 100% faith in her and in the business, I gladly gave it over."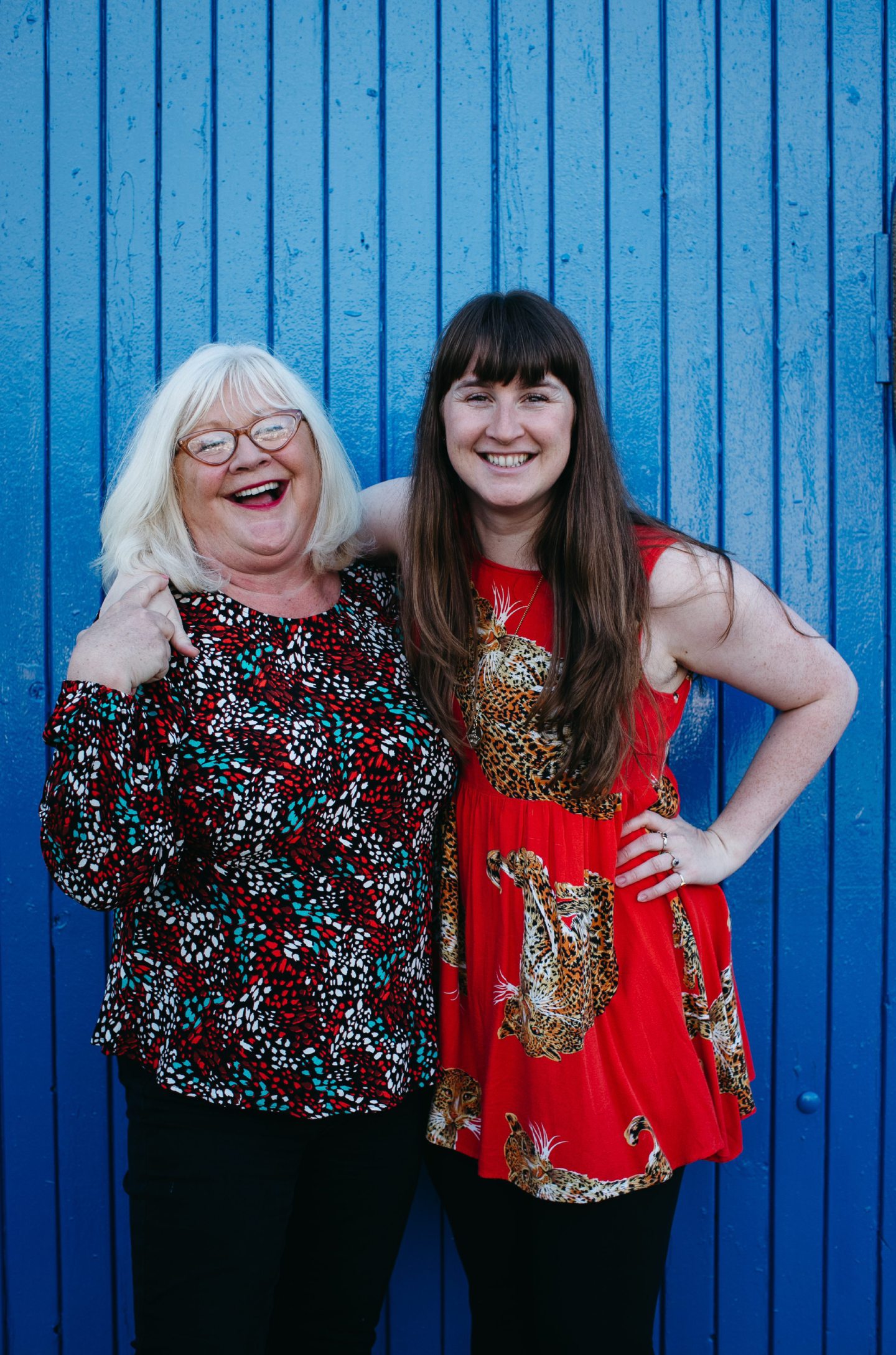 "You've not given it over, let's be clear," said Katy.
"Well, I've given you most of it."
"She's still very much involved," added Katy, "and is not planning on retiring anytime soon."
"I did programme the entire festival, mind you…" admitted Karen.
Founding and running the Gilded Balloon has given Karen a lot of happiness and opportunity but it hasn't been easy, from financial struggles to the devastating fire of 2002 to the obstacles of being a woman in a male-dominated world – something she says has improved with time.
"It's a lot better now. The comics never minded your gender so long as you put them on stage, but the industry was hard and I think it can still be harder for women. I know my voice wasn't being heard, so what happened was I got louder and I shouted more and I picked up a reputation for being very aggressive and vicious. I was regarded as being very hard and I really wasn't; I was just trying to have my voice heard.
"When I was doing things like building the venues, men would come along and say you can't do that, technical people would say I didn't understand, but I did and I want it like this please. I had to be tough and pushy, and sometimes I got into scrapes and fights, and staff would go off to the toilet crying."
Katy said: "It was a passion for what she was trying to do, and she had to be loud to be acknowledged."
"I've mellowed a lot since then," Karen admitted. "But in the early days I was passionate and aggressive. My background is Norwegian and they are very matter-of-factly and direct."
On the stage, too, conditions have improved for women trying to make it as a comic.
"The industry has become much more tolerable for women to perform in," Katy said. "In the '90s, there were very few women and they were self-deprecating, but there's been a total shift in the industry and it needed to happen for women to feel comfortable and to be taken seriously."
The Fringe is not without its faults or critics, from the overwhelming rental rates for performers to local residents complaining of their city being overtaken for a month. But, as Edinburgh residents themselves, the Korens will defend the festival to the hilt, while acknowledging some things need to be done differently.
Katy said: "The Fringe is our passion and we adore it. It's the biggest arts festival in the world and it's a privilege to have it in Edinburgh, which is the perfect city for this type of festival.
"It really upsets us when there's a lot of negativity around it. My view is that because we haven't felt the benefits for a few years that's why there is negativity and my hope is when it comes back, people embrace it, because it does bring huge benefits to the city.
"I totally understand it's an inconvenience to a lot of people. But it's an inconvenience for a limited period of time, so the locals might as well take advantage of the amazing aspects of it.
"There are really important conversations going on about rent increases and all of that, and I'm glad those are happening."
Karen said: "And we need our potholes sorted on the roads."
Katy added: "And if ScotRail can sort the trains, that would be great."
Karen laughed, and said: "If I won the lottery, I'd put on more trains."
If anyone could have stopped our rail system from going off the rails, it would have to be these two women.
---
Lots of lolz: Club boss on launching the careers of most talented comics
In 1988, Karen started So You Think You're Funny, which began as a way to find new Scottish comedians and it grew into a UK-wide competition.
Past winners include Peter Kay, Aisling Bea, Miles Jupp and Lee Mack, while the list of finalists over the years reads like a who's who of comedy stars – Romesh Ranganathan, Sarah Millican, Russell Howard, Jason Manford, Josie Long, Alan Carr, John Bishop, Greg Davies, Nina Conti, Sara Pascoe, and so many more.
"We have 500 apply and Katy goes to see all of them. We invite 56 of them to Edinburgh for the heats and then there's a grand final. Normally everyone in the final will go on to work in comedy," Karen said proudly.
"There has been a lot of names who don't even place, but who have gone on to be megastars, like Kevin Bridges," Katy continued. "It's the best part of my job and I'm
really enjoying learning more about comedy and all its different types."
Being surrounded by comedians for more than 30 years, the family has developed close relationships with many of them.
"I grew up with acts like Bill Bailey, Lynn Ferguson and Phil Kay," Katy smiled.
"Bill Bailey and Sean Lock did their first show at the Fringe," continued Karen, two framed pictures of Bailey visible on her office wall as she spoke. "Bill did his first show, Cosmic Jam, with Gilded Balloon and then he went meteoric.
"There's a picture of Tim Minchin up on the wall, too, and I found him in Australia and wondered why he hadn't made it yet. He came over and I put him into the biggest room, gave him a white piano, and pulled in every agent and journalist I could find and introduced him to everyone.
"He got the Perrier Best Newcomer award that year, went with the right agent, and did three years with us, as did Eddie Izzard in the early years. Steve Coogan and John Thompson won the Perrier with us.
"Ross Noble, Rich Hall, Dara O'Briain, Russell Brand, they all did their first shows with us. We want to help people who want to work and who want to make it.
"Talents like Aisling Bea, Hannah Gadsby and Maisie Adam are good examples of being determined to make it and they are now getting the praise they deserve."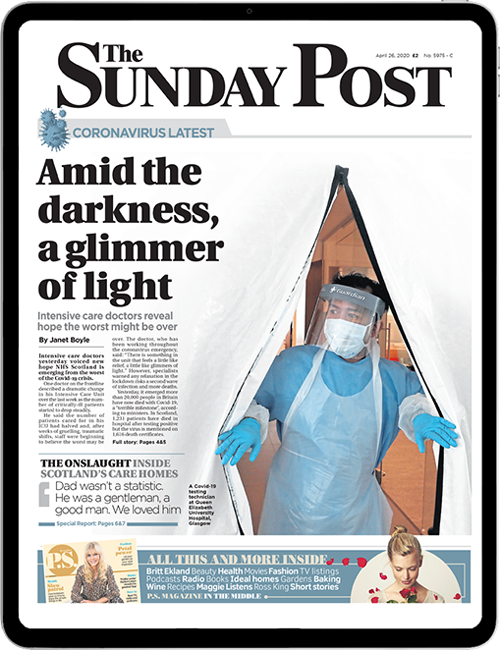 Enjoy the convenience of having The Sunday Post delivered as a digital ePaper straight to your smartphone, tablet or computer.
Subscribe for only £5.49 a month and enjoy all the benefits of the printed paper as a digital replica.
Subscribe