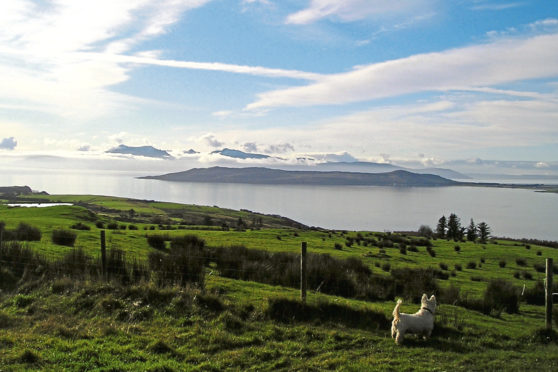 Standing on the ferry deck, my friend and I watch the Largs day-trippers shrink in the distance as we approach the slipway at Cumbrae.
During the short crossing from Largs, my friend's six-year-old daughter narrates our journey "across the ocean bound for a Treasure Island".
She informs us matter-of-factly that there could be pirates and we scan the Firth of Clyde for a Jolly Roger.
Her fanciful tale has been inspired by the treasure-hunting plans we concocted on the train journey from Glasgow. Having organised a day trip to explore Cumbrae's geocaching trails, the prospect of searching for caches with evocative names like Shallow Grave and Deadman's Bay has all our imaginations running wild.
Geocaching is a worldwide treasure hunting game. Paper maps with an "X" marking the spot are replaced by GPS technology, and the chests of gold have been swapped for plastic boxes of trinkets.
On arrival, I check the description of our first geocache aptly named The Cruel Sea. My phone directs us to a monument in memory of two drowned crewmen from the ship HMS Shearwater. An easy walk along the quiet road that circumnavigates Cumbrae leads us to the sombre stone obelisk.
After reading the clue, we appoint the youngest member of our team as the searcher. She is delighted with her role and immediately goes to work picking up rocks and examining under the picnic table. After 10 minutes of frenzied investigation she shrieks with excitement at success in her quest.
We sign the cache's logbook and replace the container before catching the bus to Millport. The following hour, we search the beach for a cache named Deadman's Bay before hunting around Garrison House for one called Whisky Galore.
A cafe lunch provides a chance to refuel and elect our last geocache of the day – Doughend Hole, with a view of Arran, Bute and Little Cumbrae, sounds too enticing to miss.
By the time we wander just over a mile along the coast, our searcher's little legs are getting weary. However, the anticipation of finding more treasure motivates her to unearth the hidden container.
There are 14 caches on Cumbrae so far, and you can find a guide on the Millport website.
Need to know:
When seeking caches, follow the Scottish Outdoor Access Code.
Getting there:
The ferry from Largs to Cumbrae runs roughly every half hour until 8.15pm. A bus runs between the Cumbrae ferry slip and Millport.
To get started, visit www.geocaching.com to read the rules and register for free.