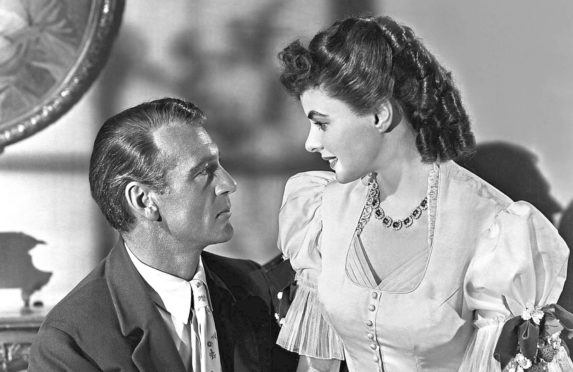 When Gary Cooper had starred in the film The Virginian, he had created the template for cinema cowboys of the future.
Having grown up around real cowboys, he was a natural, and his upstanding, humorous good-natured approach would shape how others played similar roles.
In real life, however, as he began making 1936 classic The General Died At Dawn – rated one of Hollywood's all-time best movies – things weren't so simple.
Cooper lost weight and felt depressed, lonely, under pressure and still coming to terms with quite sudden fame and fortune.
Gary Cooper wasn't your typical leading man.
For one thing, his unusual gait and walk was partly down to having been in a car crash as a teenager. He injured a hip, and his doctor suggested lots of horse riding to help, but this left him with a permanent off-balance walk and angled riding style.
So perhaps he enjoyed getting away from Western movies – The General Died At Dawn had him playing a man named only as O'Hara, and was nothing to do with cowboys. Based on Morris Cohen, a gunrunner for Chinese warlords, it was a role Cooper really got his teeth into.
Bluebeard's Eighth Wife, as its title suggests, was something altogether different again.
A romantic comedy with Claudette Colbert, at one point, it even saw Cooper singing Here Comes Cookie!
He played a multi-millionaire who'd had lots of wives, but who meets his match with his latest one. He is in a posh French Riviera store, trying to buy several pyjama tops but insisting that he doesn't want the pyjama bottoms. Colbert shows up and offers to buy the bottoms.
Madcap and quirky, it got mixed reviews but showed Cooper could be a very funny man – if not exactly a world-class singer!
Another 1938 film, The Cowboy And The Lady, cast Cooper opposite the exotic Merle Oberon.
Born in Bombay to a 12-year-old mother, Oberon was an extraordinary woman, nicknamed Queenie because Queen Mary had accompanied King George V to India the year she was born.
Alongside Gary Cooper, she created a great little movie, and The Cowboy And The Lady even saw him sing again, with both stars belting out Give A Man A Horse He Can Ride.
He made some weird and wonderful films!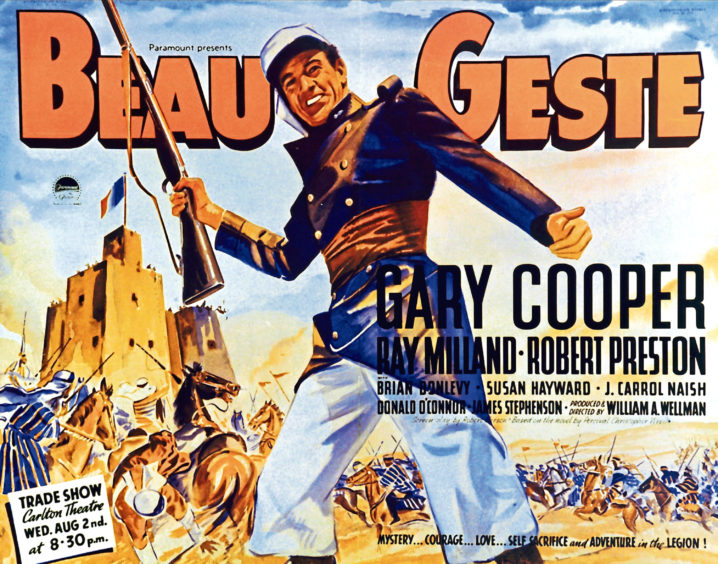 Beau Geste, the following year, saw him in the title role and gaining another big box office hit, though it went down less well in some places.
Parts of Canada banned the film to show respect to the French government, and in Italy, Mussolini and his fascists banned it too, claiming it showed Britain in too nice a light.
The Lives Of A Bengal Lancer, another Gary Cooper flick, would also be banned in Italy for this same reason.
Despite Canada and Italy, though, Beau Geste was a huge hit and remains very popular.
As was The Westerner – the 1940 movie Cooper didn't want to be in.
When he saw that Walter Brennan was in it too, Cooper felt he would be living in that star's shadow. Cajoled into doing it anyway, however, it worked a treat, and Brennan and Cooper would go on to make a string of great films together – neither being in the other's shadow.
As Texas Ranger Dusty Rivers – what a name! – in North West Mounted Police, presumably Cooper won over those Canadians who had fretted about his previous movie. Based on real-life incidents in Saskatchewan, they even premiered it there.
A tale of tribal uprisings and Mounties being ambushed, it was all-action with a bit of romance involving Paulette Goddard and Madeleine Carroll, and went down a treat. Even in Canada!
Meet John Doe saw Cooper play the kind of character that really clicked with the public.
When a journalist is sacked but then ordered to file one more article, she writes to the paper as John Doe, threatening to kill "himself" on Christmas Eve in protest at everything that's wrong with society.
Alas, the whole idea becomes hugely popular with the public, and she has to hire Cooper's character, John Willoughby, to play John Doe.
The file won an Academy Award for Best Story, and remains as topical and powerful as ever.
As if one 1941 cracker wasn't enough, it was also that year Cooper put out Sergeant York.
He played Alvin York, one of the United States' most highly-decorated soldiers in the First World War.
When his rifle was split in two by lightning, York seemed to have an awakening, and went on to become a hero in the war.
It cost a fortune to make, but today remains one of the highest-grossing films ever.
Ball Of Fire, yet another in a remarkable year, was again something totally different. This time Cooper played a professor researching modern slang.
A daft comedy with Barbara Stanwyck as Sugarpuss O'Shea, it was another huge hit.
Not a lot of actors, now or then, could make three such different films in the same 12 months.
Having done a superb job with Ernest Hemingway's A Farewell To Arms, 1943 saw Cooper get to grips with another of his tales, For Whom The Bell Tolls.
Cooper and Ingrid Bergman made a great team, and he played the American language teacher Robert Jordan during the Spanish Civil War.
Bergman was young guerrilla fighter Maria, but it was Katina Paxinou and Akim Tamiroff who got the biggest praise, winning Golden Globes for Best Actress and Actor in a Supporting Role.
Age and health meant Cooper didn't serve in the US military during the Second World War.
However, General Douglas MacArthur told him that he was enjoying Sergeant York in a Manila cinema when Japanese bombs fell, and Cooper toured widely to entertain the troops and serve food.
He also visited military hospitals and said his experience of the war was the most emotional time of his life.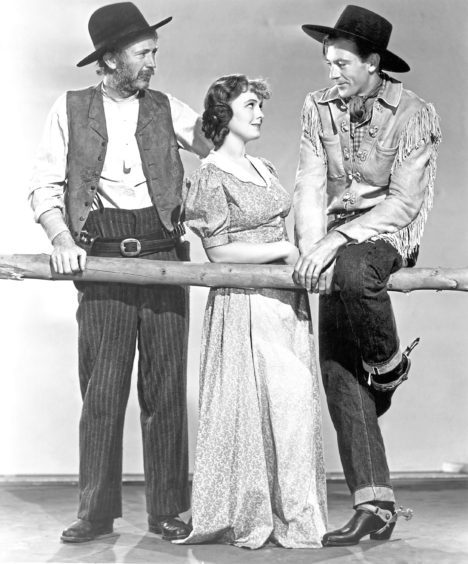 Wartime heroics were also behind The Story Of Dr Wassell.
Corydon Wassell was a US Navy physician who saved the lives of a dozen seriously wounded servicemen who would otherwise have ended up captured by the Japanese.
Even President Roosevelt had marvelled about his deeds on radio, and it was a role Cooper had to get just right.
At over two hours and directed and produced by Cecil B DeMille, they made a great film of an amazing great real story.
Loretta Young, who had been in films since the age of two, was his foil in Along Came Jones.
A comedy Western produced by Cooper, who had broken away from the big studios, it poked fun at his cowboy reputation.
With the name Melody Jones, you could have guessed he didn't want anyone to take him or the film too seriously, but it did leave a kind of legacy – the Western set he had built was used for the next 20 years in various other movies.
Saratoga Trunk paired him once more with Ingrid Bergman.
Filmed the year after Casablanca, it didn't come out until 1945, the same year she starred in Hitchcock's Spellbound.
The story of a Texan gambler and illegitimate daughter of a rich man, the unlikely twosome take on a society that has turned its back on them to seek justice.
Nobody seems sure why we had to wait two years for it, especially as the two were so great together, and it became Warner Bros' biggest hit of the year.
Fritz Lang, the maverick genius who gave the world M and Metropolis, was behind Cloak And Dagger, one of Cooper's 1946 movies. Lang had been summoned to the office of Nazi propaganda minister Joseph Goebbels and decided after the meeting to flee Germany in 1933.
Finding the banks closed, he said he had to steal his wife's jewellery to fund his escape.
The Nazis had wanted him to run a German studio, but he had wanted nothing to do with it.
So Cloak And Dagger would've been right up his street.
Cooper played a professor who leads US paratroopers into Germany, where they find an underground factory and dead concentration camp workers.
And evidence that they were working on nuclear weapons.
After the war, Cooper was forced to seek out different kinds of roles, as audience expectations were shifting, but this kind of part suited him very well indeed.
So it should come as no surprise that he went for something completely different next, in 1947's Unconquered.
Set in the 1700s and nearly three hours long, it was a historical adventure epic.
Cooper is Captain Christopher Holden, who buys a slave woman at an on-ship auction and tries to set her free, but romance and war then follow.
Cooper's last film with Cecil B DeMille, he was paid an amazing amount for it, but delivered another sterling performance.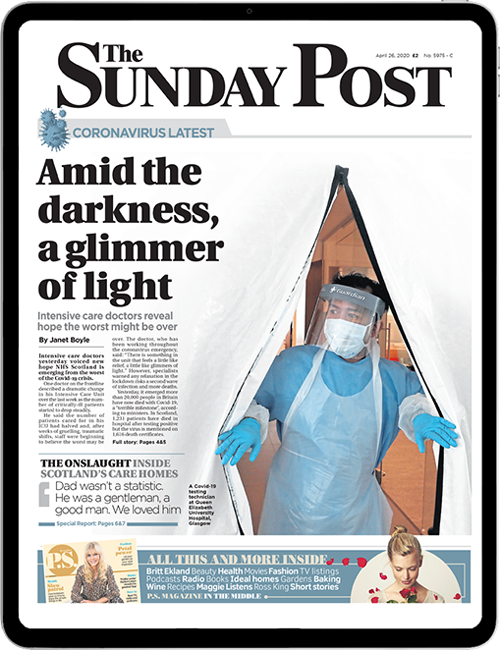 Enjoy the convenience of having The Sunday Post delivered as a digital ePaper straight to your smartphone, tablet or computer.
Subscribe for only £5.49 a month and enjoy all the benefits of the printed paper as a digital replica.
Subscribe