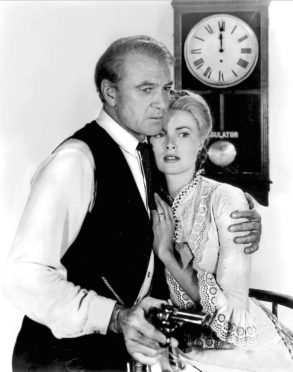 Gary Cooper sold his film company to Universal in 1948, giving himself financial security and real control over his career.
Not only did his new contract with Warner guarantee a huge fee for every movie from now on, he also had a big say in script approval.
Ironically he then made The Fountainhead, playing a man who cares less for his bank balance than his personal satisfaction and doing what he wants, not what others demand.
Some reckoned he was miscast as architect Howard Roark but the movie did well, even if writer Ayn Rand disliked what they did with her story.
When Patricia Neal replaced Lauren Bacall, Cooper didn't like her audition. However, they ended up making a very fine film.
In 1950 flick Dallas, Cooper played Blayde Hollister, out for revenge after his family is murdered by a gang of carpetbaggers who also destroy the family home.
Bright Leaf, that same year, saw Neal and Bacall alongside him.
He played Brant Royle, who has come back to his hometown to settle his uncle's estate.
Years before, a tobacco magnate and cigar maker had driven Royle and his father out of town because he envied their Bright Leaf, the best tobacco around.
Brant had made things even worse by falling for the man's daughter.
Upon his return, and helped by an invention to improve hand-rolling cigarettes, he becomes a ruthless, wealthy man, and the women who knew him feel the early, innocent Brant Royle has been lost.
Tons of drama, a high-class bordello, a suicide, ruined love, broken hearts, violence, houses burned down – it is a busy wee film with lots happening and not much of it very nice.
Cooper also pops up in the 1951 film Starlift, featuring guest stars such as James Cagney and Jane Wyman. Cooper sings Look Out, Stranger, I'm A Texas Ranger with various other big names.
However, that year was more about Distant Drums. Cooper played an army captain destroying a fort held by Spanish gunrunners in Florida.
This was the Second Seminole War, an 1840s conflict between Native Americans from various tribes and the United States.
It would end badly for them, with many then transported to Indian Territories, thousands dead on both sides and no peace treaty at the end of it all.
A so-called Florida Western, a highlight was Cooper's underwater fight to the death.
Ahead of him in 1952 was one of the highlights of his career.
High Noon, the film John Wayne turned down, saw Cooper in glorious form as Marshal Will Kane.
Torn between paying enough attention to his new bride and dealing on his own with a gang of killers, he revelled in the role and turned in a stunning performance.
Wayne had smelled a rat, reckoning the whole story was really about the anti-Communist blacklisting nightmare America was going through at the time.
Gary Cooper had no such qualms and made a real cracker.
Springfield Rifle, the same year, wasn't bad, either, even if it didn't live up to the extraordinary success of High Noon.
Cooper was Major Lex Kearney, drummed out of the Union Army for cowardice, his son running away from home with the shame of it all and trying to keep his identity secret.
He's actually on a top-secret mission to locate rustlers and the Confederate spy who has been assisting them.
When a shipment of the game-changing new Springfield rifles arrive, he grabs his chance.
An espionage thriller between the opposing Civil War forces, it was a cracking idea and Cooper and his fellow stars did it justice.
Although some reckoned the Cooper career was starting to go downhill in the early 1950s he was still making an interesting variety of movies, all of them at least very decent.
Blowing Wild was another racy story, a love triangle set in Mexico's oilfields with bandits still running riot everywhere.
This time he was Jeff Dawson, wildcatting for precious oil in places nobody else expected to find any.
After bandits destroy their oil rig he and fellow penniless wildcatter Dutch Peterson head back to town, where Sal Donnelly tries to use her charms to get Jeff to buy her a train ticket back to her home.
Paco, played by Anthony Quinn, comes to realise that Jeff is the other man his girl is interested in, but he ends up dead after being thrown into machinery at the bottom of an oil well.
Not a nice way to go.
Before long, Jeff is helping the local police battle back against the bandits, and finding the cash to get Sal's rail ticket.
With Barbara Stanwyck involved once more, it was another that the sniffy critics didn't love but the people who matter did.
They came up with all sorts of reasons for being underwhelmed by movies back then, when there were so many classics that the merely very good were dismissed.
Garden Of Evil, from 1954, was lambasted because of its brilliant scenery!
"Although the story and its fireworks are interesting, they are dwarfed by the rugged mountains and lush coconut and banana tree jungles of the film's natural settings," said one critic.
Once more set in Mexico, it was the tale of three soldiers of fortunes sent to rescue a heartbroken woman's husband.
Audiences loved it, and not just the scenery.
Ulcers, hernias and other troubles all ate away at Cooper's life at this point. Only in his early 50s, he would be dead by 60, but he tried his best to keep turning out great films.
That same year's Vera Cruz was another fine example. With Robert Aldrich directing and Burt Lancaster, Charles Bronson, Cesar Romero and Ernest Borgnine all involved, it was bound to be good.
Cooper played Ben Trane, a former Confederate soldier after work in the Franco-Mexican War.
Deadly gunslinger Joe Erin, Lancaster's character, buddies up with Trane and they and their gang are paid to escort a Countess to Veracruz.
She was played by the stunning French actress Denise Darcel. A baker's daughter, she had been a Paris cabaret singer dubbed the Most Beautiful Girl In France.
Alongside so many tough macho men, she definitely brought something magnifique to the film.
Gary Cooper was back in Darcel's real hometown for Love In The Afternoon in 1957.
Filmed in Paris, it paired him with Audrey Hepburn, 28 years his junior.
Billy Wilder had wanted Cary Grant, the man who always turned down Wilder's films, or Yul Brynner.
He made do with Cooper because they related to each other, according to Hepburn, who pointed out: "They talked about food and wine and clothes and art."
Alas, the United States audience didn't take kindly to the large age gap between Cooper and Hepburn, despite the fact that the story hinged on it.
Even Wilder admitted: "It was a flop. Why? Because I got Coop the week he suddenly got old."
Forget the age difference and watch it now. Gary and Audrey made a pretty neat team, as you would expect, regardless of age.
She's a young cello student and he's an older business magnate; it wouldn't have worked if they'd been the same age.
His character in Ten North Frederick was already dead by the time it started. As distinguished attorney Joseph Chapin, the film sees his funeral then goes into flashback mode.
It's thought they had wanted Spencer Tracy, but nobody could replace another big name and change your mind like Gary Cooper could.
The Wreck Of The Mary Deare, one of Cooper's last movies, saw him alongside Charlton Heston in the sort of role he might have repeated if he had lived longer and got to show us what he could do in older age.
He was Gideon Patch, captain of the drifting ship that Heston's character, John Sands, wants to salvage.
Nobody seems quite sure what happened to the ship, or the dead previous captain, and they have different ideas about its future.
Alfred Hitchcock had looked at adapting the original story but feared it would only become a boring courtroom drama, so off he went to make North By Northwest.
Hitch had always wanted to work with Cooper but it didn't happen, although Gary and team did turn it into something more than a bore.
The Naked Edge, Cooper's final movie, was shot in London and at Elstree.
He played George Radcliffe, whose testimony has put another man behind bars for theft and murder, while his own wife suspects he did it.
Sadly, by the time it came out in the summer of 1961, Gary Cooper had been dead for weeks.
Charlton Heston said of him: "He projected the kind of man Americans would like to be, probably more than any actor that's ever lived."
To Tom Hanks, he had been: "The future of acting, quiet and natural."
For Al Pacino he was: "A phenomenon, one of the great presences."
How sad that the Gary Cooper magic didn't grace our screens for much, much longer.