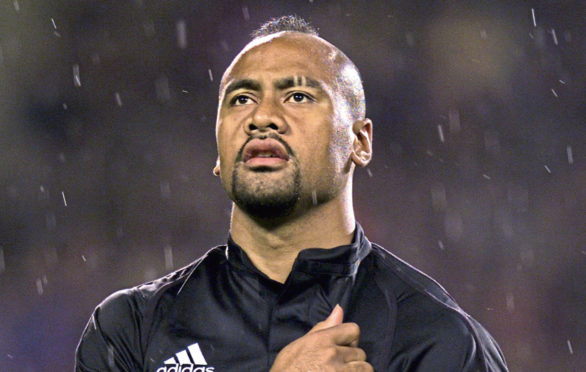 It's coming up to four years since rugby union lost arguably its greatest ever player when New Zealand's Jonah Lomu passed away at the age of 40.
Lomu is generally acknowledged as the sport's first global superstar and was a giant in physical appearance as well as reputation.
At 6ft 5in and close to 19 stone in his prime – allied with the pace of a sprinter who had beaten 11 seconds in the 100m – he was a formidable force as left wing three-quarter for the All Blacks.
He played 63 times for them, scoring 37 tries, and jointly holds the record for the number of tries scored at World Cup finals.
The most memorable of these was one of four he scored against England in the semi-final of the 1995 Rugby World Cup in South Africa when he bulldozed his way not just past but over and through defenders – he memorably trampled over Mike Catt – on his way to the line.
England captain Will Carling said ruefully: "He is a freak, and the sooner he goes away the better."
Yet for all his brute power he was cruelly brought down by a kidney condition which cut short his career, necessitated a transplant and eventually was a major contributing factor in his early death in November 2015.
The son of Tongan immigrants, Lomu made his Test debut for New Zealand in 1994 against France in Christchurch.
He was just 19 when selected for the 1995 World Cup squad, having won only two caps. All Blacks coach Laurie Mains had seen something special in Lomu's unstoppable displays at the Hong Kong sevens, where he ran around Australia's great winger David Campese.
Mains decided to take a gamble on the inexperienced Tongan, a bold decision that was vindicated by the seven tries he scored in the tournament.
With the eight tries he went on to score in 1999, Lomu is joint holder with South Africa's Bryan Habana of the record for try-scoring in Rugby World Cups, though Habana's feat needed three tournaments.
Although the All Blacks, weakened by a bout of food poisoning, had gone on to lose that 1995 World Cup final to South Africa, Lomu almost won the game for them.
He went on a devastating late run that beat several defenders but was halted close to the line by a despairing tackle from Springbok scrum-half Joost van der Westhuizen.
There was a moving scene at the World Cup staged in England when the two men greeted each other 20 years after the event.
Lomu was afflicted by his ongoing kidney ailment and Van der Westhuizen was in a wheelchair suffering from the late stages of motor neurone disease.
Lomu's career was all the more remarkable because he'd had the condition for many years before it was identified as nephritic syndrome in 1996, when he was 21.
He had battled the debilitating effects throughout his teens, and had always had to retire to bed after games.
He once remarked: "Imagine what I could have done healthy."
Jonah Tali Lomu was born in Pukekohe, a poor area of Auckland, on May 12 1975.
Following the birth of a younger brother, Jonah was sent to Tonga by his parents to live with an aunt.
He returned six years later barely able to speak a word of English. His father, a mechanic, was a heavy drinker who subjected his son to regular beatings.
Lomu grew up on the streets of south Auckland, surrounded by violence. When he was 12, his uncle was hacked to death by a gang of Samoans.
By the time he was a teenager the young Lomu was known to police, and at the age of 15 his father threw him out of the family home after a furious row.
His mother was eventually able to enrol him in Wesley College, a bastion of Methodist education and New Zealand schools rugby.
He started his career as a back-row forward before switching to the wing, which he described as "the best move I could have made".
He was the first of the giant wingers who are now a common feature of the game.
He was chosen for New Zealand's under-19s and under-21s before becoming the youngest ever All Black at 19 years and 45 days.
His performance in that 1995 tournament has been widely credited with helping attract the major commercial deals that enabled the sport to enter the professional era.
He so impressed Rupert Murdoch that the media tycoon reputedly instructed his staff to "get that guy" for a professional rugby series that would run on Sky Television.
Within months an annual Tri-Nations competition between South Africa, New Zealand and Australia was under way, underpinned by a professional Super 12 competition involving four teams from each country.
Lomu earned millions from marketing contracts with commercial giants such as McDonald's, adidas, Reebok and Heineken.
Even though he was never quite the same player after the nephritic syndrome became public knowledge in 1996, he was still a powerful force at the 1999 Rugby World Cup, in which he scored eight tries to go with his seven in 1995.
Lomu's final truly shining moment came in the 2000 "Match of the Century" against the Australian Wallabies in front of a record rugby crowd of 110,000 at Sydney's new Olympic Stadium.
The All Blacks won 39-35 thanks to a try scored by Lomu in the 80th minute after he managed to evade desperate tacklers while somehow remaining in the field of play.
Lomu played his last Test in 2002, aged just 27, and bowed out of first-class rugby the following year, by when he needed dialysis three times a week.
A kidney transplant in 2004 enabled him to play sporadically until 2010, but nowhere near to his former level.
As his career wound down. he made 10 appearances for Cardiff Blues between 2005 and 2006, shortly before his retirement.
By 2011, however, the transplant was failing and for the last four years of his life he was on dialysis for six hours every other day.
Though the kidney condition was the underlying factor, Lomu died suddenly from a heart attack the day after returning from working at the World Cup in England, which was possibly the result of a blood clot due to the long flight.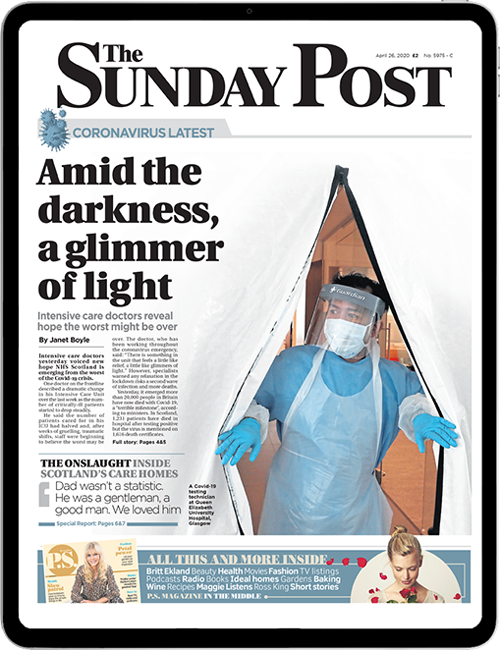 Enjoy the convenience of having The Sunday Post delivered as a digital ePaper straight to your smartphone, tablet or computer.
Subscribe for only £5.49 a month and enjoy all the benefits of the printed paper as a digital replica.
Subscribe