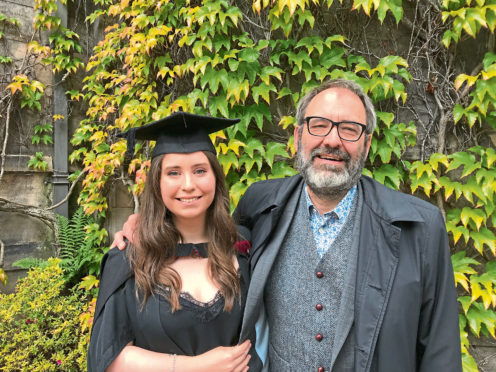 Tom Morton describes himself as "a dead man talking" giving the popular broadcaster, author and musician a particular perspective after becoming a funeral celebrant.
Two life-threatening heart attacks a few years apart delivered a special interest in how to best celebrate the lives of our loved ones once it is over.
Now the dad and grandad, who owes his life in large part to the quick thinking of his GP wife Susan and hospital doctor daughter Martha, has written a book aimed at celebrating life and encouraging us to think about and talk about how we want to go.
Shetland-based Tom, 65, who says he became "constantly aware of death peeping over his shoulder", is far from gloomy and the former host of BBC Radio Scotland's Morton Through Midnight and The Tom Morton Show says such life-and-death matters do not need to doom-laden.
He chuckles as he admits his book – It Tolls for Thee: A Guide To Celebrating And Reclaiming The End Of Life – which he began writing before the Covid-19 pandemic, is not easy to promote. "I can't exactly have a session where you could sign a book and say, 'To Jim all the best'. It's a tricky one," he conceded. "But I see the book as being useful; it's a set of tools but there is a lot of personal memoir in it and a lot of humour too."
It was originally going to be called How To Be At Your Own Funeral. In the end, he said, the title was inspired by the 1624 poem For Whom The Bell Tolls by John Donne.
He explained: "The Donne poem is incredibly powerful, 'do not ask for whom the bell tolls? It tolls for thee,' and that is the central point. We are all in this."
Morton had his first cardiac crisis in April 2015. In the book, he says he was "the most northerly heart attack victim in the UK that day". He was on Unst in a car park behind "the ominously named Last Checkout minimarket," when he started to experience pains in his chest and arm.
He took two ferries to his home where his daughter Martha, found him collapsed on the stairs. Together with her mum, they began to save his life while waiting for an air ambulance to Aberdeen Royal Infirmary, accompanied by Martha, who was one of its medical students. Doctors fitted a stent to open a blocked artery. But two-and-a-half years later, just after Christmas, he found himself in a similar position. Martha – home for the holidays was "here again for dad to nearly die," he writes.
Morton – who now presents a winter show, Tom Morton's Orcadian Dalliance, available on BBC iPlayer and a weekly live show on 60 North Radio called The Beatcroft Social and Musical Discoveries, a monthly online programme for Discover Scotland Magazine – said: "Leading up to the first heart attack I had had a long period of struggling with panic attacks on air and what I can only describe as a sensation of doom. When I got physical symptoms it was more confusion than anything else."
The former journalist – three of whose five children are doctors, including 2012 Great British Bake Off runner-up and author James – said: "I felt secure in the system and almost annoyed that I was putting people to bother. But when it happened again three years ago I was really quite worried. When that has happened and you haven't died, you're on tenterhooks.
"You are living constantly aware of death peeping over your shoulder. But you have to get past it, otherwise it affects the way you live quite badly. So, as long as I take my seven pills in the morning and my three pills at night, I try to put it out of my mind."
He had, though, come to a key decision – to be at his own funeral by writing the service. Soon after he was asked deliver a eulogy for a friend. "Because we were old friends, and writing and reading things was what I used to do, and I'd been nearly dead, after all, I was asked to talk about her, in public, at her funeral. I would be a dead man talking."
James suggested he make the role official, and he has been a celebrant at about 70 ceremonies since. He said: "Having worked as a funeral celebrant for about three years I had become more and more convinced that we needed to deal with death in a positive way, rather than hiding away from it. I thought my own experiences might be helpful to people in preparing themselves for their loved ones' deaths and their own.
"One of the things Covid-19 highlighted is our lack of preparedness. Many thousands of people have unacknowledged grief. Psychologists say there's an epidemic of mental health to be dealt with. So it is really important to acknowledge that in life we are in death. Unless we do, and are suddenly removed, our loved ones will be left scrambling to catch up. That can be desperately hard on them."
Peppered with humour and packed with advice and examples on how to conduct funerals in person and digitally – it's an easy-to-read and inspiring mix of guide and memoir. The author's own funeral service is included.
"It is important to accept the inevitability of death and acknowledge we have this wonderful life," he said. "That's the wonderful thing that death highlights: don't waste time."
It Tolls for Thee: A Guide To Celebrating And Reclaiming The End Of Life is out on February 9 from Watkins Publishing.
---
It Tolls For Thee
Tom writes: "The title comes from the poem by John Donne. It is one of the most significant pieces of verse in the English language, and from a time when plague of a different variety was rife in England, where death walked behind, in front of and beside you, day in and day out.
No man is an island,
Entire of itself.
Each is a piece of the continent,
A part of the main.
If a clod be washed away by the sea,
Europe is the less.
As well as if a promontory were.
As well as if a manor of thine own
Or of thine friends were.
Each man's death diminishes me,
For I am involved in mankind.
Therefore, send not to know
For whom the bell tolls,
It tolls for thee.
– John Donne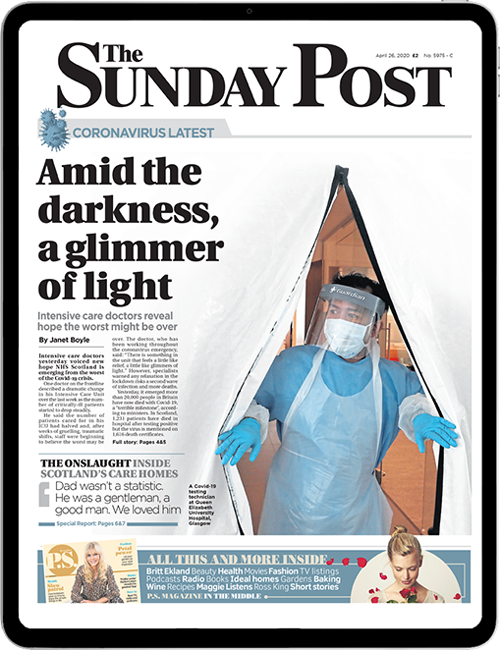 Enjoy the convenience of having The Sunday Post delivered as a digital ePaper straight to your smartphone, tablet or computer.
Subscribe for only £5.49 a month and enjoy all the benefits of the printed paper as a digital replica.
Subscribe