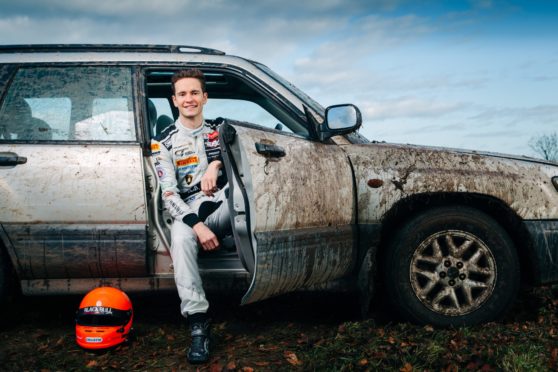 Ten years ago, Sandy Mitchell was tearing up a field behind the wheel of a battered, mud-splattered banger, dreaming of following his racing hero Colin McRae in the pantheon of Scotland's motorsport legends.
Today, racing a £350,000 Lamborghini at the famous Silverstone track, that dream might come true. The rising star from Angus is competing for his first British GT Championship at the ­legendary motor-racing circuit.
In the race of a lifetime, Sandy will drive a Lamborghini Huracan Evo GT3, hitting speeds of up to 190mph. And victory for the 20-year-old, who is part of the prestigious Lamborghini Squadra Corse GT3 Junior Program, will make him the youngest Scot to win the British GT Championship.
"This is the biggest race of my career. We've had a great season and are one of the favourites. If we win this race, I would win my very first championship," said Sandy ahead of the three-hour race he will contest with his teammate, Rob Collard. "There's a bit of pressure. I'm nervous but very excited as I'm right on the edge of becoming a pro racer."
Sandy admits driving a new, state-of-the-art Lamborghini is a far cry from the second-hand Subaru Forester he learned to drive in his early teens, topping out at 30mph on a dirt-track course in his grandad's field near his home in Forfar.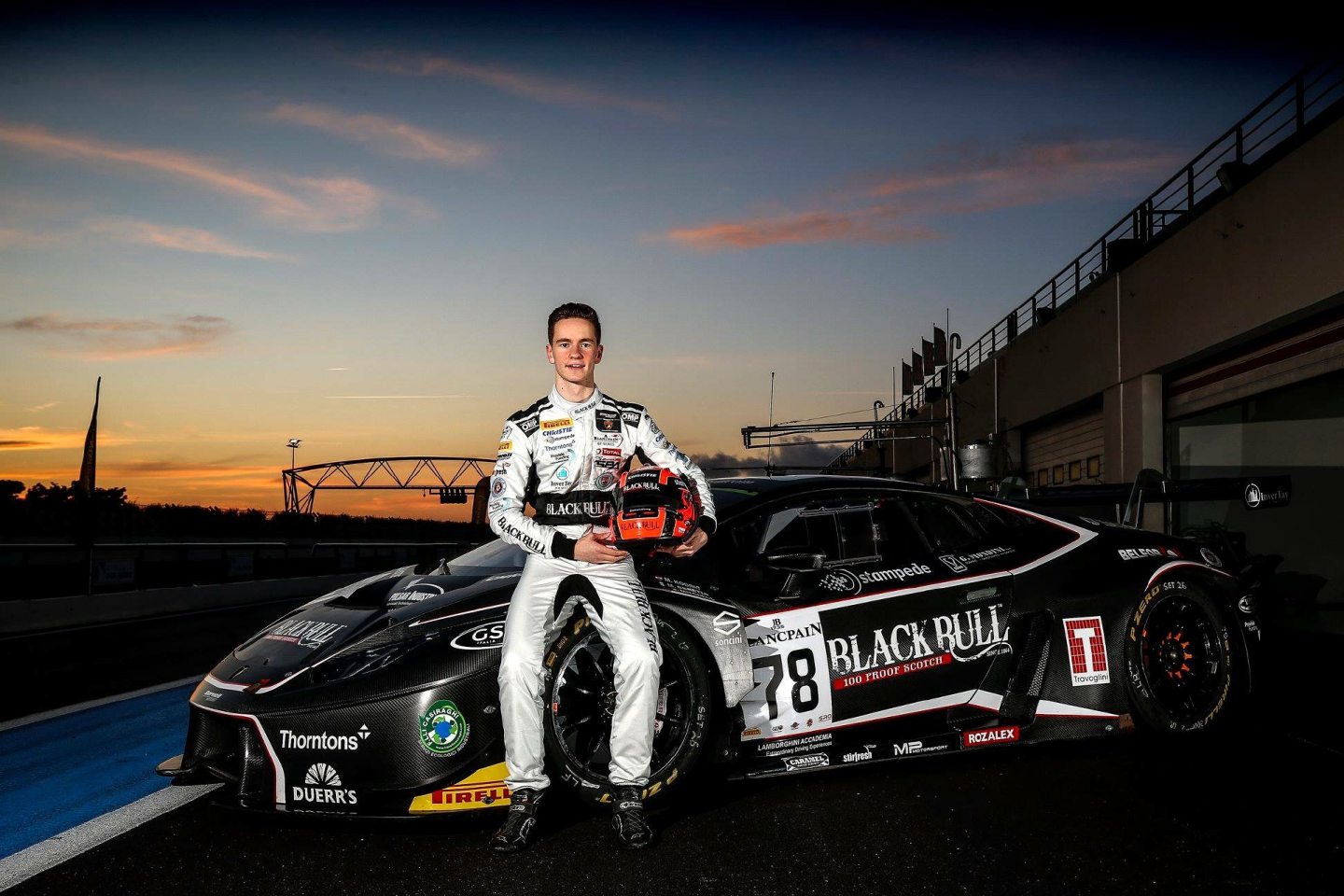 "Going from a little off-road buggy, to a go-kart, to an old Subaru then to the slightly more glamorous Lamborghini on a top Formula 1 racetrack, is quite a contrast and incredible to look back on.
"It all started as a bit of fun in a field with my dad and now I'm on the verge of racing professionally."
In their sixth and final race of this year's championship, Sandy and Rob will begin just six points behind the race leaders. They recently topped the podium at the Spa 24 Hours endurance racing event in Belgium, one of the biggest GT3 races in Europe.
The stakes could not be higher, and the competition is fierce. Among Sandy's competitors is British Formula 1 star Jenson Button, who makes a one-off guest appearance at the British GT Championship at Silverstone, racing in a McLaren 720S GT3.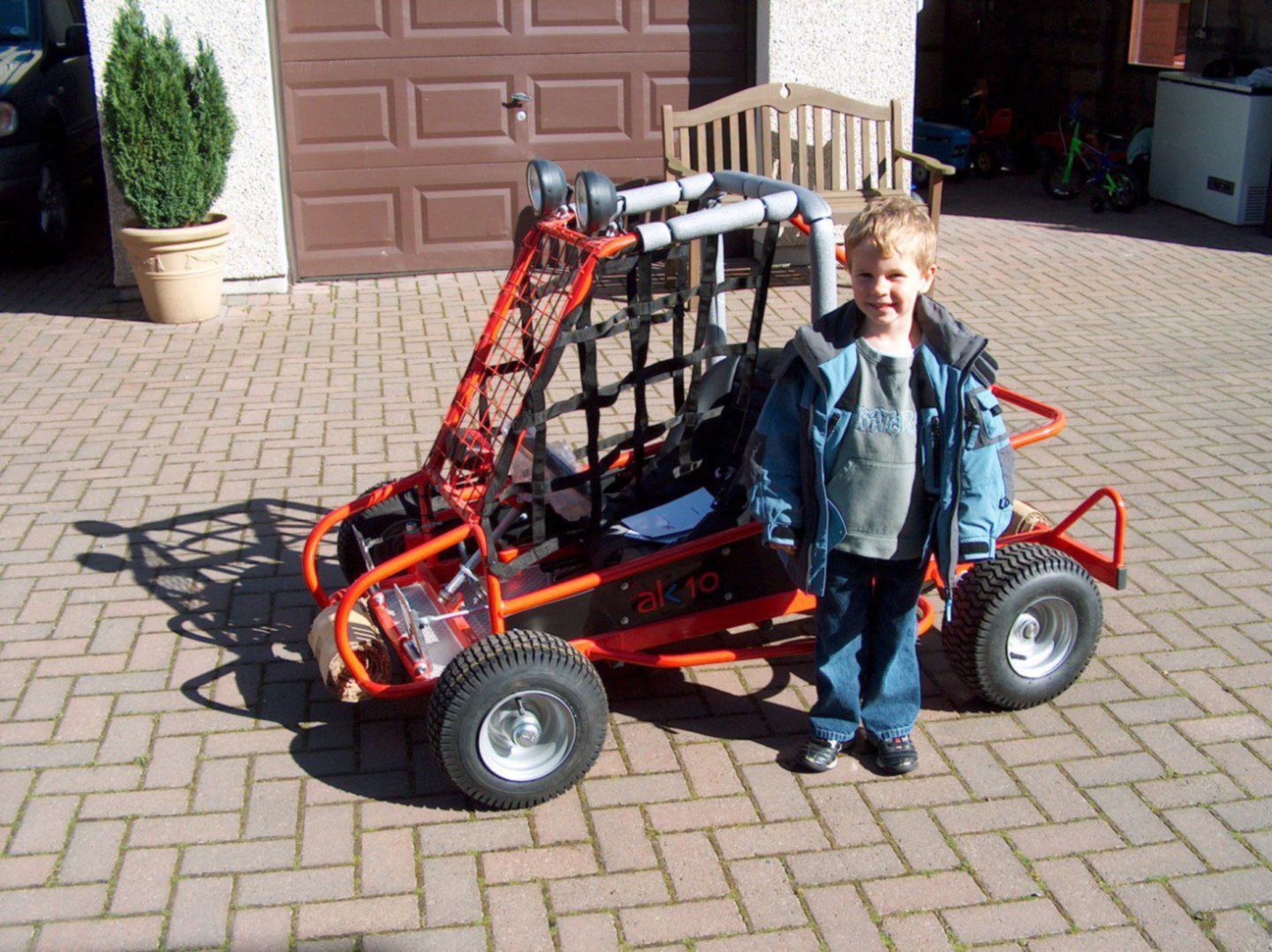 The pandemic means Sandy's ­parents, Steve and Julia, can't cheer him on in person. "It's a shame there won't be any fans there but Silverstone is always an incredible and iconic place to race.
"My family will be watching the race on the TV at home. Well, maybe not mum, she's no good at ­watching my races, which is only natural, but she's still very supportive."
Sandy has been racing in GT ­competitions for four years. In 2016, he became the youngest ­winner in a GT4 race. He then quickly progressed to the quicker GT3 category, aided by his long-time sponsor, Black Bull Whisky.
However, his first time on four wheels was when Sandy was just four years old and his motorsports-mad dad, Steve, wanted to help him emulate his racing hero at the time, top Scottish rally driver, Colin McRae. "As a toddler I was always playing with cars and loved to sit with my dad watching old tapes of Colin McRae. When the on-board camera came up, I always pretended I was driving," Sandy recalled.
"Dad bought me an old off-road buggy when I was four. I actually have a few clear memories of driving it. It certainly instilled a love of driving in me and was key to my early success."
Sandy showed a natural talent for racing at a young age and competed in karting competitions across Scotland from age nine. He was lured by the rush of adrenaline, top speeds and the buzz of maintaining his impressive winning-streak that continued when, at 16, he progressed to Formula 4 motorsport racing.
He learned to drive a car by taking an old Subaru Forester SUV, made in the late-1990s, around a dirt track in his grandad's field. Gradually, Sandy climbed the ranks and started breaking British GT4 lap records before he moved from driving a McLaren to GT3 and the Lamborghini.
"I was racing on the track long before I could legally drive on the road," added Sandy. "When I was 11, I was hoping for an Xbox for my birthday but my dad instead bought me a second-hand Subaru for around £300. Looking back it was a lot more fun. It was like a bigger version of the buggy. I would go around the field to make a track and get my speed up.
"The Lamborghini definitely has a lot more power, looks nicer and handles better but the Subaru is four-wheel drive, which means it can get around the field. I'm not sure the Lamborghinis would manage that. They are both good fun, in different ways."
A victory in today's ­championship race will edge Sandy closer to his career goal of becoming a factory driver for Lamborghini, which would see him race professionally for the brand in the world's most prestigious GT championships.
"Le Mans 24 Hours is one of the biggest races in the world outside Formula 1 and tops my bucket list," added Sandy. "Nothing compares to the adrenaline of crossing the finish line with a chequered flag in first place after 24 hours of racing, especially when the difference between winning and losing is down to seconds."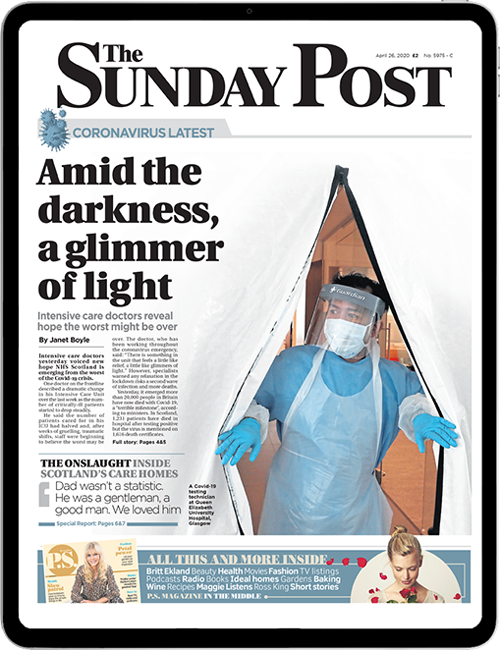 Enjoy the convenience of having The Sunday Post delivered as a digital ePaper straight to your smartphone, tablet or computer.
Subscribe for only £5.49 a month and enjoy all the benefits of the printed paper as a digital replica.
Subscribe