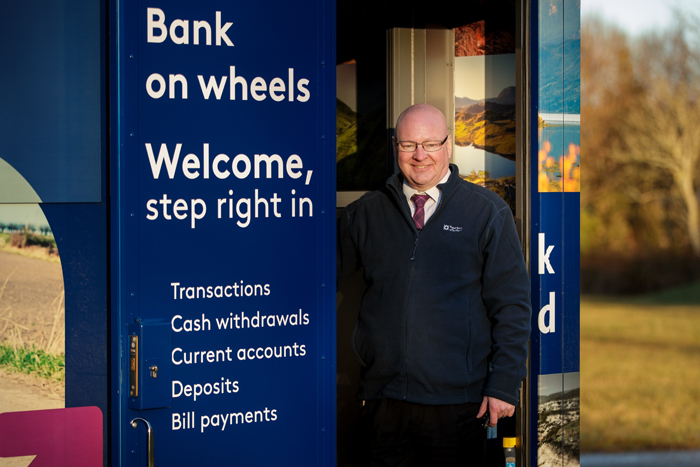 Taking the bank on the road isn't a new idea; meet Norman Smith, who is continuing a tradition that was started by Royal Bank of Scotland in the 1940s.
Norman Smith's bank branch is different than most. For the branch he works in takes him hundreds of miles each day.
His distinctive Royal Bank of Scotland mobile branch is one of a fleet notching up 8,000 miles a week between them, stopping at over 440 communities.
It's a journey that has taken him to parts of Scotland he would never otherwise have been lucky enough to see, to spend time forging relationships with people he'd almost certainly otherwise never have met.
"Everywhere I go I meet lovely people who really value the service we provide," says Norman (59).
"What we do is so well received, that I don't really notice the miles I travel. I thoroughly enjoy it and I know the people I meet really appreciate it."
Royal Bank launched the world's first mobile bank branch seven decades ago. It had humble beginnings, housed in an American Studebaker truck left over by the US Army after the Second World War – it brought banking services via its affiliate bank, National Bank of Scotland, to personal and business customers on the islands of Lewis and Harris.
More than 70 years on and mobile branches are more relevant than ever, helping to create banking services in all corners and communities of Scotland, providing support for customers who need help with online services and bringing the personal touch to those who prefer the 'face to face' experience.
According to Norman who has been working with the mobile service for seven years, this person-centred approach is at the heart of his role. "Customers are at the heart of what we do as a bank" he points out. "So we do everything we can to put them first."
The customers he encounters during his travels cover all generations, and have a wide range of needs – busy parents, teens leaving home for the first time or customers with mobility issues who cannot get into a branch.
With Norman in the driving seat and a colleague by his side, his Royal Bank van – with its distinctive livery and secure customer counters inside – hits the road five days a week with a timetable that takes in parts of Argyll and Stirling, West Dunbartonshire and Lanarkshire.
Geography plays its part. Sometimes the distance between communities means there are three stops a day, on other days the mobile unit can fit in eight stops.
The mobile branch service is, of course, at the mercy of traffic and road works, but the bank makes sure customers are never left in the dark. "We know who our regular customers are so if there's a delay we get in touch and let them know."
It's an example of the attention to detail that goes above and beyond what some might expect and is why Norman's customers can be protective of the Royal Bank service.
Customers with mobility issues in particular are given extra consideration. "We give them a little token that they can use to let us know they are outside," says Norman.
"We pop out to help them so they don't have to worry about trying to get inside.
"One customer had mobility issues but always made the effort to get to the service.
"When we discovered she could no longer manage to come to the van we arranged to make a special stop at her house."
Royal Bank mobile units are equipped with a satellite dish which provides an internet connection, and iPads which enable staff to help customers access online services, plus the leaflets, forms and paperwork found in a typical high street branch.
"We can provide the help they need to access the right information and support," Norman adds.
The mobile units are just one of the many ways customers can access banking wherever they may be.
Royal Bank community bankers provide support in venues like libraries and leisure centres while many Post Offices offer banking services and customers can access their finances easily using phone banking, apps and online services.
"The mobile bank I drive is very different to the one my predecessors drove 70 years ago.
"So is the way people like to bank. Even 10 years ago people couldn't bank using a mobile app.
"But it all has one thing in common – to give customers choice and to offer them the best possible service."
Search Royal Bank Ways to Bank: personal.rbs.co.uk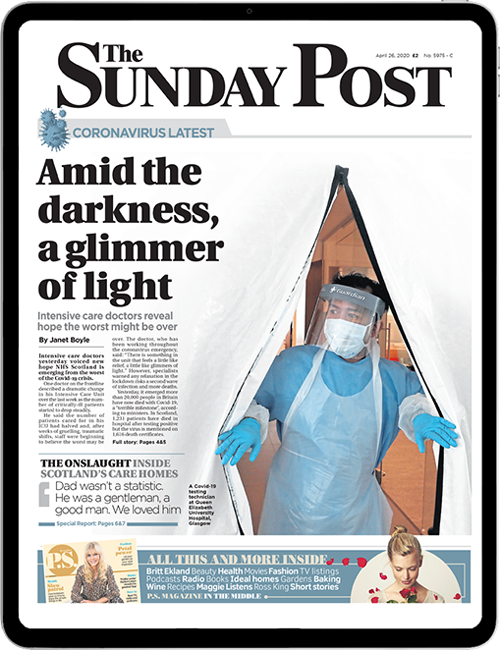 Enjoy the convenience of having The Sunday Post delivered as a digital ePaper straight to your smartphone, tablet or computer.
Subscribe for only £5.49 a month and enjoy all the benefits of the printed paper as a digital replica.
Subscribe