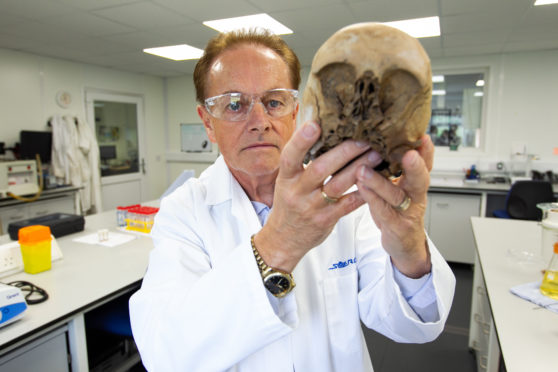 It was a find that was as grisly as it was mysterious when a walker, strolling on one of Orkney's beaches, almost ­literally, stumbled across a human limb.
Police in Orkney did not know if the arm had come from a murder victim or a missing person.
Like many forces before them, they turned to one man, Professor Gordon Cook.
The world leading forensic bone scientist heads a Glasgow University team that can tell the age of a body from a tiny fragment.
His Glasgow University labs at the Scottish Universities Environmental Research Centre in East Kilbride can identify the remains of the recently murdered to others who died up to 50,000 years ago.
After tests, he could tell the island police the arm found on Burray Sands had been around for almost 3,000 years.
The ­skeletal chalk-white arm had remained largely intact. "It was in a remarkably good condition considering its age," Professor Cook said.
"If a body is buried in dry conditions or other material that preserves bones and tissue well, it can be remarkably well preserved.
"That makes it ­difficult for police to establish whether the victim is fairly recent or ancient. Certainly not by just looking at it.
"The bone found in Burray Sands Orkney had belonged to an Iron Age person."
Julie Gibson, regional ­archaeologist based on Orkney, revealed that Orkney is a rich seam of history because bones have been so well preserved on its sands.
"The environment is perfect for keeping very old skeletons so well that we have had a few Iron Age and older bones found on the shore," said Julie of the University of the Highlands.
"It is a much better environment than the acidic soil found on mainland Scotland.
"Coastal erosion causes the ancient graveyards to be uncovered.
"Iron Age people could expect to live to their 40s or 50s if they survived infancy or childbirth."
The technique that leads Professor Cook and his team to age the mystery bones is called radiocarbon dating.
It allows scientists to accurately calculate the age of any object made of organic materials by observing how much of a certain form of ­carbon remains.
He said: "We can also tell if bones are from people born before or after the nuclear testing that took place in the 1950s and 60s.
"Radiocarbon atoms from the fall-out spread globally and have been taken up by everyone born since…such is the spread of the impact of nuclear tests.
"People born before don't have much of that radiocarbon tracer."
Professor Cook's murder casebook is equally fascinating.
One case involved the body of a young woman found wrapped in a carpet and wedged between an advertising board hoarding and house wall in Manchester.
The woman, who became known as the Angel of the Meadow after the area where she was found, had been discovered by workmen and was wedged in a space no more than 3ft wide.
The damage to the skeleton showed she had been killed violently.
Her remains were the only clue to her fate and identity.
"We undertook radiocarbon ­analysis of her tooth enamel, its ­collagen and that of her bones," said Professor Cook.
"From that, we were able to ­discover she had been 18 to 24 when she was murdered.
She had been murdered between 1969 and 1974 and had lain there for 41 years."
Professor Cook and his team also discovered she was Caucasian with possibly African ancestry. They also estimated she was between 5ft 3in and 5ft 6in tall.
Police are still trying to identify her, even though she was found in 2010.
Professor Cook's lab deals with up to 40 cases of bone analysis a year, from entire skeletons to tiny pieces of bone fragments.
It was instrumental in helping to identify the body of Richard III found buried in a car park in Leicester in 2012.
The English king has been killed at the Battle of Bosworth in 1485 and buried in Grey Friars church in the town.
"We were involved in the aging of his skeleton and could confirm this person lived around that time," said Professor Cook.
"Radiocarbon dating was used to establish an age for the remains."
The team also discovered the age of bones linked to a massacre of 400 islanders found on the Western Isles of Eigg.
They belonged to the victims of a 16th-Century clan feud and were found in caves by tourists.
They were believed to be Macdonalds murdered by a raiding party of Macleods of Skye.
The assassins found the islanders hiding in caves and lit fires at the entrance blocking them in to suffocate them.
The massacre took place in 1577.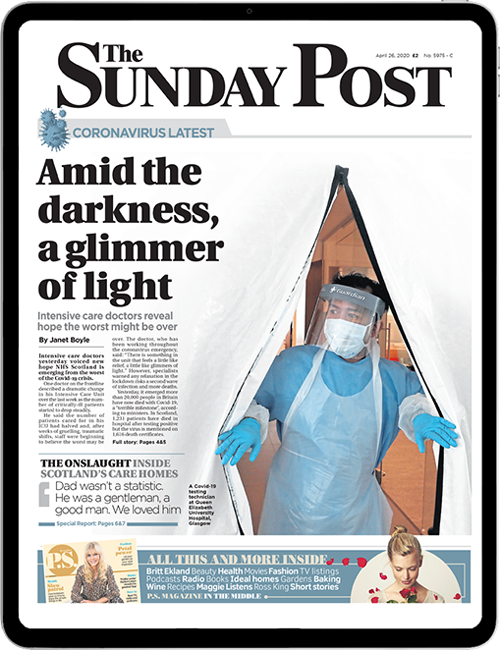 Enjoy the convenience of having The Sunday Post delivered as a digital ePaper straight to your smartphone, tablet or computer.
Subscribe for only £5.49 a month and enjoy all the benefits of the printed paper as a digital replica.
Subscribe