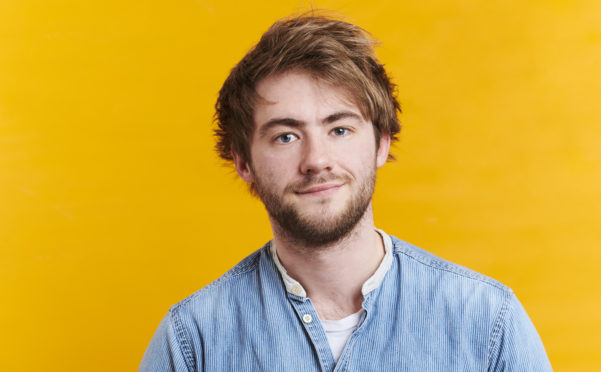 After making his full solo Fringe debut last year, Ben Pope is back with his sophomore show Dancing Bear.
With his career before stand-up including being a teacher, an actor and even a ghost-tour guide, Ben's latest hour looks at our attitudes to work and why we have to do it when there are robots that could take our place.
Here, he answers our Fringe Q&A…
---
How are you feeling ahead of your return to the Edinburgh Fringe?
Weirdly quite calm. I've done the Fringe in a few different guises over the years and this is my 7th one now, so I just feel quite excited, quite keen for July to get on with it and get out of here.
It's a strange time of year for comics – everyone else in the country is slowly chilling out for the summer and we're slowly building up steam. I feel like Santa in November.
---
Are you nervous about having to follow up your debut hour or relishing the challenge?
Not really nervous – the person I'm out to impress is myself. I'm doing something a little different from last year and I just want to reach a point where I know it's a step-up from last year's show.
Making it is a real adrenaline rush though! The last show was made up of some routines that were 2 or 3 years old. But I've had to scrabble around to get this show together in a year.
The feeling of writing a new joke is unparalleled, except maybe by performing a new joke and it working. And you get that serotonin rush all year round as you're painstakingly erecting the scaffolding of the thing. Nothing feels stale yet – it's all fresh, which is great.
---
What is your new show Dancing Bear all about?
Work! It's a show structured around stories about all the jobs I've ever had. I've worked in bakeries, cafes, museums, call centres, cathedrals, toyshops, bookshops, academic societies, as an actor and a ghost tour guide…
I ask the question of why I'm 26 and I've had all those jobs, but my parents' generation mostly only ever had one, but also why the conditions of so many jobs are so poor, even well-paid ones? Why do people only get 6 hours sleep a night? Why are they expected to do overtime? Why does everyone drink 3 coffees a day and get black-out drunk on the weekend? Why are so many jobs, if boiled down, completely pointless?
There's something really sinister going in the work environment at the moment and I try to break down why that is in the show. There's a lot of kick-back in the real world about the phenomenon – 4 day workweeks are being discussed constantly, reduction of hours or 'flexi-time', working from home – and that's something I try to offer in the show as well: the beginning of a solution.
---
Of all the jobs you've had, excluding comedy, what have been your favourite and least favourite?
I used to work as waiter for weddings when I was a teenager – and it was hard, hard work but always so interesting! You get to perv on someone's special day! You watch the whole ecosystem of the day slowly eat itself and collapse. The pristine beautiful set-up at the start of the day just slowly devolves into a kind of mad ruined orgiastic party by midnight. A lot of fights too! So much drama! Also, as an angsty teenager, there's nothing more poetic than spending Saturday evenings hanging out in an abandoned wedding venue at 1am.
I talk about it in the show but my worst job was definitely a charity telephone campaign. I hated ringing up strangers out of the blue and just bothering them. Not only that, the campaign was raising money for my old school – an English public school. They didn't need aaaany more money. It was the double – immoral work for an immoral cause. Yuck.
---
Where does your love of stand-up stem from?
I can pinpoint it exactly. I came home from school when I was 14 and my Mum was watching Bill Bailey's show Part Troll and I just sat down with my rucksack still on and couldn't believe it. It was so clever and inventive and nerdy and exciting and, more than anything, so so so funny. I just pointed at it and said 'I have to do that'. I immediately went and used all my pocket money to buy up stand-up DVDs, discovered Dylan Moran's shows which became my Bible, and that was that.
---
If you had to pick one item that's essential for surviving a month at the Fringe, what would that be?
A good book. As a performer, mornings at the Fringe are just time to get anxious, check Twitter and get worried or angry. So I ignore all that, I bring a barnstorming novel and just get lost in it. You can really tear through stuff.
I try and avoid non-fiction because it can feel a bit too much like work – my favourites have been big, complex, blustery period novels. Total escapism. The Luminaries by Eleanor Catton (a murder mystery set in Gold Rush era New Zealand) and Golden Hill by Francis Spufford (a sort-of thriller set in early Dutch New York) have done the job in previous years.
---
The Edinburgh Fringe can throw up some surprises – what is the strangest moment you can remember from the festival?
When I first came to the Fringe in 2013, I was a student acting in a children's show, a play version of the Roald Dahl story Esio Trot. I was 20 and fairly foolish and doing 3 separate shows a day and was thus medically exhausted every day. Esio was on at 10.30am (a time that should be illegal during the Fringe) and one morning me and my hungover cast mates raced to the venue late and that was of course the show that, by some weird coincidence, Alan Davies from QI was sitting in the front row with his children.
There was lots of fun silly jokes about poo in the show and I just remember accidentally locking eyes with Alan Davies as I repeated the word 'poo' over and over again, just sweating alcohol from every pore and begging him to laugh with my eyes and he didn't laugh once. It was almost supernaturally weird and humiliating.
---
What do you think it is about the Edinburgh Fringe that attracts people from all around the world to come to watch and also to perform?
I think it's the city itself. I'm obsessed with Edinburgh – it's like a weird dream space. Volcano on your left, castle on your right. Streets that curl round on top of one other, spires that come from nowhere. It's genuinely magic and it's the perfect place for the biggest artistic carnival in the world.
---
What is your favourite one-liner?
I don't have a favourite, I don't think. But pretty much anything Dylan Moran says is up there: 'Eggs! They're not a food, they belong in no group! They're just farts clothed in substance'
---
Ben Pope: Dancing Bear, Pleasance Courtyard, Bunker Two, July 21 – August 25 (not 14), 8pm,https://tickets.edfringe.com/whats-on/ben-pope-dancing-bear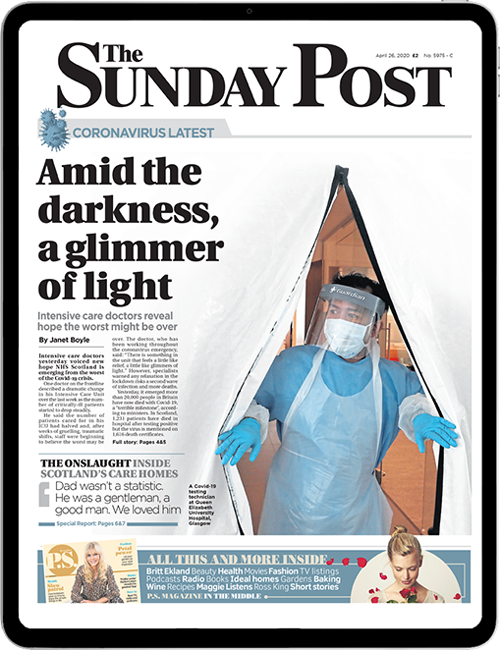 Enjoy the convenience of having The Sunday Post delivered as a digital ePaper straight to your smartphone, tablet or computer.
Subscribe for only £5.49 a month and enjoy all the benefits of the printed paper as a digital replica.
Subscribe