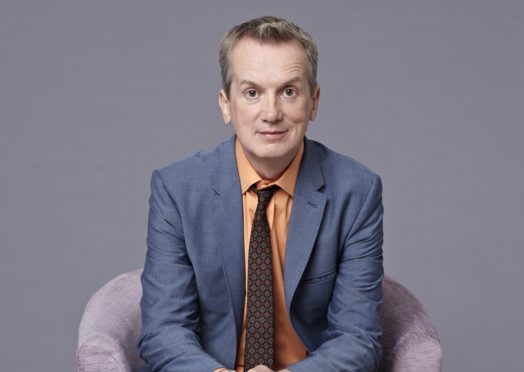 Grounding a fleet of paper aeroplanes during a five-minute Edinburgh Fringe set decades ago proved to be a pivotal moment for Frank Skinner.
And this year, he's returning to the festival that inspired and then kickstarted his stand-up career.
It was a taster night, where new acts got a short slot to show off their material, that the 62-year-old pinpoints as his first big achievement in comedy.
"It was a big room with a balcony above it and the first thing I saw was people tipping beer down on to the acts," Frank said.
"People had made paper aeroplanes out of the many leaflets you get in Edinburgh and while the bloke was on stage for five minutes there were probably about a hundred thrown at him.
"My act at that stage was quite a gentle thing and I watched it and got more and more scared. I asked someone for a cigarette – I hadn't smoked in about 10 years."
Cigarette in hand, Frank stepped on to the stage, changing tack and going for the crowd from the off.
"Luckily, they loved it. Having been truly terrified, that was the night I really found my voice on stage," he says. "That could've easily gone the other way and finished me off. In a way that was a bigger moment than that first hour show."
Seeing a comedy show at the Fringe a few years earlier had ignited his love of stand-up.
At the first festival Frank went to as a performer, he was starring as a hard-bitten Cockney copper in a play.
In his downtime, he went to his first comedy show, a cabaret featuring among the acts his future partner in crime David Baddiel.
"The only comics I'd seen were Bernard Manning live and the likes of Little and Large on TV," he says.
"I'd never seen anything quite like this before. Straight off I realised this was what I wanted to do."
Frank went home and booked an hour slot for the next year's Fringe.
"I thought I'd just turn up and do it," he laughs. "A couple of friends said to me that it might be a good idea to have a bit of a practice first. I realised it was a bit harder than I'd thought.
"I'd been doing it about eight months when I got to Edinburgh. You shouldn't be doing your first hour after that amount of time. I got through it. I got two reviews and neither were singing my praises, but they both thought I had something so that kept me going."
Three decades later and having performed at festivals all over the world, Frank still says there's nothing like the Fringe.
It's hard not to talk in cliches about it, it's brilliant," he says. "I like seeing a lot of shows when I'm up there now – in the old days I just used to hang around and do my own show.
"It's a place I meet comics that I don't meet in London because I'm not sitting in a dressing room with people anymore, I'm on my own. It is a bit of a comedy reunion."
Showbiz is Frank's first stand-up show at the Fringe in several years – and he's doing it simply because he wanted to.
Last year, he brought a play he wrote called Nina's Got News to the festival, but was dying to get back up on stage himself.
"I wanted to get back to being a stand-up rather than being a writer in the back of the room taking notes and then having difficult conversations with actors," he admits.
"I'm doing it absolutely because I just want to do it. One of my first thoughts when the show started to come together was that I wanted to go back to Edinburgh again. At the end of August I might be wondering why on earth I did that!
"It's great when the shows's going well. I've seen comedians up there completely broken, you meet them in the street and you can tell from their body language 200 yards away that the show's been going badly."
Over the decades that Frank has been heading to the Fringe, he's noticed plenty of change. From what started out as quite an alternative thing to do, it's now become a rite of passage for stand-up comedians, with Frank likening it to a "comedy trade fair".
He's also noticed the styles in shows changing from people simply telling jokes to shows that explore a particular topic or theme.
"It used to be people reading jokes mainly, now it tends to be people doing an hour about their wife's operation or something like that," he says.
"I think that comedy and theatre at the Fringe has become a lot closer than they were. I wouldn't say mine has though – I've stuck with the jokes. There's room for all sorts of stuff.
"I don't have a big theme – it's me being funny, that's top of my list. Maybe I'll do a show around a big theme one day but I don't feel one brewing."
While he has diversified, with TV presenting and hosting radio shows and podcasts now on his CV, Frank still sees stand-up as "the centre of the wheel" for him.
"I haven't been given many talents, I've basically been given one and I feel a certain obligation to make the most of it," he says. "I think of myself as a stand-up first of all."
Even though he's approaching an age where he'll soon be able to claim a free bus pass, Frank insists he's in no rush to retire from the stage.
"I've never been a bloke who's hankered for the beach," he says. "I like to keep going. If my health allows I'll probably keep going to the end."
This is partly inspired by a trip many years ago to Los Angeles on assignment to interview Robin Williams for Terry Wogan's show. While there, he went to a gig featuring Richard Pryor.
"I thought he was dying but someone said he was doing a gig that night," Frank says. "He came on stage with a walking stick and said he'd been really sick but since he'd started doing stand-up again, his illness had gone into remission.
"It never occurred to me there was a medicinal element to it. He died not long afterwards, but every laugh must have counted for a bit more."
---
Frank Skinner live in Edinburgh runs from 31st July -18th August at the Gordon Aikman Theatre. Frank's new tour Showbiz runs from 12th September – 11th December. For further info and tickets visit www.frankskinnerlive.com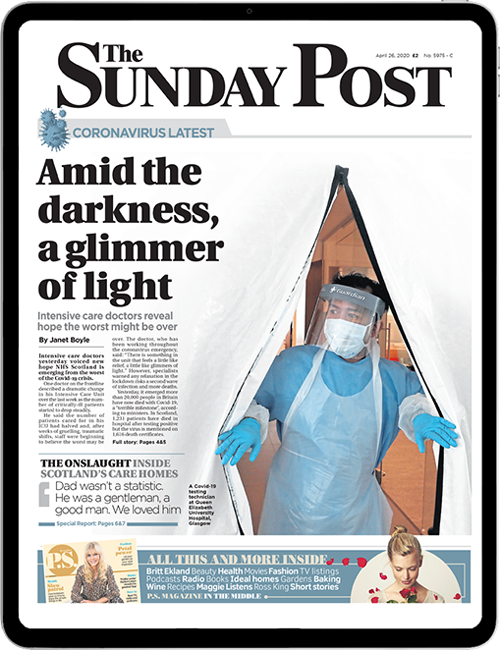 Enjoy the convenience of having The Sunday Post delivered as a digital ePaper straight to your smartphone, tablet or computer.
Subscribe for only £5.49 a month and enjoy all the benefits of the printed paper as a digital replica.
Subscribe