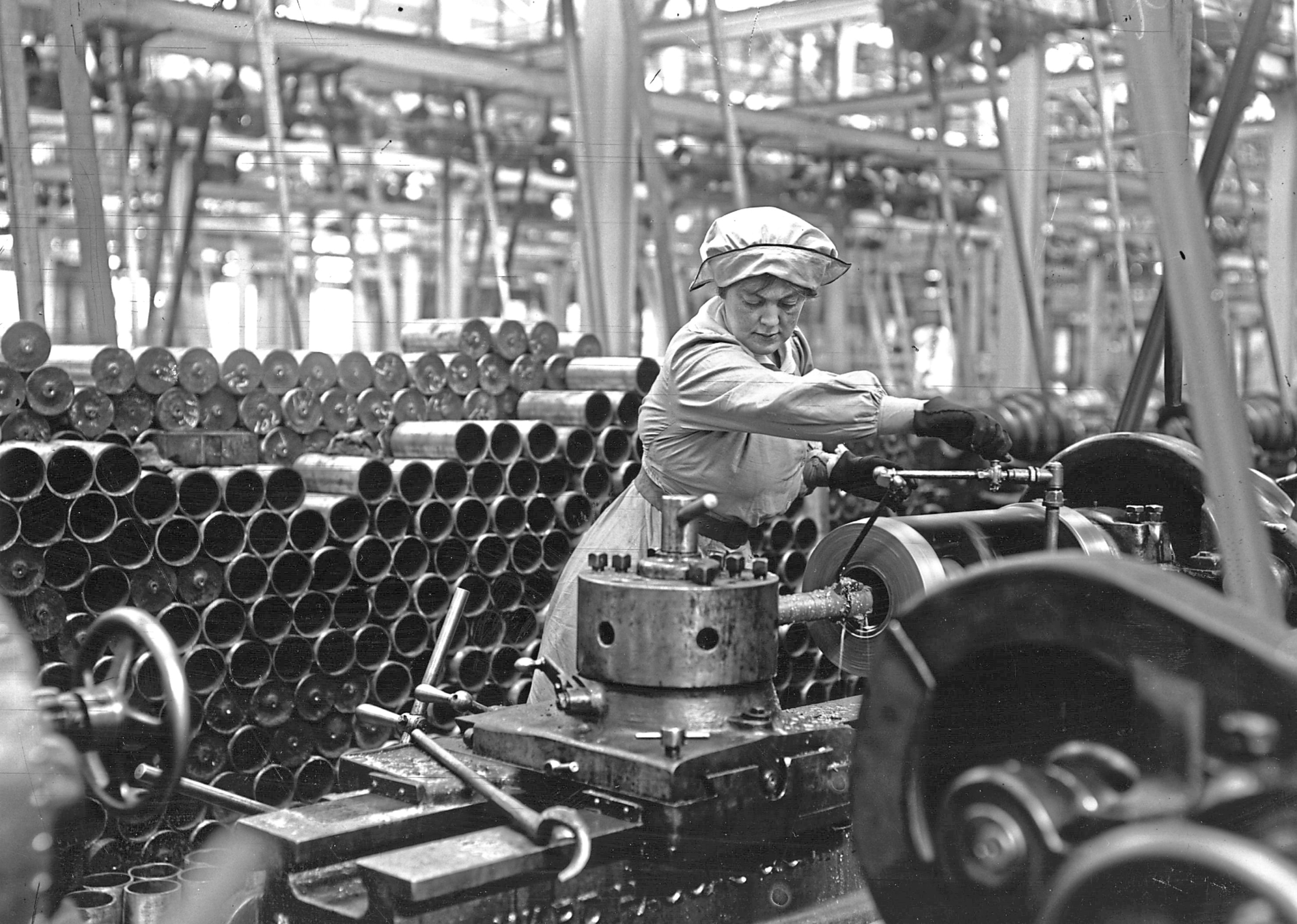 BY 1918, there were more than three million women working in factories supporting the war effort.
The vast majority of them were working in the munitions factories — and that was a hazardous existence.
"We hear an awful lot about the very real suffering of the soldiers at the front," says Dr Patricia Fara, who lectures in the history of science at Cambridge.
"It must have been terrible in the trenches, but these women were also undertaking extremely dangerous work.
"They were working with explosives, so quite often the whole factory just blew up.
"But more sinister than that, they were working with very dangerous chemicals.
"These women were called 'canaries' because the TNT they were working with made their skin turn yellow and their hair go green.
"Some of them died and those that didn't had life-damaging illnesses. Yet we don't hear about their very real suffering, which was the equivalent to the injuries men were returning home with."
Also known as "munitionettes", advertisers cynically played on their fears with Mrs Pomeroy's Skin Food being sold on the unrealistic promise that it would help keep the skin soft and prevent "the munition complexion".
But it wasn't just on the home front that women were vital to the war effort. They were also often very close to the front line.
Take Dr Isabel Emslie Hutton, for example, among the earliest women to graduate from the University of Edinburgh's prestigious medical school.
Joining the Scottish Women's Hospitals, she arrived in France in 1915, before heading out to the Balkans and Crimea, where she'd spend most of the next five years building up considerable expertise as a battlefield surgeon.
Hutton's still honoured in Serbia for the work she did there both before and after the Armistice, with a commemorative stamp issued in 2014 and a medical school named after her.
"During the commemorations of the First World War over the past four years, we've heard very little about the Eastern or Italian Fronts," says Dr Fara.
"Everything's been primarily about France and the Western Front, but there were all these woman doctors and surgeons, electricians and drivers, and everyone else out there doing an absolutely amazing job for four or five years.
"We've forgotten about them.
"They're remembered in those countries, with commemorative stamps and buildings, but we've obliterated them from the records.
"Isabel Emslie Hutton was right at the front line at Salonica. She even went behind the lines.
"She also stayed on for another two years after the war was over and carried out lots of remedial surgery on club feet and cleft palates and things like that, working in a children's hospital in Sebastopol.
"When she came back here, she made a mistake after a year of getting married, to a Major Hutton whom she'd met in what was then Constantinople.
"As soon as she did that, she couldn't be employed as a doctor.
"She did spend the rest of her life doing medicine but if you were married at that time, you couldn't get a paid job as a civil servant, doctor or teacher, which now seems absolutely ridiculous.
"Now we have legislation that we have equal pay if you're doing the same job, but back then, women, both in the factories and in the universities and professionally, routinely got two-thirds of the men's pay for doing exactly the same work."
The truly abysmal conditions in which Dr Emslie Hutton worked are just one example of women's contribution to the war effort disproving their supposed physical and mental inferiority, and showing they were not temperamentally unfit to vote.
"Absolutely," agrees Dr Fara. "They'd been working in the most atrocious conditions. The women who went out to the Eastern Front as doctors — and women supposedly weren't very good at surgery — were stitching soldiers back together in places that were either freezing cold or boiling hot.
"There was typhus, malaria and dysentery, but they just got out there, built the hospitals from scratch, wired up their own electricity generators… They did absolutely everything.
"Even though it was an absolutely appalling thing to have to do, in a sense, it must have been a very exhilarating experience. It was the nearest thing to living as a man. For the only time in their lives, these women had masses of room for initiative and freedom to do what they wanted."
Back on the home front, the suffragists were doing what they could to mobilise women to enter previously male-dominated areas such as science, medicine and engineering.
One such woman was the political activist, artist and writer Ray Costelloe, later Ray Strachey, who worked closely with Millicent Fawcett in the National Union of Women's Suffrage Societies.
Dr Fara admits: "She's another woman I find it extraordinary nobody's written much about.
"She married into the Strachey family and her sister married into the Stephens family — the two central families of the Bloomsbury Set, the famous group of intellectuals and writers that included Virginia Woolf.
"There's this enormous Bloomsbury industry picking over even the minor characters involved, yet here are these two sisters right at the very centre and scarcely anything has been written about them.
"I find that quite incredible. Ray knew Virginia Stephens, who became Virginia Woolf, as a teenager. It's interesting reading her letters to her mother about Woolf and all her friends, one of which is very scathing about them, telling of an evening in which they started to jump about on the furniture and bark like dogs!
"And, of course, Virginia Woolf spent most of the war whingeing about how she couldn't get any servants because they were all in munitions factories.
"Woolf wrote A Room Of One's Own (an extended essay seen as a key feminist text) saying it's absolutely vital to have £500 a year and a room of your own. Well, she had £500 a year because she had a very rich aunt in Bombay who happened to fall off her horse and leave her a nice inheritance!
"But for professional women who didn't have rich aunts in India, they were out there working and needed to earn their money.
"They were extremely active, and they weren't complaining about a lack of servants. They were forging career paths for themselves."
One story that leapt out at me was that of Victoria Drummond.
She was from such a high-society background that Queen Victoria was her godmother, hence her name.
When her father gave Victoria her choice of career as a birthday present, he must have been surprised when she chose marine engineering!
By 1941, Drummond was still the only woman to have qualified as a ship's engineer, and was awarded the MBE for bravery when her ship was bombed.
"It seems to be that, in a way, the women who were born into these really aristocratic families had more struggles than other women because, although their parents could afford to pay for their education, they didn't always want to," explains Dr Fara.
"Victoria Drummond's parents seem to have been surprisingly liberal-minded to let her put her overalls on and go and work in the local machine shop.
"It was her 21st birthday present, whereas a lot of parents just banned their children from doing any such thing.
"She and other women persevered, but there must have been thousands of others who just caved in and went off to have children.
"There are also a huge number of women who were doing work at home for their husbands effectively, and that work's completely concealed."
A Lab Of One's Own: Science And Suffrage In The First World War by Dr Patricia Fara, published by Oxford University Press, is available now.