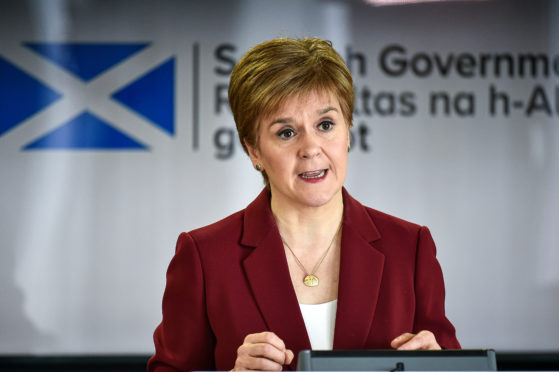 Scotland is set to diverge from England on relaxation of the coronavirus lockdown.
Boris Johnson is tonight expected to announce a limited relaxing of restrictions in England – but Scotland will not go even that far.
It is expected that garden centres in England will reopen on Wednesday, people will be allowed to exercise more than once a day and firms will be told to provide staff with face masks.
But Nicola Sturgeon is standing by her position that increasing outdoor exercise is the only restriction her government is considering easing.
Her spokesman said last night: "The First Minister has made clear, both publicly and in discussions with the Prime Minister, that the lockdown regulations in Scotland will remain in place and that the only issue under consideration at this time is in relation to outdoor exercise. The Stay at Home message remains crucial."
The Prime Minister will tonight set out the UK Government's "road map" which is aimed at reassuring the country that progress is being made in the battle against the disease.
However, Johnson, spotted walking in the sunshine in St James's Park in London while sipping a coffee yesterday, has also made a plea to the public to continue to observe social distancing to prevent a second peak of coronavirus overwhelming the NHS.
The Prime Minister said on social media: "Thank you for all you are doing to protect our NHS and save lives. This bank holiday weekend, please stay at home, so we don't undo everything that's been done so far."
He added: "We cannot risk a second peak that would overwhelm the NHS, so let's keep going."
Jason Leitch, the Scottish Government's national clinical director, warned there was a risk of subsequent waves of infection if the lockdown was abandoned.
He said: "If we said today 'all bets are off, do whatever you like' we're all back to normal.
"There would definitely be a second wave of the virus – and it would probably be worse than the first wave. The virus is still out there, it hasn't gone away. That's why you hear us talking about baby steps."
He said early lockdown relaxations could include outdoor sports that have social distancing.
He said: "I think outdoor recreations like tennis, golf and angling will be some of the first things that come back. We are not there yet and the optics are part of it. We have single parent families locked inside, so we need to be careful."
The Scottish Retail Consortium yesterday demanded "visibility" of a route out of lockdown. Director David Lonsdale said pharmacy, grocery and pet food retailers in Scotland had shown they could operate "safely and responsibly" they had invested significantly in social distancing and hygiene measures to protect staff and customers.
He said: "Retailers are working hard behind the scenes to get ready to safely reopen and help get the economy moving again. What is needed now in Scotland is visibility on the route out of lockdown."
A total of 1,847 patients have now died in Scotland after testing positive for coronavirus, an increase of 36 from Friday.
The number of people who have now tested positive is 13,305, up by 156.
Across the UK, 31,587 people have died after testing positive for coronavirus, a rise of 346.
At a Downing Street briefing Transport Secretary Grant Shapps announced a £2 billion cycle and walk to work plan, warning public transport can't go back to where it was before due to social distancing.
He said that even if the transport network was running at full capacity the two metre social distancing rule would mean only one in 10 passengers could travel.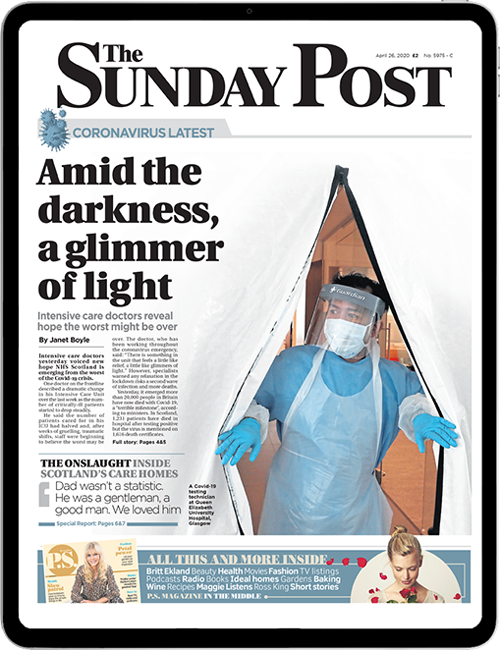 Enjoy the convenience of having The Sunday Post delivered as a digital ePaper straight to your smartphone, tablet or computer.
Subscribe for only £5.49 a month and enjoy all the benefits of the printed paper as a digital replica.
Subscribe