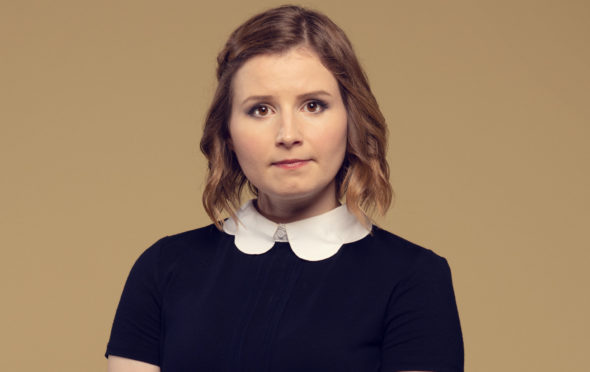 Scots actress Rebecca Benson bonded with Anna Paquin for her new TV series over a bite to eat…and some boxing.
Anna, who became the second-youngest Oscar winner, aged just 11, for her role in 1993's The Piano, is the star of Flack, a new comedy-drama starting on W.
Set in a PR agency, Game Of Thrones star Rebecca also shares a screen with Lydia Wilson and Sophie Okonedo, and Anna invited them to join her and husband Stephen Moyer, best known as vampire Bill Compton in True Blood.
"Anna had the script with her for about eight years, knocking around a couple of studios before she managed to get it made," said Edinburgh-born Rebecca, also known from White Princess, Vera and Shetland.
"She's the executive producer, so she is the boss – but she's a really good one. She's been working since she was a kid and she's professional through and through. She's great at taking the producer hat off and just being an actor. I learned so much watching her work.
"Plus she has a wicked sense of humour, which was great because I need to have a laugh and muck around between takes.
"Before filming we all went over to her house and she and Stephen made us a lovely dinner.
"We watched the boxing together – I was shocked at how violent it was!"
Rebecca says the women in the series are a bit like swans, all graceful and impressive atop but paddling frantically beneath to keep up.
"They appear to have everything in order but are absolute messes beneath it, which is ripe for comedy.
"And they're in a PR agency where all the clients are absolutely crazy. Most are completely dreadful to work for.
"I find it quite cathartic to watch horrible people get their comeuppance in comedies."
Although she has had a varied career with no shortage of different roles, Rebecca insists Flack, in which she's intern Melody, really stood out for her.
"This was one of the best things I'd read in a very long time," says Rebecca.
"It made me laugh out loud and I wanted to play Melody so badly.
"It was the funniest thing with the most potential and I knew it was a part I could get my teeth into.
"I would have been so upset if I hadn't managed to get it. Really, I would have been heartbroken.
"When I heard I'd got it I burst into tears and phoned my mum in Edinburgh. She was totally chilled out and just said, 'Oh, that's good. I knew you'd get it.' It was a bit of a letdown."
Melody is the new girl in the agency and also in London, a city she still imagines to be paved with gold. But she proves to have what it takes to survive and thrive.
Rebecca had to adapt to the capital herself when she moved down from Edinburgh in 2012.
"I had promised myself I wouldn't go down without work as it's difficult being so far away from home," she says.
"If you don't have a job it can be disheartening but I managed to get a six-month theatre job in The Lion, The Witch And The Wardrobe.
"Forbes Masson was in it and it was like I had a mentor but London felt very big and feeling anonymous was hard to adjust to. I do like it – but I yearn for home. You can't beat Scotland. It calls you back and I come back a lot now.
"Edinburgh has a personality I felt very close to and having the Festival when you're a teenager and want to perform was invaluable."
Even though Rebecca's time in Game Of Thrones as Talla Tarly was brief, it was still important.
"I'm sure it stepped things up for me. I felt it was important to do something high-profile.
"The regulars I was working with were very kind and generous. I had to keep pinching myself. I was certainly proud of it and we filmed out in Barcelona, which felt really special."
Rebecca is keeping busy with roles in Netflix's The Witcher, with Henry Cavill, and Year Of The Rabbit with Matt Berry for Channel 4.
Flack starts on W, Thur, 10pm.