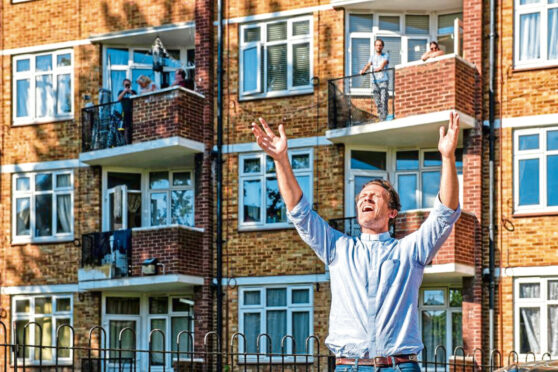 The concepts of faith and spirituality hold different meanings for all of us but something everyone can agree on is the importance of hope.
Yet, irrespective of our beliefs, hope has been especially difficult to find and hold on to in the past few years. For Reverend Pat Allerton, a vicar at St Peter's church in Notting Hill, London, this made it an obvious anchor for his new book, A Pocketful Of Hope: An A-Z of Answers To Life's Big Questions.
During the first national lockdown of 2020, Allerton became known as "The Portable Priest" after he took to the streets of Notting Hill with his portable prayer service to spread love, hope and comfort; using a megaphone and speakers to issue short, inspiring sermons and hymns like Amazing Grace to those stuck indoors.
After receiving positive feedback, he continued his mobile sermons along residential streets and outside hospitals and care homes until restrictions lifted and he returned to St Peter's.
"Hope is a heartfelt desire for many of us and something we're all looking for at the moment when there is so much going on and we have a general anxiety about the future," said Allerton, 43, who studied theology at Edinburgh University and was ordained in 2010.
"At a time when the church felt quite powerless, I realised I had the power to do something and connect with people in a simple way to lift spirits and bring some joy and hope at a very dark time."
The charismatic reverend, who embraced Christianity aged 18, says that his book is for those of all faiths and non-believers.
"It's written for anyone seeking answers, who has questions about life, meaning, purpose or has questions about faith and might be asking 'is there more to life than this?'" said Allerton.
"I wanted to look at the big topics of life; anxiety, grief, forgiveness, vulnerability, self-acceptance, success and failure, from the point of view of what we all share, whatever our background or faith, and help people draw inspiration and hope from that, even if then they don't share my own faith.
"But as a vicar and a preacher, I do want to gently offer another point of view, a different perspective to view life, and encourage people to explore that a little deeper."
Of course, Allerton doesn't believe he has all the answers, rather words of comfort.
Here, he explains how we can find hope while navigating some of life's big troubles, even in the darkest of times.
Grief
"The pandemic taught us how fleeting and precious life is and that relationships, love and family is everything. Lean into one another, be there for one another, be open and vulnerable. It's important to share your grief and remember the good times and tell those stories.
"Acknowledge that we will always be changed by loss but that is the price of love. Grief will change us but it will get easier. Time is a healer but also remember you are not alone. Look to those around you or, if you wish, look to God, who grieves with us over our loss."
Feeling overwhelmed
"Life is increasingly overwhelming. Social media means so many voices are calling out for our attention and loyalty. Often we don't know which voice to trust or to follow and that can create anxiety, when we're faced with a plethora of choices and paths to follow but don't know which ones are right.
"Again, look to those who love you, who know you best and have your back, and aren't in it for themselves. When you need guidance, bringing things into the light and talking things through has great power to bring freedom and remind us we're not alone. And don't underestimate the power of prayer to offer that freedom.
"As Jesus said, 'Come to me, all you who are weary and burdened, and I will give you rest'."
Burnout
"We're not robots; we're made for rest. Even God rested on the seventh day. Being well rested can make us more fruitful and effective. Keep running constantly and you'll experience burnout and undo the good work or what you hope to achieve. Take some time out to do things you love with people you love.
"That could mean taking the Sabbath day to focus on God, go to church to worship, or just take some time to be quiet and still. We're all addicted to our phones and social media so it's important to take some time to disconnect, and sit alone, be still, be mindful and let all our thoughts drop away."
Failure and brokenness
"All of us face failure and have some elements of brokenness within us. I think it will bring great comfort to people to realize it's not just them. In a world where life online is so filtered, where we put out us living our best life, there's a lot of show and facade, so it can be hard to remember the reality.
"We've all got cracks. I talk about Kintsugi, the Japanese art of repairing broken pottery pieces with gold that shows how, by embracing flaws and imperfections, you can create something strong and beautiful. That's as true of life, the more we embrace our flaws, our failures, the more peace and freedom we will have."
Spirituality
"We live in a time when more and more people are saying 'I'm not religious, but I am spiritual'. I meet fewer people who say they don't believe in anything, which is actually quite a bold claim. More people will say they think there must be more to life than meets the eye.
"They believe there's a spiritual realm, that there's something more; that someone or something must have made this universe, although they don't know what, and that we can connect with that force, however they might describe it. People say 'thank you universe' in recognition that there are spiritual realities out there that they feel will be a good thing to connect with."
A Pocketful Of Hope: An A-Z of Answers To Life's Big Questions by Pat Allerton is published by Yellow Kite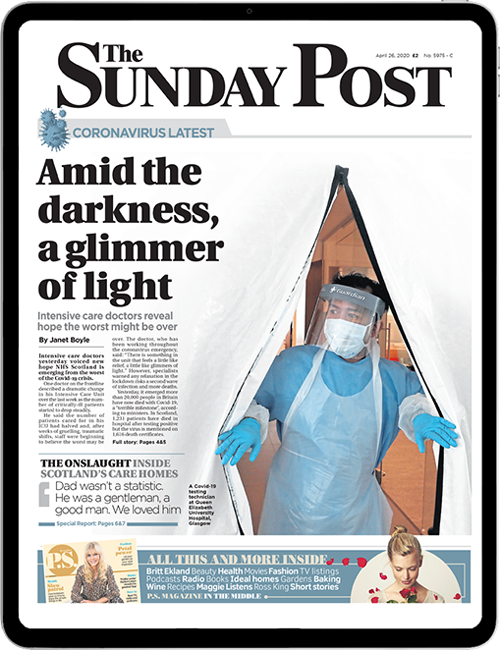 Enjoy the convenience of having The Sunday Post delivered as a digital ePaper straight to your smartphone, tablet or computer.
Subscribe for only £5.49 a month and enjoy all the benefits of the printed paper as a digital replica.
Subscribe