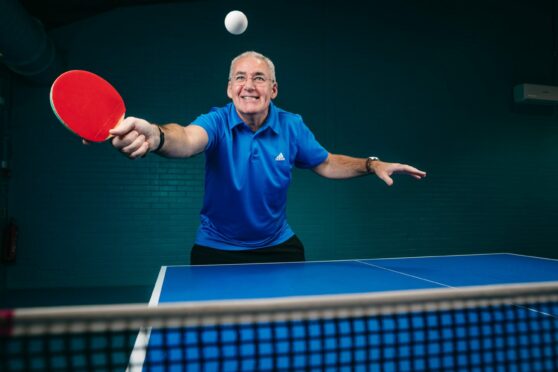 Regular exercise could help slow the progression of Parkinson's disease, according to researchers.
Scientists at Kyoto University in Japan examined the exercise levels of people in the early stages of the progressive neurological condition and found those maintaining one to two hours of moderate exercise twice a week had less trouble balancing, walking and doing everyday activities.
Published in the ­medical journal of the American Academy of Neurology, the long-term study followed 237 people with an ­average age of 63 for up to six years and concluded that participants who exercised regularly over five years did better on cognitive tests and experienced slower progression of the disease than those who exercised less.
The researchers also noted that maintaining regular exercise over time was more important than how active people had been when they were first diagnosed.
Doctor Kazuto Tsukita, author of the study, said: "Our results are exciting because they suggest it may never be too late for someone with Parkinson's to start an exercise programme to improve the course of their diagnosis. That's because we found that, to slow progression of the disease, it was more important for people with Parkinson's to maintain an exercise programme than it was to be active at the beginning of the disease."
The study adds to similar findings from the Parkinson's Outcomes Project, the ­largest clinical study of Parkinson's, which found patients who engaged in at least two and a half hours of exercise a week had a better quality of life than those who didn't exercise at all or started exercising later.
Similarly, researchers in the Netherlands highlighted that vigorous exercise might improve the symptoms of Parkinson's by creating connections between areas of the brain affected by the condition. The findings, published in the Annals of Neurology journal in December outlined that aerobic exercise, but not stretching, led to increased functional connectivity and cognitive control.
In Scotland, Parkinson's UK recently launched a three-year project to develop a physical activity network for people around the country, encouraging people with the condition to become and stay active.
Supported by the National Lottery Community Fund, the fund has enabled projects including table tennis, dance, high-intensity gym sessions, boccia and strength and ­conditioning classes.
Amanda Mckay of Parkinson's UK Scotland said: "Being physically active, and doing as much of it as possible, can help with symptoms such as tremors, problems with gait, balance and strength, as well as sleep, concentration and mood.
"Activities like table tennis, dancing and boxing for Parkinson's have a great combination of physical and mental demands. They can help co-ordination and balance, as well as giving the brain a good workout, and they are a great way of socialising at the same time.
"Being physically active is important for everyone, and it can really help people living with Parkinson's. Research has shown around 150 minutes of moderate to vigorous physical activity could potentially positively impact on common Parkinson's motor and non-motor symptoms, but more research is needed.
"People should participate in a varied programme tailored to meet their individual needs, encompassing progressive strength, balance, flexibility and aerobic style activities from diagnosis."
At a check-up recently they said I was moving better than six months ago. That's phenomenal

– Parkinson's sufferer Brian Carson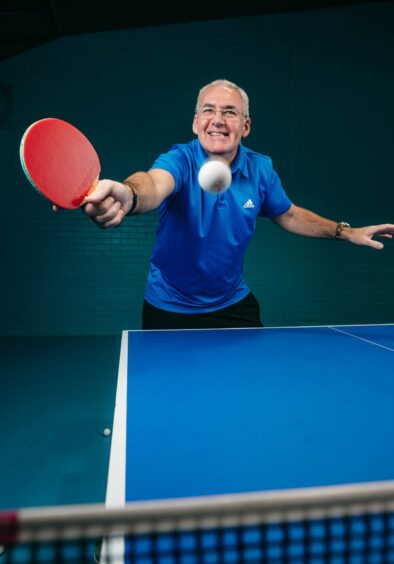 There may be hundreds of tiny white balls ricocheting off and around the turquoise walls of Drumchapel Table Tennis Club but Brian Carson has learned to ignore all distractions. Laser focus is essential if he wants to beat his opponent.
The 59-year-old started playing table tennis just six months ago but already the sport, which he describes as "like chess but at 100mph", has taken over his days, evenings and weekends and he has even won medals at national and international competitions.
However, his passion for the pastime hasn't just been spurred on by the friends he's made or the trophies on his mantelpiece. Carson keeps coming back to the table because regular training sessions and matches are helping to manage symptoms of Parkinson's disease, which he was diagnosed with five years ago.
"It's good for cardio, it's good for hand-eye co-ordination and it helps mentally," he explained. "You have to think about what you're going to do next and anticipate what your opponent will do next, too.
"I had a check-up two weeks ago and they said I'm moving better than I was six months ago, which is phenomenal.
"Some days when I'm playing table tennis I even forget I have Parkinson's. Mentally, that's just a fantastic place to be."
Parkinson's disease is a progressive neurological condition that occurs when the brain cells that make dopamine start to die, causing issues such as tremors, slowness of movement and muscle stiffness. The condition can affect anyone, young and old and, with no cure, patients can only receive treatment and drugs to ease the symptoms, which can get worse over time.
For Carson, who worked for BAE Systems for 40 years, diagnosis in June 2017 was a shock, particularly as the impact of the disease at first appeared mild. He said: "It was mainly my right hand.
"I felt as if I didn't have fine control the same as my left. When I was shaving, trying to do one side of my face, my hand felt numb as if I couldn't hold the razor properly. That's what triggered me to go to the doctors.
"I had no sense of smell for years before my diagnosis but it turns out that's one of the first indicators. I also couldn't sleep at night – I had restless legs. All Parkinson's indicators. Unless you know, you just wouldn't put them all together."
He added: "Like a lot of people, when I was diagnosed I wasn't sure what Parkinson's was – you have the idea in your head that it's old people shaking, stooping and walking slowly.
"You have to start learning and researching because the latest evidence shows there's 40 symptoms or more. Everyone gets a different permutation.
"I always say, 'If you've met one person with Parkinson's, you've met one person with Parkinson's' – we are all different."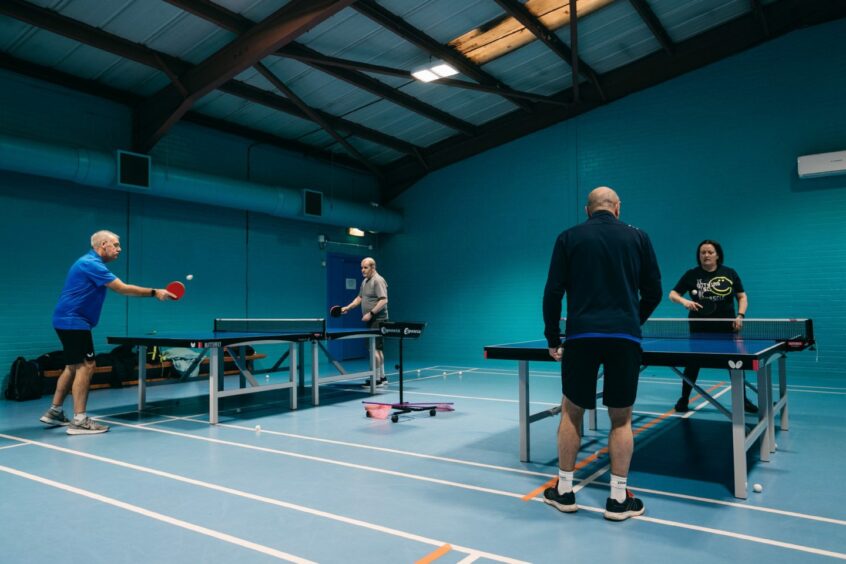 Although symptoms and treatments vary from patient to patient, studies have shown 150 minutes per week of moderate to vigorous physical activity can have a potentially positive impact on common Parkinson's motor and non-motor symptoms.
Amanda Mckay, from Parkinson's UK Scotland, said: "The more active people with Parkinson's can be, the better they are able to manage some of the more than 40 physical and mental symptoms associated with the condition.
"Regular activity is just as important as medication to help manage some of these symptoms."
Carson, who also plays football and practises pilates, agrees exercise has been a key part of his treatment and points to a recent study from Fukuoka University in Japan, which found table tennis could be particularly effective for people who share his condition.
Researchers had 12 people with Parkinson's with an average age of 73 play a five-hour session of table tennis every week for six months, after which they all showed improvement in speech, handwriting, walking and hand tremors.
Hoping to help more people feel the benefits of the sport, Carson, who also works with the Glasgow Young Onset Parkinson's Support Group, has now set up weekly table tennis sessions for people with Parkinson's after securing a £2,500 grant from the Parkinson's UK physical activity and exercise programme.
Sessions are held every Tuesday at Drumchapel Sports Centre, and the roster of players grows every week.
"Exercise is medicine," said Carson, who initially started playing after losing his wife, Christine, to terminal illness last year. I am realistic enough to know there is currently no cure, but if exercise can slow down the progression, I'm all in.
"Some people can take their diagnosis really badly, going into their shell.
"There's lots of good programmes to help people who are newly diagnosed, but they have to be ready for it. Some are ready right away, others take months or years to come to terms with the diagnosis and start doing something about it.
"In the back of my head, there's something that says in the future I might end up in a home or in a wheelchair. So, if there's things I can do to delay that as long as possible, allowing me to do the things I want to do, then I'll keep doing them."
Terry McLernon, who established Drumchapel Table Tennis Club in 1989, says the sport has been benefiting the community for decades, encouraging players of all ages and abilities.
He said: "We started with one table almost 33 years ago. Now, we have 160 tables. You can feel the atmosphere as soon as you walk in the door – it's welcoming, sociable. Plus, it's an all-inclusive sport.
"When Brian came up with the great idea for a group for people with Parkinson's, they had one half of our hall. I thought maybe eight people would come – we had double that, filling the whole hall. It's absolutely brilliant."
The inclusivity of the sport was there for all to see at the Parkinson's Table Tennis World Championships, held in Berlin last September. Carson, who travelled to the championships with his son, Christopher, 30, and daughter, Robyn, 27, won a bronze medal in the men's doubles alongside Christoph Feryberg from Germany – just months after picking up a paddle for the first time since high school.
"Christoph has a walking frame," said Carson, who won his place at the tournament after bagging a silver medal at the British Championships. "He's had Parkinson's for 19 years but played table tennis since he was 14.
"When I met him on the first day he put the frame to the side, we started playing really well together and he said, 'We can win a medal'. He was really determined.
"There was a couple of people in the competition in wheelchairs, so there was all levels of movement. If you can get to the end of a table and hold a bat, you can play. It was a phenomenal experience.
"When I went up on the podium to collect my medal, it felt like being at the Olympics."
He continued with a laugh: "One of my friends now jokingly calls me 'national and international medallist'.
"They've all joked that Scottish teams don't usually get past the group stages. So they say to me, 'Are you sure you're Scottish?'"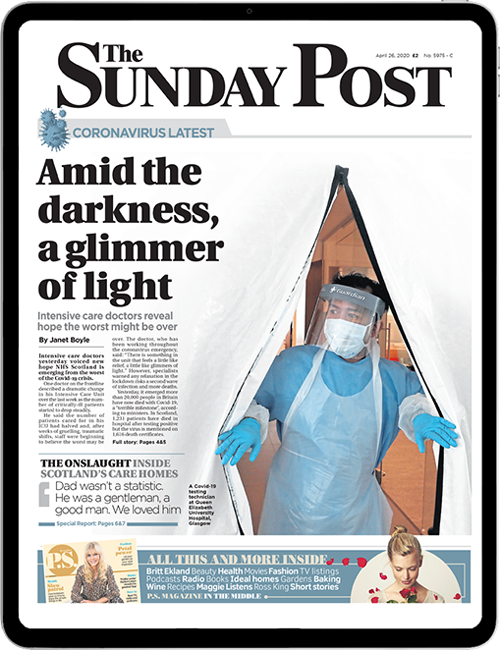 Enjoy the convenience of having The Sunday Post delivered as a digital ePaper straight to your smartphone, tablet or computer.
Subscribe for only £5.49 a month and enjoy all the benefits of the printed paper as a digital replica.
Subscribe