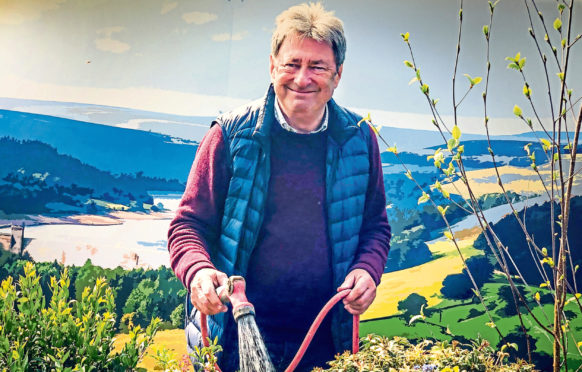 You might think that Alan Titchmarsh's favourite piece of music would be In An English Country Garden but you would be wrong.
If you think he has a great passion for music as well as gardening, though, you would be absolutely right.
"Music has always meant so much to me for as long as I remember," he said.
"I was introduced to it probably as soon as my eyes were open. The whole family loved all kinds of music and that set the pattern for me. I like something of virtually everything.
"I present the Classic FM show but that doesn't mean that it is my only interest in music. Since being a boy I have loved classical music but I have also followed pop music as well as musicals and so on.
"When I was growing up we had what I thought was pretty smart at the time – a Fidelity record player.
"That was in the 1950s and the fact that you could close the lid while the record was playing was pretty up-market. Among my favourites of those days was Mendelssohn's Fingal's Cave and just about anything sung by Mario Lanza – what a voice.
"Music has played a great part in my life through the years – I was a choirboy for instance. Later I joined a local operatic society and I remember playing the part of Buggins in Half A Sixpence and meeting a rather nice lady who was also taking part. I am proud to say that she has been Mrs Titchmarsh since 1975.
"I do like Baroque music and I am a big fan of Handel but I also like the more popular classics as well as operetta. I also like music that paints pictures of the countryside like Beethoven's Pastoral Symphony."
Alan Titchmarsh is not just a passive listener to music either. He mentioned that he was a choirboy and also joined a local operatic group some years ago but even in 2019 he has appeared in a one-off production of Sister Act The Musical at the famous Minack Theatre in Cornwall. He played The Pope.
Perhaps his greatest achievement, though, was stunning audiences both live and on television with his rendition of Some Enchanted Evening from the South Pacific musical. His appearance was on the TV show All Star Musicals.
"People were very kind," he said. "I was frightened to death but it worked and it reminded me how much I enjoy singing. Straight away I had people asking me if I was going to record an album. I had to remind them that I do have a day job."
A day job? Sometimes it is hard to remember that the Alan Titchmarsh we know and love is actually a gardener.
"Being born in Ilkley, I am a Yorkshireman for life and while I am so fortunate to have had many other opportunities I am basically a gardener."
Alan's story did indeed start in Ilkley where his father was a plumber and his mother worked in a textile mill. He could easily have followed in his father's footsteps but when he left school at the age of 15 he took up an apprenticeship as a gardener for the local council, a move that was just the shoot in a career that has blossomed into something very special.
"My grandfather and his father were both gardeners. My own father was put off because when he was young they used to get him to do all the weeding which didn't inspire him very much so he didn't follow the family tradition.
"Their green fingers must have reached out to me because I used to grow plants in our back garden when I was quite young," said Alan, who turned 70 this year.
"I loved it and I liked the idea that I would do that as a job when I left school. You could leave school early in those days and when the chance to become an apprentice came up I didn't hesitate."
It would be easy to think that Alan simply went on to bigger and better gardens but it wasn't quite like that. It is true that he remained with the council for four years but then he enrolled full time at the Shipley Art and Technology Institute to study a City and Guilds course in Horticulture after which he studied at Hertfordshire College of Agriculture for his National Certificate in Horticulture.
The education didn't stop there as Alan then gained a diploma in horticulture at the world-famous Royal Botanical Gardens in Kew, where he remained after his graduation to become a supervisor and staff trainer.
All this time, though, there was another talent brewing – he was becoming an excellent writer and communicator.
"I left Kew and accepted a job as assistant editor of gardening books at Hamlyn Publishing," he said.
"So I became a horticultural journalist in 1974 and went on to other publications until about five years later I decided to work for myself and began working as a freelance writer and broadcaster, which is basically what I do now."
That, of course, is a modest understatement because as well as being recognised as one of the most knowledgeable and talented gardeners in the world, Alan Titchmarsh has proven himself to be an excellent radio and television presenter.
Above all, he has managed to remain exactly as he was brought up – just a thoroughly nice chap.
He has made Hampshire his home and spends his relaxation time either at his beautiful Broadlands house in Alton or at their relaxation retreat on the Isle of Wight where the family also have a boat.
"My wife Alison and I spend a fair bit of time on the Isle of Wight, in Cowes to be precise. It is so lovely there with numerous bays, harbours and inlets all around the island that we never tire of exploring.
"I like to do most of my writing on the Isle of Wight too, I just love it there and we've come to know the people well. I love the sea and I think we would find it difficult to move very far from the ocean. Cowes week is especially wonderful.
"Our home near Alton is also a haven. Again, local people are really nice and have treated us as one of their own. We are totally at home in Hampshire – not bad for a Yorkshire lad."
Alan is almost constantly busy because of his broadcasting work (Love Your Garden is currently running on Tuesday nights at 8pm on ITV) and the demand for personal appearances plus his ongoing writing commitments. It is a wonder that he gets any time at all for gardening.
"Gardening is my life," he said. "I could never see myself not working in the garden. I am an outdoor sort of person and I like doing things with my hands.
"I am not bad at DIY actually but gardening is always my first love and no matter what else I do I could never give up being out there tending to my garden or other gardens.
"If I am not working in the garden I still like to be out there as much as possible even if it is just sitting and taking in the atmosphere and fresh air."
With a hugely popular weekly radio show on Classic FM Alan must also have time in his busy life to enjoy music.
"I enjoy the radio show very much and as I said I have always had a special love for music. I can still remember the first record I ever bought. It was China Tea by Russ Conway.
"How about that for a memory? I will listen to many different kinds of music but the Classic FM show gives me the chance to play a lot of the music I really like which includes anything that reminds me of the great outdoors."
With more books and television shows in the pipeline, will he ever considering retiring?
"Not really," he said. "I had a health scare a while ago. Heart trouble runs in the family a bit and one day I found myself in a lot of pain. I was taken to hospital in Portsmouth and they found I had gallstones. It was a very painful experience but a relief that it was not worse and a reminder of the vulnerability we all have.
"It has been suggested that I should take it easier but I really don't want to retire. I think we all need a purpose in life, a reason to get up in the morning. So at the very least I will always be a gardener. I couldn't do without it.
"I also love my writing which is another way of expressing yourself and to be able to write you need peace which is never a bad thing. I like the contrasting fun of my TV work which is never dull so really, I would not want to give it all up."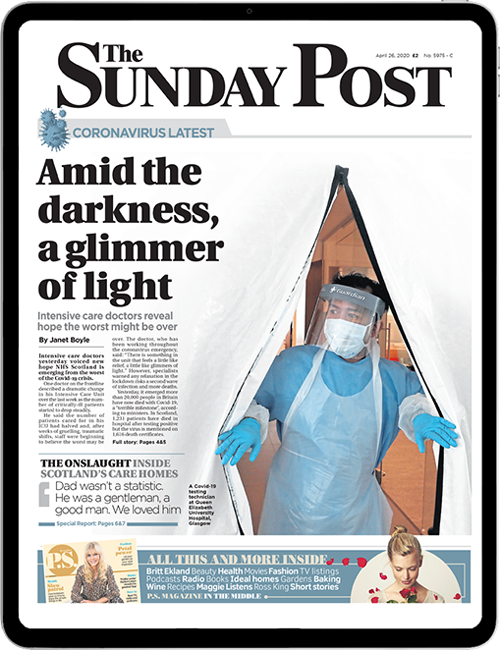 Enjoy the convenience of having The Sunday Post delivered as a digital ePaper straight to your smartphone, tablet or computer.
Subscribe for only £5.49 a month and enjoy all the benefits of the printed paper as a digital replica.
Subscribe