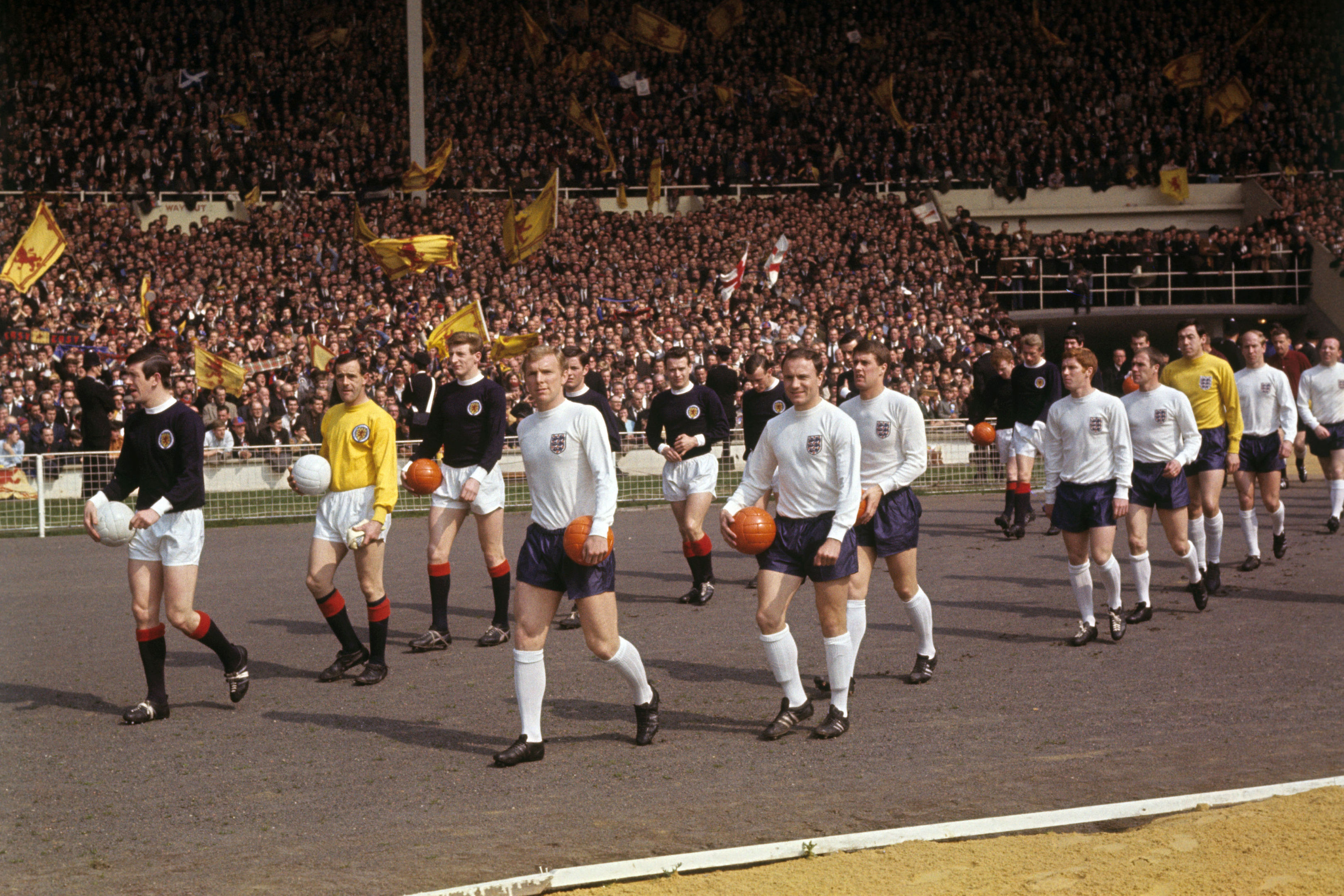 MAYBE this wasn't the greatest Scotland team ever to tread the Wembley turf.
But it was certainly great enough to make chumps out of the World Cup chomps.
It can be said that England lost the services of Jackie Charlton who, after an absence of 15 minutes, was a limping giant for most of the game.
But this English team seemed to accept that as an excuse for defeat, instead of a reason to fight all the harder.
The "cham­pions of the world" label should have been backed by sterner stuff than we saw here.
Even before Jackie Charlton's unfortunate injury, I thought the Scots had this game in the bag.
In the first place, they had an obvious will to win that England lacked. in the second, there was far more enterprise in their ranks.
When England had possession. you saw their players fall into position like cogs in machine.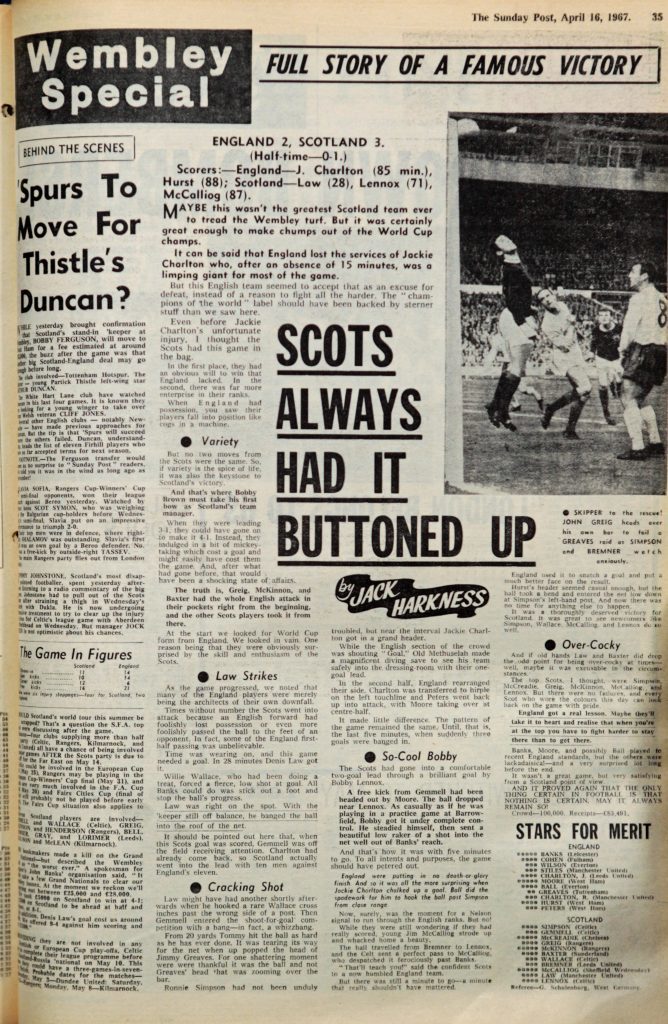 Variety
But no two moves from the Scots were the same. So, if variety is the spice of life, it was also the keystone to Scotland's victory.
And that's where Bobby Brown must take his first bow as Scotland's team manager.
When they were leading 3-1, they could have gone on to make it 4-1. Instead, they indulged in a bit of mickey-­taking which cost a goal and might easily have cost them the game.
And, after what had gone before, that would have been a shocking state of affairs.
The truth is, Greig, McKinnon, and Baxter had the whole English attack in their pockets right from the beginning, and the other Scots players took it from there.
At the start we looked for World Cup form from England. We looked in vain. One reason being that they were obviously surprised by the skill and enthusiasm of the Scots.
Low Strikes
As the game progressed, we noted that many of the England players were merely being the architects of their own downfall.
Times without number the Scots went into attack because an English forward had foolishly lost possession or even more foolishly passed the ball to the feet of an opponent. In fact, some of the England first-half passing was unbelievable.
Time was wearing on, and this game needed a goal. In 28 minutes Denis Law got it.
Willie Wallace, who had been doing a treat, forced a fierce, low shot at goal. All Banks could do was stick out a foot and stop the ball's progress.
Law was right on the spot. With the 'keeper still off balance, he banged the ball into the roof of the net.
It should be pointed out here that, when this Scots goal was scored. Gemmell was off the field receiving attention. Charlton had already come back, so Scotland actually went into the lead with ten men against England's eleven.
Cracking Shot
Law might have had another shortly after­wards when he hooked a rare Wallace cross inches past the wrong side of a post. Then Gemmell entered the shoot-for-goal competition with a bang—in fact, a whizzbang.
From 20 yards Tommy hit the ball as hard as he has ever done. It was tearing its way for the net when up popped the head of Jimmy Greaves. For one shattering moment were were thankful it was the ball and not Greaves' head that was zooming over the bar.
Ronnie Simpson had not been unduly troubled. but near the interval Jackie Charl­ton got in a grand header.
While the English section of the crowd was shouting "Goal," Old Methuselah made a magnificent diving save to see his team safely into the dressing-room with their one-goal lead.
In the second half, England rearranged their side. Charlton was transferred to hirple on the left touchline and Peters went back up into attack, with Moore taking over at centre-half.
It made little difference. The pattern of the game remained the same. Until, that is, the last five minutes, when suddenly three goals were banged in.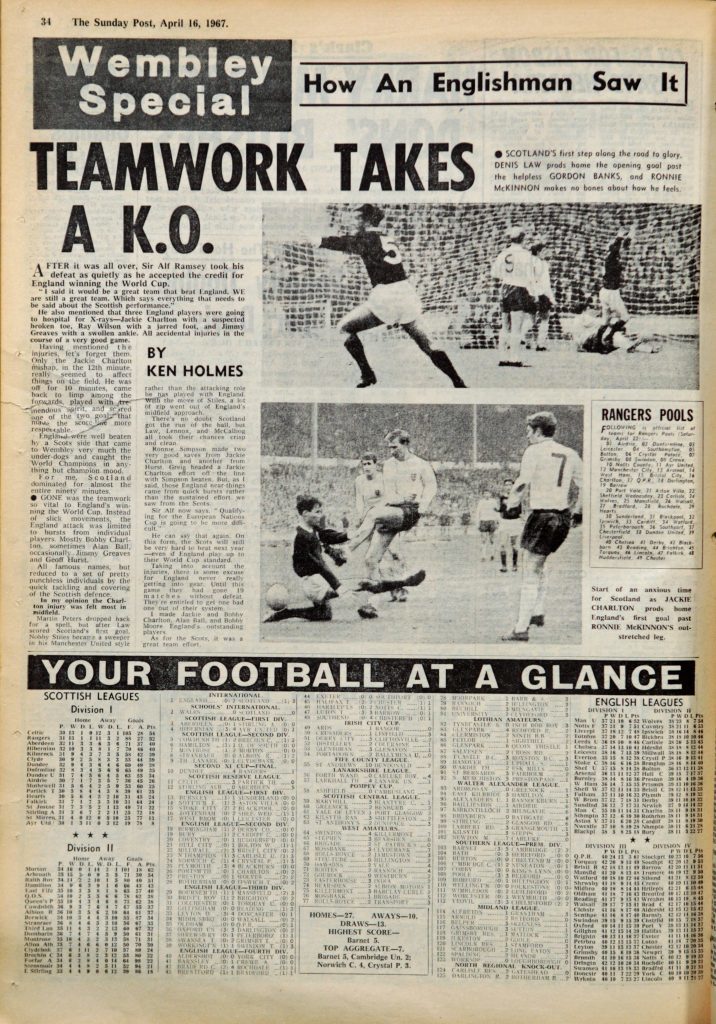 So-Cool Bobby
The Scots had gone into a comfortable two-goal lead through a brilliant goal by Bobby Lennox.
A free kick from Gemmell had been headed out by Moore. The ball dropped near Lennox. As casually as if he was playing in a practice game at Barrowfield. Bobby got it under complete con­trol. He steadied himself, then sent a beautiful low raker of a shot into the net well out of Banks' reach.
And that's how it was with five minutes to go. To all intents and purposes, the game should have petered out.
England were putting in no death or glory finish And so it was all the more surprising when Jackie Charlton chalked up a goal. Ball did the spadework for him to hook the ball past Simpson from close range
Now, surely, was the moment for a Nelson signal to run through the English ranks. But no!
While they were still wondering if they had really scored, young Jim McCalliog strode up and whacked home a beauty.
The ball travelled from Bremner to Lennox, and the Celt sent a perfect pass to McCalliog, who despatched it ferociously past Banks.
"That'll teach you!" said the confident Scots to a now humbled England team.
But there was still a minute to go—a minute that really shouldn't have mattered.
England used it to snatch a goal and put a much better face on the result.
Hurst's header seemed casual enough, but the ball took a bend and entered the net low down at Simpson's left-hand post. And now there was no time for anything else to happen.
It was a thoroughly deserved victory for Scotland. It was great to see newcomers like Simpson, Wallace. McCalliog, and Lennox do so well.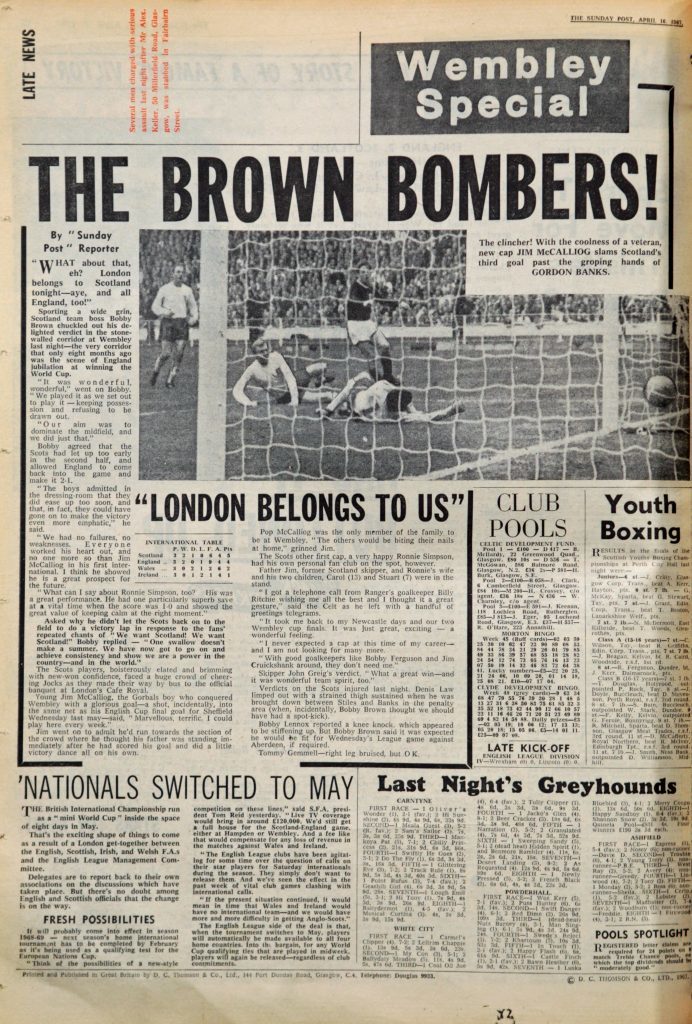 Over-Cocky
And if old hands Law and Baxter did drop the odd point for being over-cocky at times – well, maybe it was excusable in the circumstances.
The top Scots. I thought, were McCreadie, Greig, McKinnon, McCalliog and Lennox. But there were no failures, and every Scot who wore the colours this day can look back on the game with pride.
England got a real lesson. Maybe they'll take it to heart and realise that when you're at the top you have to fight harder to stay there than to get there.
Banks, Moore, and possibly Ball played to recent England standards, but the others were lackadaisical—and a very surprised lot long before the end.
It wasn't a great game. but very satisfying from a Scotland point of view.
And it proved again that the only thing certain in football is that nothing is certain. May it always remain so!
Crowd-100,000. Receipts—£83,491
The above article is reproduced from the April 16th 1967 edition of the Sunday Post.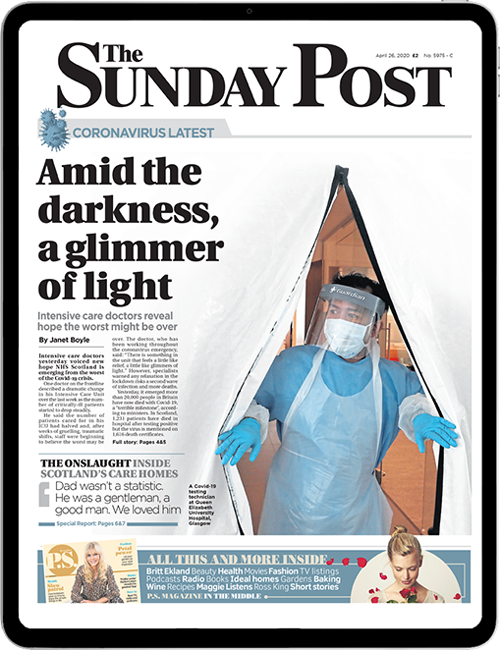 Enjoy the convenience of having The Sunday Post delivered as a digital ePaper straight to your smartphone, tablet or computer.
Subscribe for only £5.49 a month and enjoy all the benefits of the printed paper as a digital replica.
Subscribe