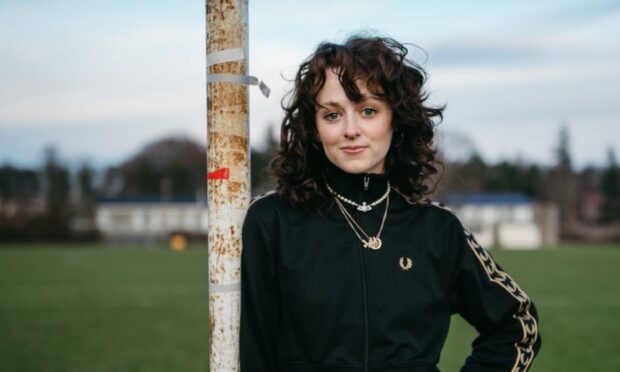 She was labelled weird for rocking up to school in a parka jacket and Fred Perry shirt having just watched Quadrophenia, but actress, writer and director Eilidh Loan didn't care.
She knew she was part of something bigger, a Northern Soul community that helped her forge her identity and that she's now penned a love letter to in her debut short film.
Soul draws upon her experiences of the escapism of joining her dad on the dancefloor and finding her tribe while growing up in Renfrewshire.
While other films have focused on Northern Soul's origins in the '70s and male characters, this story is female-led and blends the subculture's amazing history with a modern day setting.
The magic of Northern Soul
"I grew up doing something a bit different from other girls," Eilidh said. "I was going to scooter rallies when I was tiny. Instead of trying to sneak into nightclubs in Glasgow at high school, I was going to a working men's club and soul dancing with my dad.
"I knew at an early age music and dancing was a big part of my identity. It's escapism for working-class people to go to dance halls and just let go. You're letting your soul release on the dancefloor. It's the closest thing that I've ever felt to magic in this world, as cheesy as that sounds.
"There's so many amazing women that look delicate in their Northern Soul skirts and then they're on that dancefloor, back-flipping, sweating and nobody cares what you look like.
"It's still so prevalent as well, with clubs popping up everywhere and there's a massive age range of people that are involved in the modern-day scene."
It's hoped that the film, part of the Sharp Shorts project, will be featured at festivals and pave the way for a feature-length version.
Shot on a low budget, it took Eilidh back to the spaces she grew up in. One scene, starring around 60 dancers, is filmed in the same community centre at Renfrew's Robertson Park that the 26-year-old danced in as a kid, and her family were among the extras.
"We couldn't make a film about the Northern Soul scene and community identity without having that same ethos behind the camera," said Eilidh, who wrote, starred in and directed the film.
"It was really overwhelming that something you've cared about for so long is happening in front of you. I couldn't cry because I had a job to do.
"Between takes we were spinning records and people were up dancing. For the whole nine hours, there was this guy who didn't sit down once. He'd danced since he was a boy and said it was one of the best days of his life, and for the first time in a long time he felt seen. It was really emotional. That's why we're making this film."
Moorcroft success
Representation was what made Eilidh's debut play Moorcroft, first performed last year, such a hit with audiences.
Based on her father Garry's football team, it earned rave reviews for its handling of male mental health and portraying genuine working-class stories.
The Tron reported that 55% of people who came to see it in the theatre had never been before, and it is returning there next month before touring Scotland.
Actress and playwright Eilidh Loan on taking the stories of her dad's life to the theatre stage
"One of my mum's pals had to leave during the show," Eilidh recalled. "It was just hearing his own accent really reflected back to him, seeing his life on stage in 3D.
"People came back and saw it two or three times because they felt safe in that environment.
"It's always going to be the ethos behind my work, the bigger picture. It's brilliant to be in this industry, but it's what this work does for the audiences that matters." Drawing on personal stories from her family and friends – another upcoming play is based on her grandmother – does now mean that everyone wants in on the action and is pitching ideas.
"I do get cornered at family events," Eilidh laughed. "Someone goes, 'I had a really hard time once when I was at school…' and I'm thinking, 'You're wanting a play about you now, aren't you!'
"I've got a wee notebook of one liners and silly things that people have come away with or funny stories. At some point along the line, there'll be a character that emulates that guy that was in the pub that night, and his story.
"There's a fine line though when you're going through personal things. The story about my granny is about us as a family, going through quite a lot of grief close together. Writing that play, there's times where I've felt I'm not ready for some bits yet, because I've not worked it out myself.
"It's a fine balance knowing when it's detrimental to your grief or heartbreak and to not force yourself through just to make a play. You need to look after yourself when writing things so personal."
Joining Doctor Who
In March, Eilidh was announced for the next series of Doctor Who alongside fellow Scot Ncuti Gatwa.
She's been sworn to secrecy over her part in the show, which returns for specials this winter before a full series in 2024, not even getting to tell her parents.
"My parents keep joking about me being a Dalek and being in the costume so no one knows it's me," she laughed. "It's been lovely to be a part of that universe.
"It was brilliant to even audition for it. Writer/producer Russell T Davies is a hero of mine and one of the nicest guys I've ever met.
"When you meet people who've had such an influence on your career, it's a big deal because you're like, 'Oh, wow, you're the reason I'm doing what I'm doing.' I cried!"
Despite the success, Eilidh knows her heart will always be in her hometown and her family will always keep her grounded.
"You can't forget where you come from," she says adamantly. "It's hard in this industry when you are doing really cool things, some people could get ahead of themselves.
"But I could never feel any sense of entitlement walking down my street to my parents and my neighbours who keep asking if I'm going to be in Corrie yet.
"My family are amazingly supportive. We celebrate when I get a part but then they're like, 'Aye, but is it the main part..?' It keeps your feet on the ground!"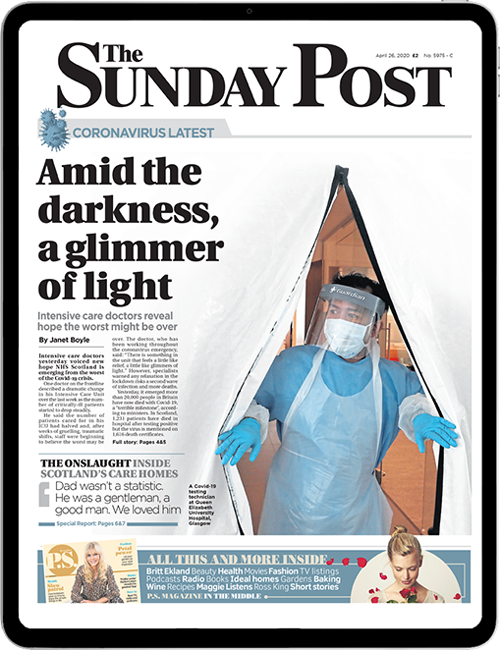 Enjoy the convenience of having The Sunday Post delivered as a digital ePaper straight to your smartphone, tablet or computer.
Subscribe for only £5.49 a month and enjoy all the benefits of the printed paper as a digital replica.
Subscribe