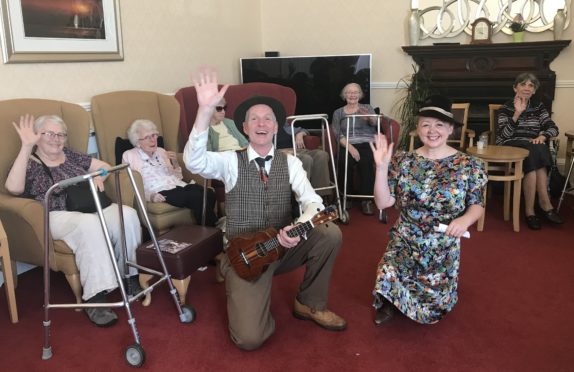 Cast members from a musical comedy at this year's Edinburgh Fringe have visited local care homes to put on special performances.
They took time out of their festival schedule to bring Paradise Lodge to a number of  residential homes, including Letham Park and Glencairn.
It meant that residents who may not normally be able to access the array of shows on offer at the Fringe could get a taste of the festival.
Fittingly, Paradise Lodge is itself set in a care home and is based on writer Steve Cooper's experience of caring for his mother-in-law in her final years as she lived with dementia.
One in three people in the UK will develop dementia, and the production encourages people to think about the person behind the condition.
Steve said: "We've tried to connect with local people when we have been doing preview shows in the run up to coming to Edinburgh and, given the subject matter of the show, it made sense to take two characters out of the play and carry on the tradition up here.
"We didn't just want to come to the city and ignore the wider community. Singing in care homes is our way of giving something back."
Each performance of the show has a collection bucket for Alzheimer Scotland, as well as advice for people about the condition.
"Doing the care homes has taken us away from the madness of the Fringe and given us some perspective," Steve added.
"The residents and carers up here have been wonderful to us. Singing along and giving us a great welcome. None of our audience members at the Fringe have asked us to come back and "…don't forget about us, will you?" like they did in Leith.
"When other memories have faded, music remains. More people should do it. It's good for the soul and stays with you for longer than a few stars on a poster. The question is not 'why would you do it?' it's 'why wouldn't you?'."
---
Paradise Lodge runs until August 26 at Underbelly, Bristo Square, 1:15pm daily https://tickets.edfringe.com/whats-on/paradise-lodge