Living with an eating disorder is like living with a voice.
A voice only you can hear.
The voice slowly lures you in, appearing to be your friend. It tells you that you are doing the right thing; that this will all work out in the end. Soon, you will look and feel so much better than you ever felt in your life. Just a few more days to go.  A few more weeks. Months.
You spend so much time with this new voice in your head – this companion – that you fail to notice how little time you have been spending with your family and friends. The look on your mother's face when you go to bed instead of eating dinner goes unnoticed as you run up the stairs. The voice has explained, however, that you must miss dinner so that you can eat breakfast without any guilt. And to you, it all makes perfect sense.
The voice tells nothing but lies, of course, and breakfast is a bowl full of guilt which goes unfinished. You sit alone in an empty classroom during lunch to avoid the worrying looks from your friends who can't understand why you don't want to chum them to the co-op for a meal deal.
They haven't heard the voice. The voice knows better.
When I was 17 years old, I began making myself sick. I can remember the first time it happened. I had eaten 10 bags of Tangy Toms crisps as a dare and felt bloated, greedy and full. Never having attempted it before, I didn't know if I would be able to bring the snacks back up. But I stuck my fingers down my throat as far as I could and, after a couple of retches, up came the Toms.
It didn't take long for this to become a common habit, and soon I was vomiting daily. At the time, I suppose I told myself I was doing it to prevent weight gain as I was beginning to "fill out". Looking back, however, I know I was depressed, anxious and lonely as my mother and father were having serious issues with their marriage and my two older siblings were at university. The thing which I had always considered my constant; my rock, had suddenly crumbled beneath my feet and I was, to put it simply, scared.
It all comes down to this thing that everyone wants, but is not regularly considered until it is lost. Control.We like to be in control of our own daily routine; we like be in control of who we spend our time with; we like to be in control of what we watch on the telly; we like to be in control of the food we eat.
I never wanted to be stick thin, I just couldn't bear to lose control of this one thing over which I had a power and no one else – what I put, or didn't put, in my mouth.
Obviously now I can see that in trying to gain control so ferociously, I lost control completely. I was obeying a voice in my head whose instructions would kill me.
I first realised I had a problem when I couldn't eat anything, not even a single biscuit, without this voice telling me I shouldn't have done it or that I must reverse my actions. I can remember finally confiding in my mother and sister in my bedroom, through floods of tears, "I can't stop it, I've tried, but I can't."
It was like an addiction – that's the best way I have found to explain it. My mother was determined for me to break it, so I began only eating foods which I felt were 'safe' or 'allowed', namely fruit and vegetables. This meant that I lost a lot of weight rapidly, accelerated by the fact that I would get off the school bus a mile before my house so that I could walk the rest of the way home.
Instead of throwing up, I had become obsessed with limiting my intake of food and doing exercise to work off what little I did eat. Realising this, my mother convinced me to go to our local GP, who referred me to a specialised nurse called Gillian. I met with Gillian weekly for over a year. She is the reason I got better, I have no doubt. She became almost like a friend. She understood what I said and was never judgmental or surprised by the thoughts that I shared. Slowly, I started to listen to her, and not to the voice. She showed me how to recognise the thoughts which belonged to me and those which belonged to the voice. She helped me regain power of my own judgement.
Five years later, I am happy and I am healthy, I have graduated from the University of Glasgow and am now studying a masters at Glasgow Caledonian University. I wish I could say that the voice has been forever silenced and that I haven't heard it in half a decade. I still hear it sometimes, however, and I have slipped up occasionally. But when I look at what I've gone through and what I have managed to overcome, I can't help but feel proud.
I never wanted to be as skinny as I became. I scared myself with my actions and I hated what I was doing to my family. I was constantly confused, guilty and angry. Most of the time, I was angry at myself, but occasionally I would lash out at those who love me the most.
I think people make assumptions about eating disorders; about what they are and why they start. People judged me and thought I had become shallow, obsessed with my weight. My weight had become an obsession, I suppose, but not for the reasons they thought.
It should be recognised that anorexia and bulimia are sever mental illnesses. They grow and manifest and can take over lives. It's not a choice. I cannot stand it when people say, "I could never have anorexia, I just don't have the will power."
It is a lack of power and a lack of self esteem that is at an eating disorder's core.
---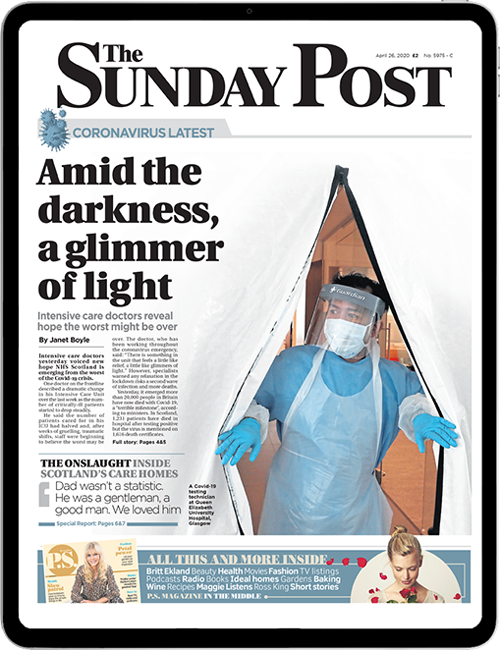 Enjoy the convenience of having The Sunday Post delivered as a digital ePaper straight to your smartphone, tablet or computer.
Subscribe for only £5.49 a month and enjoy all the benefits of the printed paper as a digital replica.
Subscribe