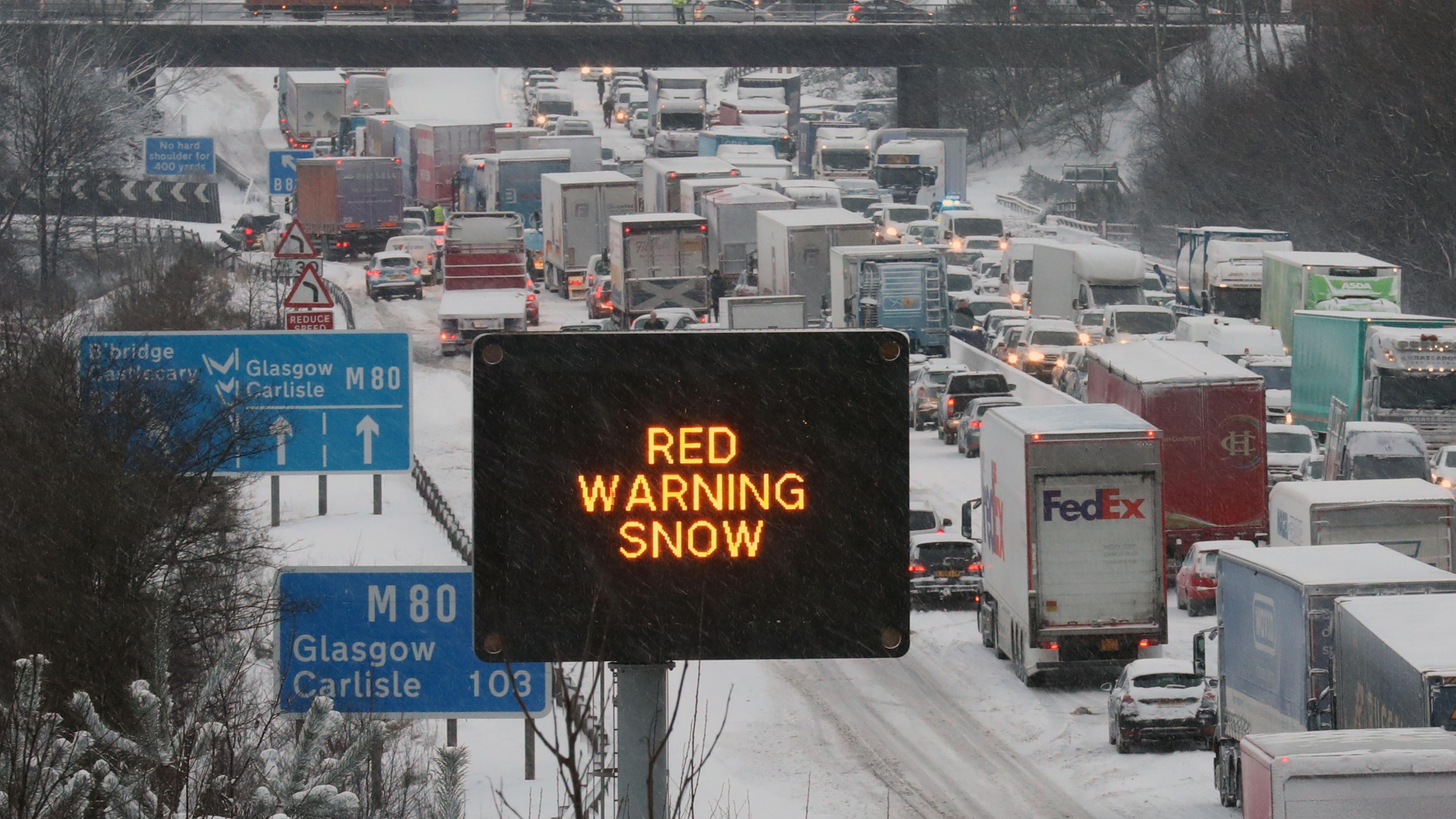 HUNDREDS of drivers were stranded on a motorway overnight as a red weather warning for snow was in place across central Scotland.
Traffic became stationary on the M80 on Wednesday afternoon when heavy snow hit, with forecasters issuing the highest level warning for the area.
Police said at the height of the incident there were an estimated 1,000 vehicles at a standstill, with tailbacks of approximately eight miles (13km) both north and southbound.
Motorists reported being stuck for up to 13 hours, with some spending the night in their cars, and others abandoning their vehicles on the motorway.
** UPDATE **
Todays advice don't travel unless you're an emergency worker. #REDALERT remains till 10am & #AMBER till 6pm. Many drivers trapped in vehicles for long periods. Public transport disruption all day check @trafficscotland @ScotRail & radio for updates #BeastFromTheEast pic.twitter.com/7ltBVoPK9i

— Police Scotland (@policescotland) March 1, 2018
Emergency responders and volunteer agencies, including mountain rescue teams, checked on stranded drivers.
Police were advising people not to travel on Thursday unless they are an emergency worker.
Superintendent Helen Harrison said: "We are now 24 hours into the red and amber-related advice not to travel on the roads and rush-hour last night was noticeably less busy thanks to people heeding our message. It remains the same this rush-hour coming – do not travel.
Disruption expected on most ScotRail services into the late morning
"Many of those people who did go out yesterday faced treacherous conditions, blocked roads, being stuck in their vehicles or even being involved in collisions. We do not want anyone to put themselves or others at risk in these conditions.
"We are continuing to run a multi-agency command centre at Bilston to co-ordinate the emergency response to the severe weather with our partners and keep Scotland moving as best we can."
Graeme Murray left Aberdeen at 2.45pm on Wednesday with his daughter Ella, 16, who was hoping to catch a flight to Dublin from Glasgow for an under-17s netball competition.
Speaking at around 10pm, the 49-year-old legal commercial director said: "Everything was going well until just after Gleneagles, then we hit the traffic jam at 5.05pm and have been here ever since.
"We have no idea what's happening, we're just getting messages from home.
"I think we're going to get ready to spend the night here."
Other major routes also faced disruption, with reports of minor accidents on some roads.
‼️ RED Weather Warning from @metoffice remains in place til 10am THIS MORNING ‼️

Advice from @policescotland AVOID TRAVEL – ask yourself, is travelling on the roads REALLY necessary or can it wait??

DO NOT put yourself or others in dangers #BeSafe ❤️ @transcotland

— Traffic Scotland (@trafficscotland) March 1, 2018
Hundreds of schools were closed for a second day on Thursday as the severe weather continues with Glasgow, East Dunbartonshire, Edinburgh, West Dunbartonshire, Inverclyde, Midlothian, Falkirk, North Lanarkshire, South Lanarkshire and Clackmannanshire announcing that all their schools would be shut.
Flights were also disrupted, with Glasgow Airport announcing that it will be closed until 3pm on Thursday,
The extreme weather has also seen NHS Greater Glasgow and Clyde cancel all non-essential operations and outpatient appointments on Thursday.
Following heavy snow showers overnight and with a red alert still in place we will be extending the closure of the airport until 3pm on Thursday. Further snow is forecast during the day which will make travel conditions to and from the airport extremely challenging. 1/2

— Glasgow Airport (@GLA_Airport) March 1, 2018
Virgin Trains has shut all its routes to and from Scotland throughout the day, while ScotRail halted all operations in the affected red area until late morning.
Bus operators in central regions also reported there would likely be disruptions continuing on Thursday.
Transport Minister Humza Yousaf said: "The travel advice in the affected areas today could not be clearer – do not travel unless it is absolutely necessary to do so.
"Even after the red warning is lifted, large parts of Scotland will still be subject to high-level amber weather warnings for snow. This should not be under-estimated. An amber warning means there is a real possibility that vehicles and drivers will become stranded – something that we have already seen happen during this period of snow.
Met Office forecasters issued alerts across most of Scotland, with the highest level warning continuing until 10am on Thursday in central regions.
It is the first red alert for snow in Scotland since a new warning system came into place in 2011.