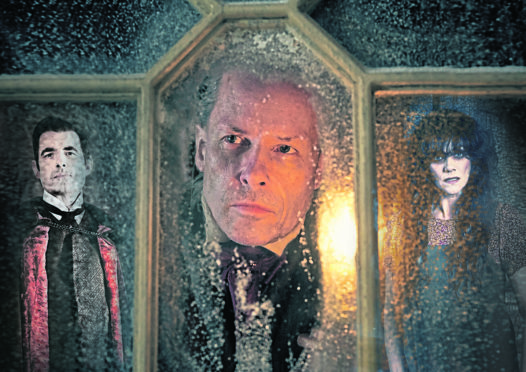 Forget cosy Christmas specials and indulge in haunting tales and a twisted Yuletide classic.
Dracula 
Being the world's most infamous vampire is no easy job, as Danish actor Claes Bang became all too aware during filming.
He takes on the iconic role of Dracula in the BBC's big budget three-part adaptation of Bram Stoker's novel.
Steven Moffat and Mark Gatiss, the writing team behind Sherlock, Jekyll and Doctor Who, have scripted this version of the quintessential vampire tale and wanted Claes to play the part.
"When my agent said they wanted to talk to me about playing Dracula, I thought that the world had all the Draculas it needed.
"But then I read the script and it was clear the world didn't have a Dracula like this one."
Transforming into the Count took some getting used to, though.
Claes said: "I don't think I've had a role before where there were so many elements to the costume that could have been obstacles – the teeth, nails, lenses and prosthetics – so I had to get accustomed to that.
"The fangs were brilliant once I got used to them.
"I had some practice teeth to take home to say my lines with, because at first when I put the fangs in I couldn't say my Ss.
"But once I mastered them they worked really well, and looked terrifying.
"In terms of physicality, he's got the nails. The make-up design team created my fangs first, and then based the design of the nails on the fangs, so they're actually just the fangs as nails.
"They were quite annoying to wear for a hundred days. And going to the loo was a bit tricky, but you learn to work around that. It's a challenge!"
So, too, was the blood.
"It's not especially nice that before a take your mouth is filled with this fake blood that dribbles down your chin, but it really helps.
"The flavour took some finessing, though. We started out with something that was just syrup and red colouring, but it made me want to vomit.
"The effects team came up with something with a lot of beetroot and lemon in it, which wasn't so bad.
"Before one take I had to gulp a whole cup of it to hold in my mouth for when the cameras started rolling, but the director hadn't seen I'd done this, so came over to try and talk through the scene with me, and thought I was being rude by not saying anything."
The look the costume and make-up department came up with for Claes got the thumbs up from Mark Gatiss.
Claes added: "Mark said if Christopher Lee and Bela Lugosi were a couple and had a child, it would be me!"
---
Dracula, BBC1, Jan 1-3, 9pm
---
A Christmas Carol
From Alistair Sim to Bill Murray and The Muppets to Mickey Mouse, A Christmas Carol has been adapted for the screen more than any other story.
Yet the BBC is promising a brand new exploration of one of literature's most famous characters in its three-part dramatisation of Charles Dickens' classic ghost story.
Peaky Blinders writer Steven Knight has written this version, with LA Confidential star Guy Pearce leading the cast as Scrooge.
"What I really loved about Steven's writing was just that real detail about behaviour and psychology," said the 52-year-old Australian.
"He's such a beautifully poetic and yet brutal writer that I felt I was made to feel really uncomfortable, but at the same time really, utterly heartbroken by what Scrooge had experienced in his life, and how it was written about."
In this version, The Ghost of Christmas Present is a woman, played by Charlotte Riley.
Her husband, Tom Hardy, is an executive producer on the show.
Charlotte, from County Durham, was excited by the fact she's Scrooge's older sister.
"It allows a whole different side to Scrooge," the 37-year-old said. "You get the impression from the scripts that she was a little bit of a mother figure to him, she took care of him."
Another change is Knight's approach to Jacob Marley, Scrooge's deceased business partner – a chained and tormented ghost in the novel who warns Scrooge about the imminent arrival of the three spirits.
"It's going to go more into the importance that Marley has to Scrooge, and their friendship," explained Line Of Duty star Stephen Graham, who plays Marley.
"He has this massive undertaking straight away of trying to get the message across to Scrooge that he has to alter his ways, which he sees as a thankless task."
Andy Serkis, known for films such as the Planet Of The Apes, plays The Ghost of Christmas Past, who he describes as "a pagan traveller stuck in purgatory".
"We came up with the idea that he is a rather sinister figure who, 200 years before the story happened, committed murders and is atoning for his sins."
Asked why Knight's re-telling is unique, he says: "It's an anatomy of what it is to be selfish."
Stephen Graham believes the themes of the story feel apt for now.
"It's one of those stories where we have a chance to reflect on ourselves – what we've done, decisions we've made, and how we strive to be better people."
---
A Christmas Carol, BBC1, Today-Tues, 9pm 
---
Susan Hill's Ghost Story
Neve McIntosh says it's the most wonderful time of year – for a spooky story.
As the TV schedules testify, we love nothing more than a creepy Christmas.
And the former Doctor Who and Shetland star's contribution to the frightening festive season is to play a restless spirit in Channel 5's big Boxing Day drama, Susan Hill's Ghost Story.
"I think with the dark nights there's a lot more spookiness around," said Neve, who played Madame Vastra in Doctor Who. "Maybe it's something we reflect back to nature.
"It starts with Halloween and all the bonfires. I think maybe because we're so nice and cosy sitting indoors and all the nastiness is outside, it's comforting in a way as well.
"I think we like lighting candles and watching a nice, spooky story.
"There's a psychology in Ghost Story, a darkness inside and out, and I think we enjoy that."
Ghost Story is the first adaptation of a Susan Hill novel since The Woman In Black was made into a blockbuster movie starring Harry Potter's Daniel Radcliffe in 2012.
The story is set in Scotland and stars Douglas Henshall as Adam Snow, an antique book dealer who finds himself haunted by the ghost of a young boy when he buys an old house.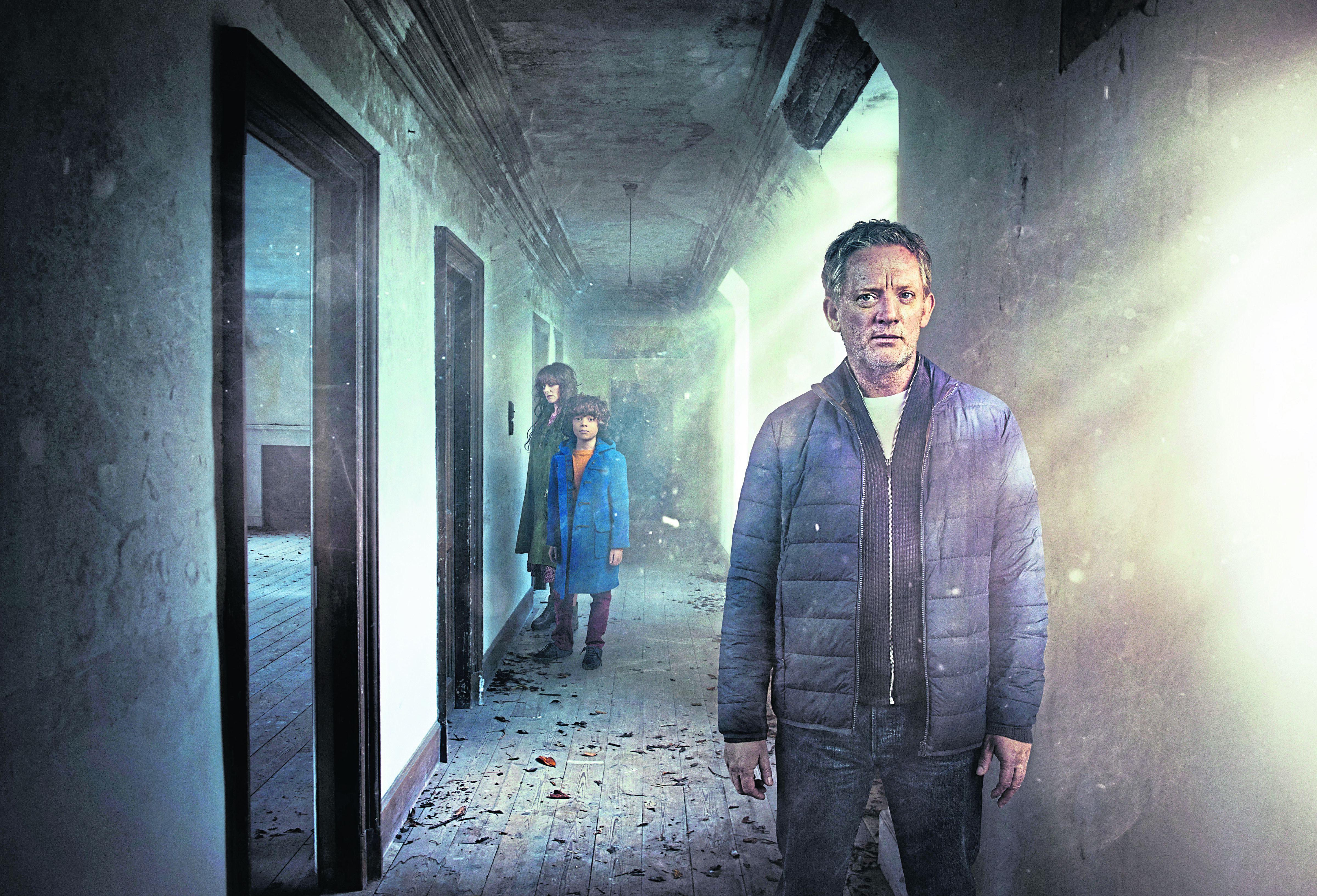 As he investigates the strange occurrences, he is plagued by nightmares as he receives increasingly sinister visits from the ghost, ultimately revealing a haunting secret from his own childhood.
"We filmed a lot of it in Bannockburn House, which I didn't even
know existed," admitted Paisley-born Neve, who moved to Edinburgh when she was eight.
"It had tunnels and flagstone floors and was quite eerie, so it was a great place to film. You could really feel it.
"I play Denisa, who was once the lady of the house and created this beautiful garden in the grounds.
"She had a son who died tragically, and then she also died, and they can't be at rest, their spirits bound to this house for all time.
As Dougie's character unravels the story, it's a mirror to some of the stuff he's also going through."
While Susan Hill wasn't on set, her writing partner, Barbara Machin, was there.
"It was lovely to have Barbara around because she knows the story intimately, and we did receive nice messages passed on from Susan," Neve continued.
"For the garden scenes, we filmed out near Greenock. We were hoping for a bright sunny day but of course it was lashing down. Yet when we were filming in Bannockburn House we had to put big tabs up on the windows because it was supposed to be night-time but it was glorious sunshine outside. It's always the way!"
She added: "I hope everyone enjoys Ghost Story. It's nice to have a real psychological, spooky tale on Boxing Day.
"I grew up in Edinburgh, where there is a folklore of ghosts being everywhere.
"We do have that history in Scotland, which I think suits us.
"Hopefully the film will touch people in the right way and I'm look forward to seeing the reaction."
---
Susan Hill's Ghost Story, Channel 5, Boxing Day, 9pm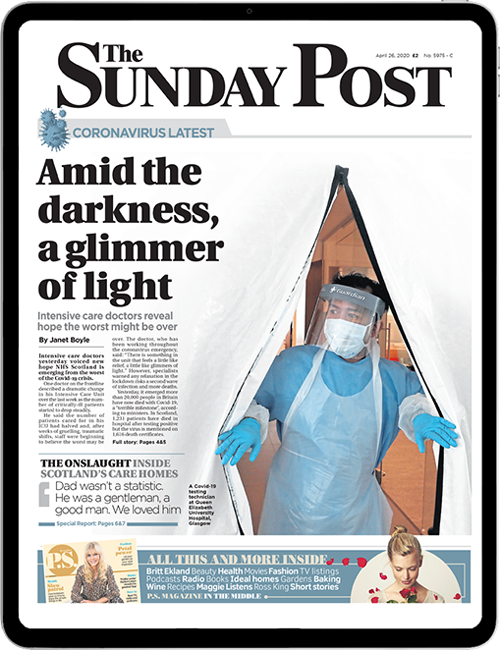 Enjoy the convenience of having The Sunday Post delivered as a digital ePaper straight to your smartphone, tablet or computer.
Subscribe for only £5.49 a month and enjoy all the benefits of the printed paper as a digital replica.
Subscribe