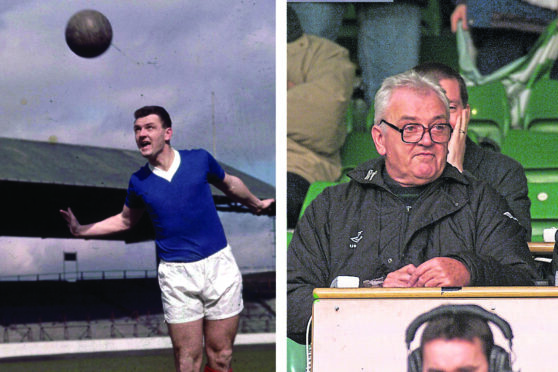 Kenny Dalglish led tributes to former footballer turned journalist Doug Baillie yesterday after his death at 85.
He had been a giant on the pitch, a towering centre-half for clubs including Rangers and Airdrie, known and respected at grounds across Scotland.
But when Doug Baillie hung up his boots, he continued to shape the game he loved, informing and entertaining generations of supporters as the chief football writer at The Sunday Post.
Yesterday friends, colleagues and fans hailed one of the game's most popular, best-known figures after a successful career on the pitch and in the press box.
Dalglish, another Sunday Post columnist, said he was sad to hear the news. "Doug was every bit as talented a writer as he was a footballer. He had a lovely way with words and also had a wonderful ability to make you laugh out loud at the appropriate moment," said Dalglish.
"I was just starting out in my career when Doug got into The Sunday Post and I was always grateful to him for being gentle on me whenever I had a below-par performance for Celtic. The condolences of the Dalglish family go to everyone in the Baillie household."
The former player and journalist died at home in Hamilton yesterday after an illness.
An imposing centre-back, he was a member of the Ibrox squad that won three consecutive league titles from 1961.
He played 31 games for Rangers over four years after signing from Airdrie in 1960. After Rangers, he joined Third Lanark and Falkirk before ending his career at Dunfermline.
When he retired from the game and joined The Sunday Post, he took over as chief football writer from Jack Harkness, the Scotland goalkeeper in the legendary Wembley Wizards team of 1928. Doug covered Scotland in two World Cups in Argentina and France.
He was also a past president of the Scottish Football Writers' Association. His son Lex carved out a career as a defender with Celtic, St Mirren and Dunfermline before later joining the police.
Football commentator Jock Brown had been a friend of Baillie since they became neighbours in 1969 and they worked together on The Post.
"He was loved by many and was a giant presence in the press box," Brown said. "He found it easy to get interviews with the big-name footballers and managers of the day because he was so well liked. He will be sorely missed."
Rangers also paid tribute last night, saying: "Everyone at Rangers FC is sad to learn of the loss of former player Doug Baillie. We pass on our sympathy to the Baillie family circle at this difficult time."
Wherever The Big Man went, laughter was never far away
By David Walker, Sunday Post Sports Editor
The death of Doug Baillie is proof, as if we needed it, that legends are mortal too.
The news came yesterday lunchtime as I was sitting in a press box in Sofia, one of the many cities The Big Man clocked up in his 32 years as chief football writer for The Sunday Post.
He reported on six World Cup Finals – back in the days when we qualified for them – countless cup finals, other internationals and club games from Aberdeen to Berwick and all points in between.
And, wherever he went, laughter was never far behind. Dougie's sense of humour was legendary, and it transferred itself onto newsprint with a series of catchphrases comedians would envy.
The ball never entered the net, it was "the onion bag". Players weren't booked for late or high tackles but for going in or their opponent like "a can-can dancer".
And "but for the net, the ball was heading for Hamilton Cross" was another of Dougie's stock phrases, the geography altered to suit the venue. He had a unique style of writing which was a cornerstone for his newspaper and a touchstone for Scot football fans on a Sunday morning, whatever team they supported.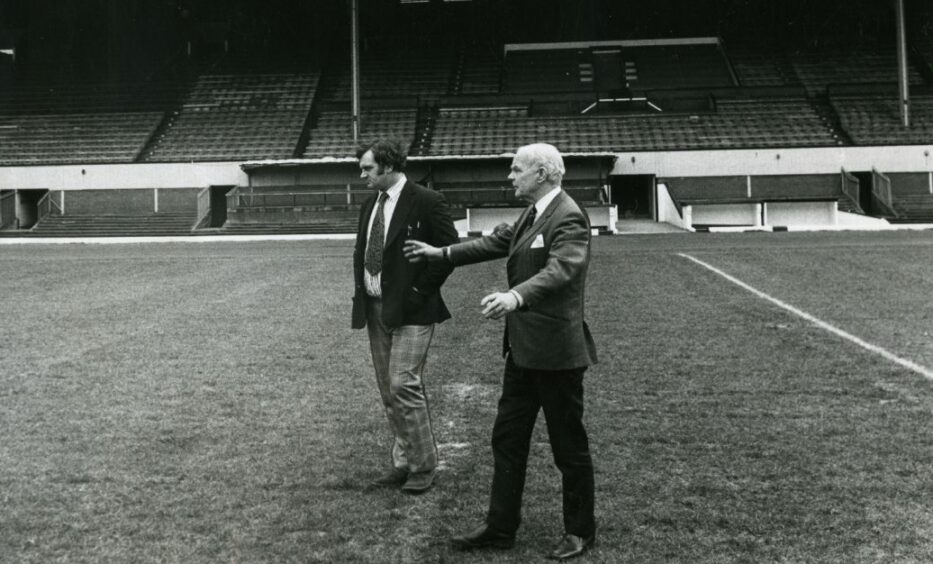 I got involved in 1979, and my grandad – a huge fan – couldn't believe I was working with THE Doug Baillie. As the industry moved into its early dealings with technology, he handled it seamlessly. Better, certainly, than a colleague who wondered why he couldn't get a mobile phone signal until Dougie pointed out he had a TV remote in his hand.
And he knew what he was writing about, having been a professional player himself with Airdrie, Rangers, Third Lanark, Falkirk and Dunfermline. Indeed, one of his final games for the Pars was a European tie against Anderlecht.
Within a couple of weeks, Dougie was playing for The Sunday Post team – Tempo FC – on a Glasgow public park. He would assume the role of chief football writer from Wembley Wizard Jack Harkness, and it was Dougie's Wembley Wizardry which gave me a cherished memory of the man.
It was 1981 and FA Secretary Ted Croker attempted to prevent the Tartan Army from travelling south. My dad – part of a Wembley club with fellow police detectives – asked me to ask Dougie if he could pull any strings.
"Leave it with me," he was assured. A call went into the SFA HQ at Park Gardens and I was soon the proud owner of 20 tickets for Wembley.
"Just tell your dad they've to be paid for," were The Big Man's parting words.
He could fill a room with laughter, break the ice when required and was the king of the one-liners. Indeed, I only ever saw him nearly lost for words once in the 23 years we worked together.
We were side by side in the Celtic Park Press Box for the Ne'erday Old Firm game, with Dougie's son, Lex, playing for the Hoops. A slip from Lex led to a Rangers goal, and I waited for Dougie's reaction.
Nothing. Until he turned round to ask his fellow scribes the stock question: "Did anyone see what happened there?"
The Press Box duly dissolved into laughter. That was typical of the man and every time I think of him, I smile.
We'd all settle for that.
If this boy isn't the best thing since sliced bread, my mum's a cowboy

– Doug Baillie on Maradona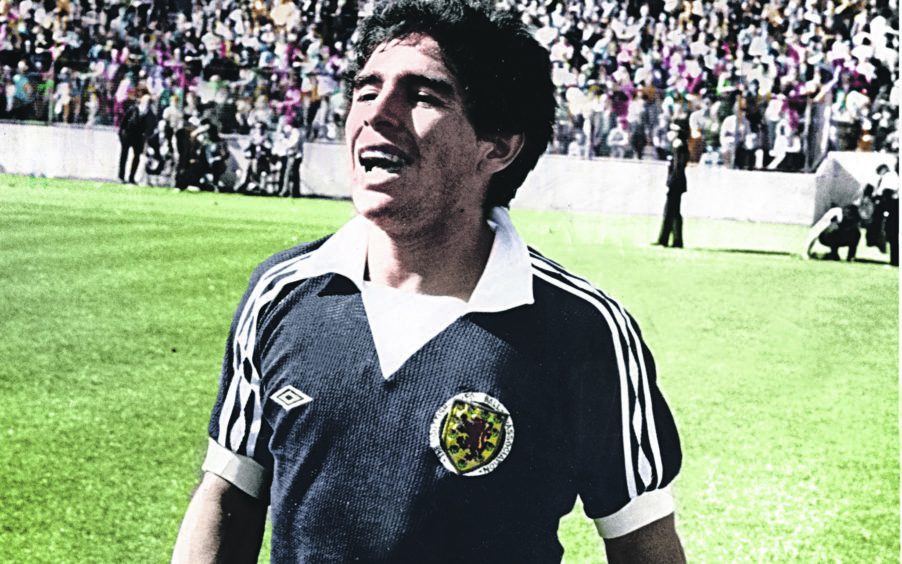 On the pitch, he had been a towering centre-half and, behind a type-writer, Doug Baillie had similar stature.
His writing style, blazing with colour and hilariously idiomatic, was often copied but rarely equalled as his match reports and interviews enthralled generations of Scottish football fans every Sunday morning.
It would have been his report that the Tartan Army would have turned to on June 3, 1979, after an unknown but hotly-tipped Argentinian had made his debut at Hampden the day before, helping beat Scotland 3-1 in a friendly.
Doug, like the other 61,917 fans in the national stadium, knew Diego Maradona was something special. Unlike everyone else there that famous day, he had the words to describe the indescribable. This is how he started his report:
For every man, woman and wean unlucky enough not to make it to Hampden, I have bad news. You missed the treat of a lifetime. And it could be long enough before you get a second chance to cast your eye over Senor Diego Maradona.
If this 18-year-old doesn't go on to become the greatest thing sliced bread, my mother's a cowboy. What a player he is and, by the looks of him, he's no right to be. He's little more than knee high to a grasshopper, his beam-end fairly fills his shorts – and he's got a pair of legs like tree trunks. But he has the happy knack of always being around when required and has skill and pace just short of mind-boggling.
Oh, yes, I nearly forgot. He never headed the ball once and if he touched it with his right foot, I must have been blinking at the time.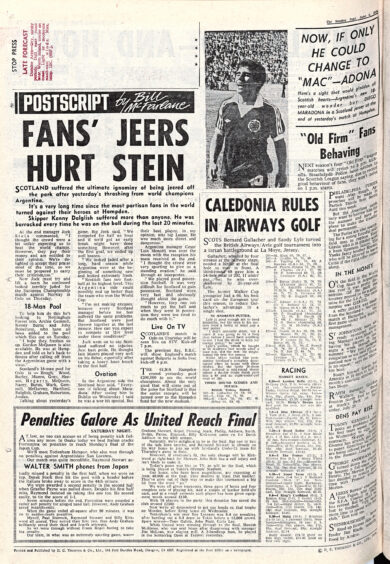 Their first goal was gorgeous to see and right in the thick of things (surprise, surprise) was that wee yin Maradona. Tiny Diego picked up the ball from Danny Valencia on the halfway line. The Scottish back lot might as well have been sitting with me. They had just about as much chance of stopping him.
Actually it looked as if the ball was on a conveyor belt, so easily did he leave them stranded.
Right into the white-of-the-Alan-Rough-eyes-zone he went. As the goalie came to him, he cutely flicked the ball across the box to Luque, who rolled it into el pokey. No problem.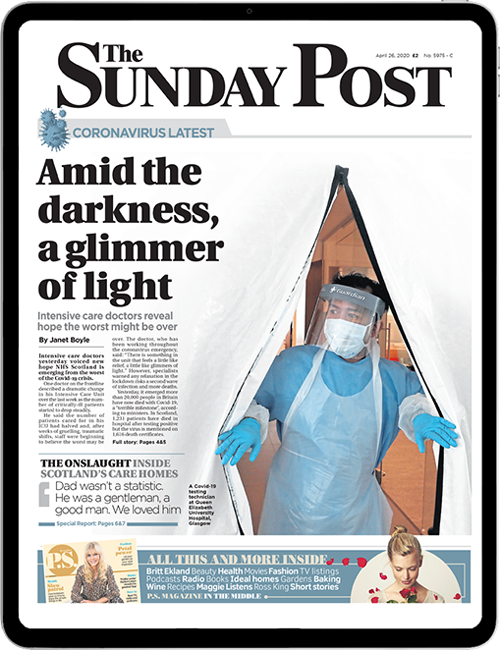 Enjoy the convenience of having The Sunday Post delivered as a digital ePaper straight to your smartphone, tablet or computer.
Subscribe for only £5.49 a month and enjoy all the benefits of the printed paper as a digital replica.
Subscribe