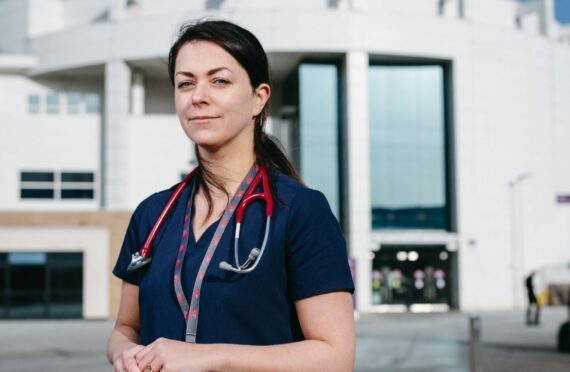 Doctors are good at prescribing advice on how to stay healthy and happy – but in real life what lessons have they learned from their patients?
From DIY tools, motorbikes and duvet days to sweetie snacking and potentially treacherous loose slippers, some of Scotland's top medics tell The Sunday Post of the everyday dangers experience has taught them to avoid.
Professor Jim McCaul, head and neck surgeon at the Queen Elizabeth University Hospital, Glasgow
"I would never use an angle grinder for DIY, not after operating on patients whose faces were divided in two when the tool got caught and jumped.
"Angle grinders can produce horrific damage to the human face. Just don't use one. Ask someone with training to operate it – while wearing a robust helmet and face guard – and never try to cut up a rubber car tyre with one.
"I restored to near normal two patients with faces split, one of whom was trying to cut a cat flap in a door. The flap ended up in his face.
"After three hours of surgery, his face was in one piece again.
"I won't ever ride a motorbike after treating severe trauma when riders lose control, if they survive.
"Not wearing a full-face helmet results in very severe disruption of the whole facial skeleton and soft tissues. Our team recently operated all day on a man with these severe injuries.
"I also carry out surgery on head and neck cancers, and I will never smoke. Just never. Don't even be in the company of smokers, as we all were on nights out until the 2006 smoking ban.
"Passive smoking also triggers cancer. It causes most mouth and throat cancer. If not caught early, it requires major surgery to remove and reconstruct with other body parts – free flaps from arms, legs, back or tummy – and is life-changing.
"Still less than half of patients survive five years with this disease. Treated early, surgery with or without radiation treatment is life-saving.
"Past a certain disease stage, the changes of treatment become very difficult. One in five patients in the west of Scotland present with disease we cannot cure.
"Alcohol also causes mouth and throat cancer so stick to safe levels. Smoking and alcohol together cause the most cases of this cancer.
"Also, any new lump, ulcer, red patch or white patch in the mouth or throat lasting more than two weeks needs to be assessed by a specialist unit. Ask your dentist or doctor to refer you urgently."
Dr Anna Barton, cardiology registrar and British Heart Foundation PhD student at Edinburgh University
"I doubt if there's any doctor who doesn't struggle to avoid digging into the sweeties or biscuits found in most wards or clinics.
"Treating patients whose obesity has caused heart attacks and made their blood pressure soar is a daily rain check on the risks of guzzling sweets and treats.
"Doctors know how difficult it is to reduce snacking but carrying too much weight is a driver for diabetes and high blood pressure which drive heart attacks.
"We couldn't hand out advice on weight while sitting chunky and tubby in clinics. The patients would only laugh.
"So I really try to avoid the work sweetie or biscuit tin, if I can.
"But it's always someone's birthday or leaving or retirement celebration, and I try hard to enjoy these sweet treats mindfully and sparingly. It's difficult because hospital work can be busy with limited opportunities for breaks and eating well.
"I aim to bring in a balanced, easy to eat and healthy meal. It can be leftovers in the fridge which stop me from being tempted by chips and other comfort food in the canteen.
"I love cooking, but making food from scratch isn't practical through the week, so I batch cook on weekends off and enjoy making more elaborate special meals.
"Call it a kind of cook more, eat less and freeze meals for later. It takes the same amount of time to cook two or three meals."
Dr Calvin Lightbody, A&E consultant
"I would be surprised if you saw many A&E doctors crashed out on the sofa on a day off.
"Around 40% of the over-65s who come over the door in A&Es are now frail.
"Some just 20 years before their time, often because they did not stay fit and active in their middle age.
"They are physically weaker with a loss of muscle strength and are now more easily injured or harmed.
"It's easy to become frail, and easy to avoid by not sitting for hours watching TV.
"A&E doctors are seeing a trend away from injuries in young people from violence and alcohol-linked daftness towards a higher number of injuries in older people.
"I am in my 40s and will never spend a day watching a box set. I am already working to stay fit and on my feet in my 70s and 80s.
"Not moving enough can mean not maintaining your balance, and if you fall and have a bad head injury, you are much less likely to recover than someone younger.
"You will also never catch me in a pair of loose or sloppy slippers either. It's not always easy to recover from a fractured ankle or hip."
Dr Tom Mallinson, GP and pre-hospital physician with the British Association for Immediate Care Scotland in the Highlands
"I would never get in a small boat without putting on a life-jacket because you won't last long in cold water without one.
"I was called out to a yachting accident a while ago where children were thrown into the water when it sank. On the way we had to plan for the worst. Luckily, the children survived and only because they had life-jackets on. They were cold but alive.
"When you rush to an incident like that, you don't know if you are attending children who are seriously injured or in need of CPR and resuscitation.
"No one wants to spoil anyone's fun, so take children out on the water, but remember that accidents happen.
"My heart sinks when I see adults or children walking down country roads wearing dark clothing. Drivers are far less likely to see them. I never buy a dark jacket – usually red, and my wife goes out running in bright yellow. I nag her about that.
"It is worrying as a driver and doctor to see children with dark jackets at the kerb or walking along a country lane.
"The darker the jacket, the higher the chances of a driver not seeing them.
"Motorbike riders without appropriate protective clothing risk far more serious injuries without the right gear because it acts like body armour.
"Without it, bikers can have their skin worn down by rough surface of the road, sometimes to the bone.
"Biker suits also hold your body together in a crash, so if you break a bone, it limits the damage."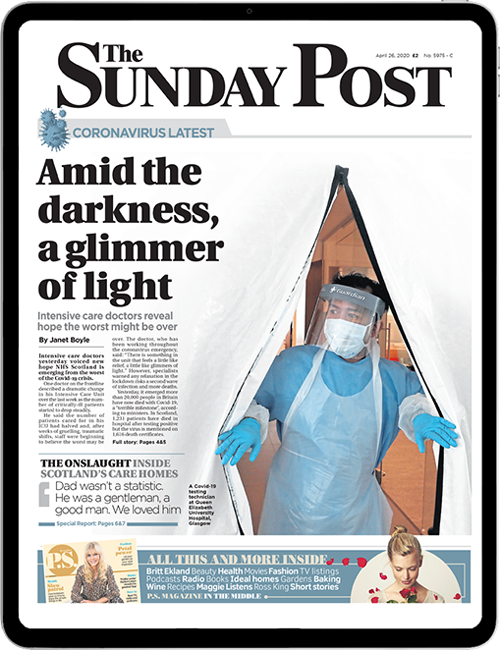 Enjoy the convenience of having The Sunday Post delivered as a digital ePaper straight to your smartphone, tablet or computer.
Subscribe for only £5.49 a month and enjoy all the benefits of the printed paper as a digital replica.
Subscribe