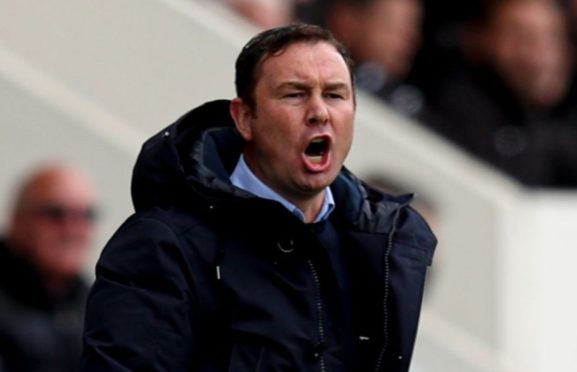 In just 19 days' time, Steve Clarke will take Scotland to Wembley to face England in their Euros showdown.
Tomorrow, Derek Adams will blaze a trail to the Auld Enemy's home, hoping to set a benchmark for his country – and eventually pave the way for him to return to work north of Hadrian's Wall.
The former Ross County and Plymouth Argyle boss is now in charge of Morecambe, who tomorrow face Newport County in the League Two Play-off Final.
Adams relishes his reputation as English football's money-saving expert, as he has to work through having the lowest budget of all 72 clubs in the Football League.
But the 45-year-old Scot is typically pragmatic when it comes to dealing with the financial constraints.
"Having the lowest budget does not mean that you have the worst team," said the man who spent seven years in Dingwall, with a break in between as assistant to Colin Calderwood at Hibs.
"It is how you spend what you have, that matters – and we have spent it well.
"We have been able to attract footballers that wanted to come to Morecambe Football Club to give themselves a chance of first-team football.
"And now, through doing that, they have the chance of playing at Wembley in what is effectively a cup final.
"Through my managerial career, I have always looked for players who have something to prove.
"You take a player in who wants to improve their career – or who wants to prove another club, who have let them go, wrong.
"I also have some players who I have worked with before, so I know their characters, which helps. And then there are those who were here when I arrived.
"A major aspect for me is whether players will blend into how I want my teams to play, the character of the player and the ability.
"I think what I look for probably changes from club to club because you have to understand what the supporters want, and what you have as a team.
"I always like to sign players who will get the supporters on their feet, the creative ones.
"I am standing on the sidelines, and I don't want to see dour football. I want some excitement.
"If you can get your players to show a bit of brilliance out there on the pitch, then it makes it easier to be a manager.
"It has been a difficult season for everyone with the pandemic. So to finish fourth, and from that get to a Play-off Final, we are all delighted.
"And it is especially pleasing because I know we have really progressed in my 18 months at the club.
"We are one game away from League One. Now we just have to get over the line."
Other employers have not missed The Shrimps' transformation from perennial challengers to over-achievers under Adams.
The 45-year-old Aberdonian has been strongly linked with Bradford City, a League Two rival, in recent weeks.
Regardless of the result tomorrow, he is likely to have options to consider over the summer.
"I think, as a player, and as a manager, speculation comes when you are doing well, and it helps in that it makes you want to do even better than you have done before," Adams continued.
"That has always been my attitude. These stories are recognition you are doing well, and you want that to continue."
The one thing Adams is certain of is that he is has unfinished business north of the border.
"I will come back to Scotland and manage, there is no doubt about that," said the man who rejected the offer to interview for the Hearts job – just as he was finalising his appointment at Morecambe – because he believed doing so would tarnish his image.
"It is not going to be in the short-term. But over the long-term, yes, I will come back because I was born and brought up in Scotland.
"The Premiership next season should be a fantastic league, with teams coming up who will feel they should have been there for several years.
"Then you have the Championship, which will be very competitive.
"It is great my old club, Ross County, were able to stay in the top-flight.
"It looked at one stage that they were going to go. But John Hughes came in, stabilised it and led them to wins in the last three games and they stayed up.
"Now they have Malky Mackay taking over. It is a change, and that is what Ross County is about. It is what Roy McGregor has always been about.
"If you look at his managerial appointments, you will see that. Neale Cooper and I are probably the longest-serving managers they have ever had."
For now, Adams' attention is focused on delivering for the little Lancashire town, who gave him a home at a time when he had been out of football for more than six months.
"The fans haven't been able to get out of their houses through the pandemic," said Adams.
"But they have been watching games on TV, and I think we have brought them – and Morecambe as a town – such happiness. You will see that come Monday.
"We will travel down Sunday, stay on Sunday night but try to get to the stadium a bit earlier to have a look at Wembley.
"Usually with a Play-off Final, you get to go in to the stadium the day before. But with Covid restrictions, that has not been possible.
"But we will look to get there a bit earlier to soak it up, and get a feeling for it – the stadium, the size of the pitch, the dressing rooms.
"It is really the small things that help you."
Including, Adams believes, the crowd.
"I actually think with the size of the stadium, the fact it will be a small crowd will help take the pressure off the players," he said.
"When I went there for the League Two Play-off Final with Plymouth in 2016, we had 35,000. There was a lot of pressure, especially as we were odds-on favourites to win it.
"For this one, because of Covid, they are only allowing 10,000 inside Wembley in total.
"It will be split – 4,000 from each side, and then another 2,000 made up of delegates and sponsors.
"Just to have fans there at all is great, but both teams would have sold a lot more had we been allowed.
"There has been a real scramble to get the ones that are available. Luckily, I have not been too bad in terms of getting pestered for them.
"We have had fans in at the semi-finals, home and away, and although it is strange after a season playing in behind-closed-doors games, it definitely helps.
"The tempo is better."
It is a message he hopes is heeded by the members of the Tartan Army lucky enough to get a ticket for the big game against England at Wembley next month.
"You look at the England squad and it is fantastic. They have got an abundance of talent. They can't choose what right-back to use, while we are just looking to get a striker on the pitch," he said with a laugh.
"But you should never write Scotland off because we will always surprise someone at some stage.
"Can we go to Wembley and win? There is no reason why not!"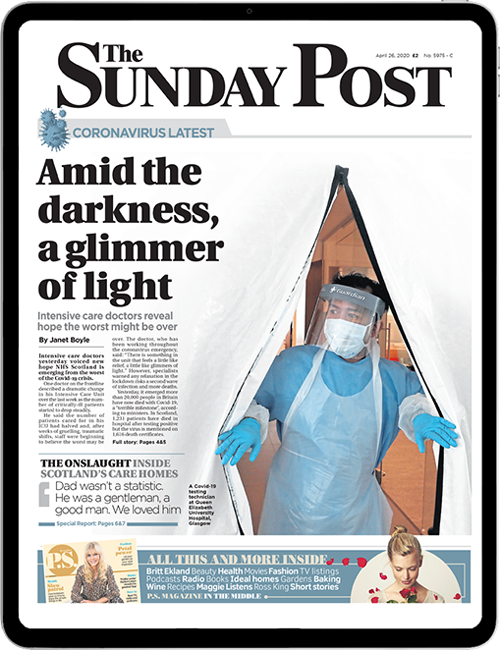 Enjoy the convenience of having The Sunday Post delivered as a digital ePaper straight to your smartphone, tablet or computer.
Subscribe for only £5.49 a month and enjoy all the benefits of the printed paper as a digital replica.
Subscribe