Voters and politicians have expressed their concerns after reports of EU citizens being unable to cast their vote in today's European elections.
EU nationals living in the UK have taken to social media using the hashtag #DeniedMyVote to share their experiences at the polling station.
Many have found their names crossed out from lists and have been told by officials they are ineligible to vote or that they have to vote in their home country.
And there have been complaints that forms required to transfer a vote to the UK had turned up too late or not at all for today's poll opening.
It's heartbreaking to see reports of so many EU citizens denied their right to vote today, all because of the incompetence of this Tory government. EU citizens are a fundamental part of our social fabric – their right to vote should be undeniable. #DeniedMyVote

— Ian Blackford (@IanBlackfordMP) May 23, 2019
Eleonore Cossery tweeted: "This morning after confirming that I would be voting in England, I was turned away at my local polling station and apparently, I wasn't the only one."
Also affected was Martyn Macintyre, who said: "I've just been turned away from the polling station saying I'm not eligible to vote despite the fact I've got a polling card and have registered too. This is disgusting."
And Emma Martiskainen wrote: "Today I found out at the polls that I am registered but I'm not allowed to vote. There are many more EU citizens like me who are turned away because we need extra forms that UK nationals aren't required. There has been no info or transparency from the gov."
Early morning visit to cast my vote only to have it disenfranchised because my declaration that I wouldn't be voting in Sweden (my country of citizenship) hadn't been processed in time. ??‍♀️ #EuElection2019 pic.twitter.com/kG3PpRaVkD

— Lina Dencik (@LinaDencik) May 23, 2019
Scotland's First Minister Nicola Sturgeon said she had spoken to a constituent from Poland who had lived in Scotland "for years" but wasn't allowed to vote, despite being on the register.
She tweeted: "It is outrageous. #DeniedmyVote"
Change UK's Chuka Umunna said: "It is simply unacceptable that so many registered EU citizen voters are being #DeniedMyVote and turned away from polling stations in error."
The issue had been raised by SNP MP Joanna Cherry at Prime Minister's Questions yesterday, who asked Theresa May to enable the singing of declaration forms in polling stations. She was not given a response to the request.
Today I asked @theresa_may to make sure all #EUcitizens living in the UK can vote tomorrow by making the UC1 form available at all polling stations. As PM she could do this but she refused. I wonder why? ? #EUElection2019 #the3millionVote #BrexitChaos pic.twitter.com/S3UUvFnnPO

— Joanna Cherry QC MP (@joannaccherry) May 22, 2019
Those affected who have completed the registration form have been advised that the register can be corrected up until 9pm this evening, before polls close at 10pm.
Those who have been unable to vote are urged to contact their local council.
According to @ElectoralCommUK's "Handbook for polling station staff", clerical errors in processing applications to vote can be corrected up to 9pm this evening and your name entered or reinstated on the register. You have until 10pm to vote.https://t.co/LY4cSTAkE2 #DeniedMyVote pic.twitter.com/W8btOMAClf

— Europarl UK (@EPinUK) May 23, 2019
‼️ If you are an EU national and can show you completed the UC1 form… contact your local authority by 9pm and ask to be added to the register. Contact details here: https://t.co/vMRGv2MNTT… #DeniedMyVote

— Nicola Sturgeon (@NicolaSturgeon) May 23, 2019
EU citizens were required to fill out two separate forms to be able to vote in the UK.
The first was for them registering to vote and a second a declaration to vote in the UK, which had to be with local authorities by May 7.
Due to time constraints, it appears that many councils did not distribute information about the second forms or the form itself.
We're aware that some EU citizens, resident in the UK, have been unable to vote today and understand the frustration this has caused. Here's our statement: https://t.co/jziu14L9Nf pic.twitter.com/7ukg7arASJ

— Electoral Commission (@ElectoralCommUK) May 23, 2019
An Electoral Commission said that the short notice of the UK's participation in the elections had impacted on the time available to make people aware of the requirements to vote.
A spokesperson said: "We understand the frustration of some citizens of other EU member states, resident in the UK, who have been finding they are unable to vote today when they wish to do so.
"All eligible EU citizens have the right to vote in the EU elections in their home member state. If an EU citizen instead chooses to vote in the EU election in the UK, there is a process for them to complete to essentially transfer their right to vote, from their home member state to the UK.
"This is a requirement of EU law, which specifies that this has to be done 'sufficiently in advance of polling day'. UK law sets this as 12 working days in advance of the poll."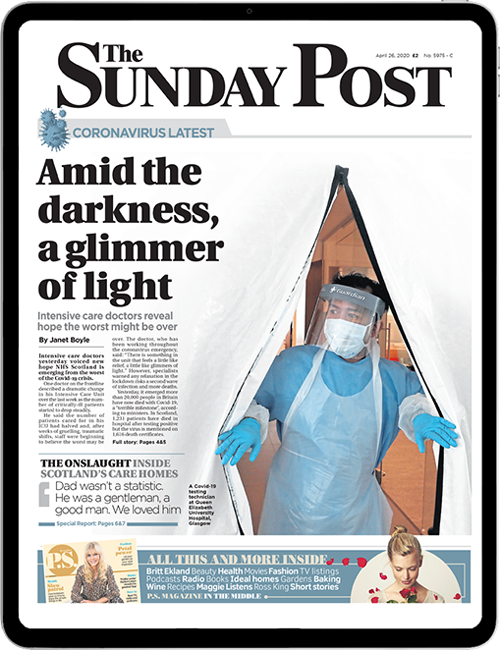 Enjoy the convenience of having The Sunday Post delivered as a digital ePaper straight to your smartphone, tablet or computer.
Subscribe for only £5.49 a month and enjoy all the benefits of the printed paper as a digital replica.
Subscribe