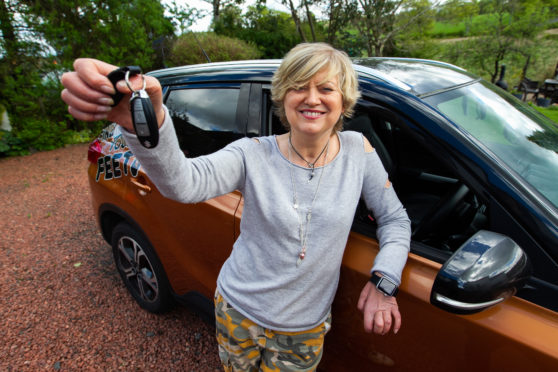 Double hand transplant patient Corinne Hutton is motoring ahead so quickly with her recovery that she's just got back behind the wheel.
Corinne, from Lochwinnoch, is amazing doctors with her progress and last week reached the major milestone of being passed as fit to drive again.
The mum of one says it's given her back her independence.
"It's a huge thing for me," said Corinne, 49, who was given her new hands in a 12-hour operation in Leeds at the start of January.
"I was beaming like a Cheshire cat when they said I was allowed to drive. My 10-year-old son Rory had his drumming lessons when I came back from the assessment and for the first time in months I was able to take him."
Corinne, who lost her hands and legs after nearly dying from pneumonia and septicaemia in 2013, had previously driven daily before becoming Scotland's first double hand transplant patient.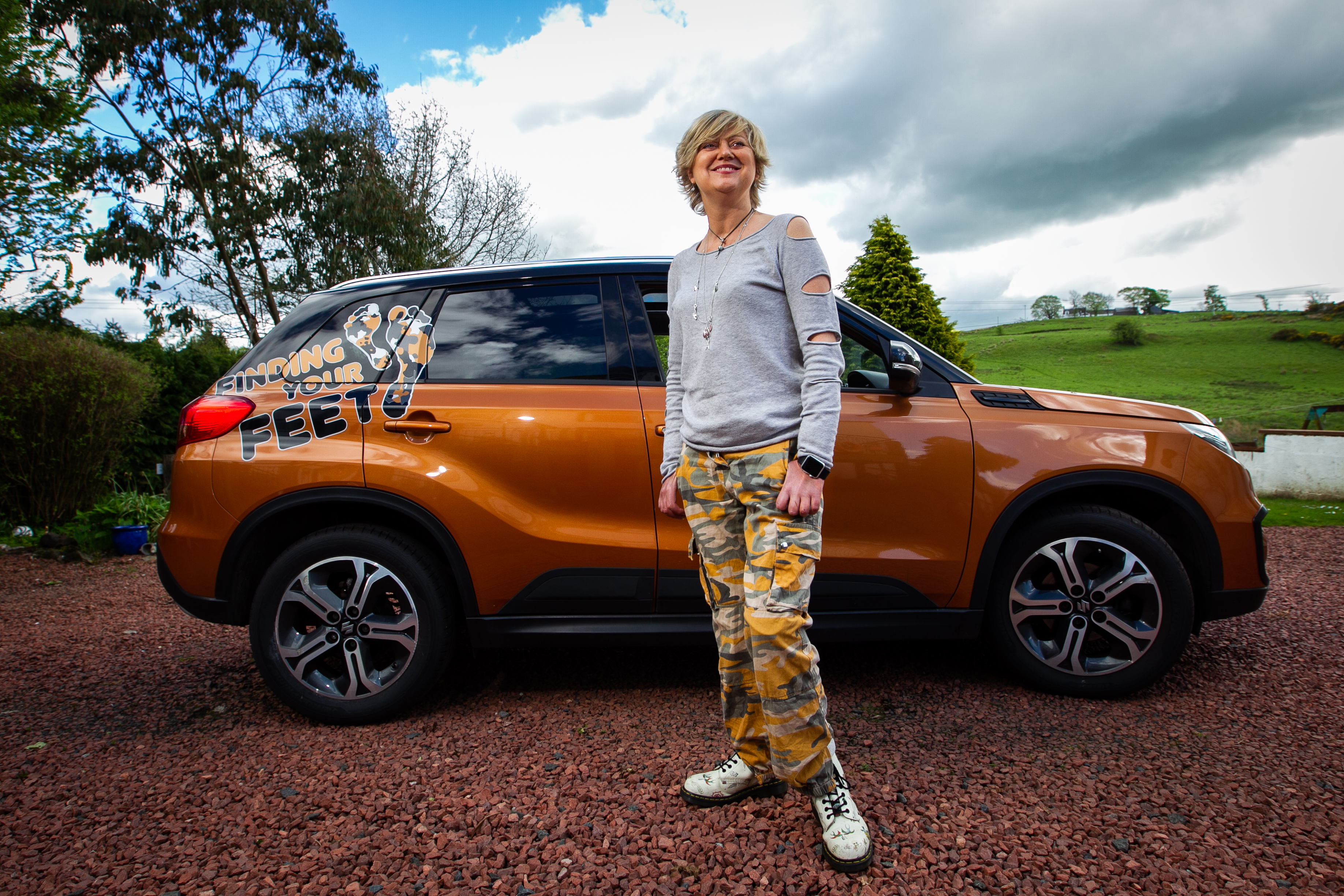 She had been unable to use her car, a Suzuki Vitari specially liveried with Corinne's Finding Your Feet charity logo, since the operation, but pushed for an assessment slot as soon as she was allowed.
"The only Scottish centre is in Edinburgh and I was told the first date would be in August. I nagged about cancellations and they called to say they had one on Monday – I know it was me being persistent and they probably just wanted rid of me.
"I was really nervous and my hands were shaking. They assess your cognitive ability, then put you in the dashboard of a car with the pedals and controls before letting you out in a dual-control car.
"I was so relieved when they said I was OK and that I could control it just fine with the grip of my hands.
"I've got a great group of friends who have been brilliant at taking me places and getting things for me.
"But just being able to pop to the shops or do what I want without relying on anyone is massive for me." The mobility will allow Corinne to start going to gym and pilates in the next few days and also get more involved again with the charity she founded.
It's another indication of the remarkable progress she is making, with milestones the doctors expected to take a year being reached in just four months. She was able to dispense with the splints she had to wear during the day a month ago and that has enabled her to do more.
"The palms of my hands are hugely sensitive now," said Corinne. "The first time I held a can of Coke and felt it was cold was amazing. It means that the shower and a hand dryer are agony.
"If I run my hands over my trousers, it feels like needles. But I don't have feeling in my fingertips, so I've got quite a lot of sores and scabs from bumping or scraping them.
"They keep saying to me that I have to feel with my eyes. I was ironing the other day and if I take my eyes off, I could fry my fingers as I wouldn't know the iron was touching."
Corinne has written to the family of the donor. She said: "If they wanted to meet me and hold the hands, I can see why that could help. But if they didn't, I can understand that, too."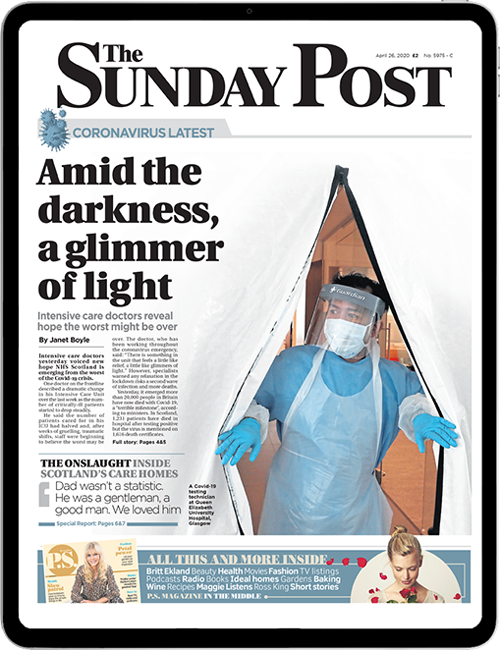 Enjoy the convenience of having The Sunday Post delivered as a digital ePaper straight to your smartphone, tablet or computer.
Subscribe for only £5.49 a month and enjoy all the benefits of the printed paper as a digital replica.
Subscribe