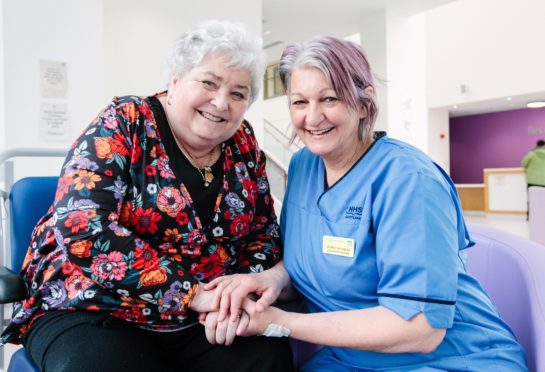 We speak about death only in hushed tones, fearful the mere mention of the word will tempt fate and somehow bring our last moments closer.
But oncology nurse and author Janie Brown, who has helped the passing of many patients throughout her career, believes our final breath should be treated with the same care and attention as our first, turning the conversation about death from one of fear to acceptance.
In her book, Radical Acts Of Love: How We Find Hope At The End Of Life, Janie recounts meaningful moments she has had with friends, family and patients nearing death, detailing their different perspectives and experiences to encourage readers to reframe how they face the end.
"We have taken death out of homes and communities and into hospitals over many years," explained Janie, who has worked as a counsellor for cancer patients for more than 30 years.
"With the rise of the hospice movement, of course, we are making some progress in terms of talking about death and dying, but people still have an incredible amount of fear. We want to protect the people we love most, and that's often why we don't want to talk about the fact we're going to die. In a way, it's a loving way to protect the people we care about. But it sets up such a tension.
"For birth, we think about who's going to help us. We tend not to leave it to the last minute, suddenly going into labour saying, 'Well, where am I going to go, who's going to help me and how am I going to do this?'
"So, what do we need to think about when we face the end of life? Who do we want with us? Where would you want to die? Like birth, some people want to be in a hospital and some want to be at home. Inevitably, death will happen for all of us and maybe if we thought about it in the same way we think about birth it would help to ease our fears."
She added: "The body knows how to die just as it knew how to come into this world. It's a strange way perhaps to think of it, but if we could build people's capacity to understand and trust our bodies, we will be more able to face this extremely difficult last phase of life."
With each story in the book, Janie expertly explores the sensitive topics of everything from talking to children about death to what actually happens to the body in its final minutes and seconds. And, in addition to the 20 people she has known personally, another character hovers ominously on the edge of each bedside – death itself.
"We often think of death as outside of ourselves. People see death as the Grim Reaper or we animate it in some way," said Janie, who was raised in Scotland before emigrating to Canada in her 20s.
"But philosopher and writer John O'Donohue's beautiful passage has always stayed with me. He said, 'When you were born it came out of the womb with you: with the excitement of your arrival, nobody noticed'.
"That has always stuck with me. That in a way, from the first breath, death is with us. We have tried to push it as far away from ourselves as possible because it is scary, but actually it's here. There's a finite number of breaths in life, so if we could begin to grow familiar with the idea that death is walking with us in some way, it might not be as scary a presence.
"Maybe death doesn't have to be terrifying, and maybe there's some familiarity if it's always been with us."
Hoping to change the way we think about death and encourage discussions between family members, Janie also hopes her work will enable people to keep their loved one's memories alive.
She said: "People want to keep talking about the person they love who has died, and often our culture stops talking. It gets lonely when people stop and we want those stories to continue.
"The stories in the book are a bit like that. The families I was able to talk to were so grateful their loved ones' story would carry on in the world, and maybe be of help to other people. It's a nice thought that our stories can become our legacy. Some people just will find it too difficult to talk about death, so we can't really prescribe it.
"But if you can get brave enough, in the end it does relieve anxiety and fear.
"What I really hope this book will do is actually help people to learn that death need not be a ­terrifying ordeal."
Radical Acts of Love: How We Find Hope at the End of Life, published by Canongate, is out now
---
Patients with grave illness helped to recall and record memories to leave for their family
An innovative project is offering terminally ill people the opportunity to tell their life story as a legacy to their family.
Under the scheme, called dignity therapy, people diagnosed with a life-limiting illness such as motor neurone disease (MND) are given the opportunity to record their story.
Their memories are transcribed and edited before being shown to the patients for final approval. Copies are then produced and given to family or friends as per the patients' wishes.
The project, being delivered by MND nursing specialists in Glasgow, has been created by professor Bridget Johnston, an expert in palliative care.
She said: "The technique is proving very beneficial for patients, as well as their family and friends.
"I had trialled the technique in Dundee with people suffering from dementia as they were losing their memories. This is a way to record who they really are in their own words.
"But now dignity therapy is being offered to people who are coming to the end of their lives.
"It creates a sort of time capsule of someone's life. It is a powerful psychological tool as well as being a lovely thing to have. Not everyone wants to do it but it works extremely well with those who do."
The project sits at the heart of patient-centred care, giving people the chance to talk about the things that matter most to them as they near the end of their days and, in turn, producing something which will be cherished by their loved ones after they have passed away.
Margaret McGuire, nursing director at NHS Greater Glasgow and Clyde, said: "Our patients are at the centre of everything we do and this project is giving a voice to patients who are nearing the end of their lives.
"It offers them the opportunity to put in words the life they have lived and what has been important to them throughout their lifetime. It is also a legacy for their families to cherish when their loved one has died and they have that memory of the life their family member or friend had lived. The MND nurses delivering this project have expertise in dealing with patients coming to the end of their life and being able to put on paper the patient's words means a lot to the patient and their family."
Joan Martin has had MND for more than 30 years.
The grandmother of six from Coatbridge, North Lanarkshire, said seeing her life on paper through dignity therapy has been a great comfort to her and her family.
Joan, 74, moved back to Scotland in 2001 after two decades living in South Africa, where she worked for a helicopter company.
Her husband died in 1986 and she raised her family mostly on her own.
Joan said: "I have six grandchildren, three of them in South Africa, and one great-granddaughter. It would be nice if some day they can read about their gran's life in her own words.
"I have had four copies of my story made and there is a lot of laughter as well as tears in there. It has already been passed about among my family."
Joan said she decided to go ahead with dignity therapy after hearing about it from an MND nurse. She said she would be happy to have some of her story read out at her funeral.
She added: "When I go, it will be hard on my sons but hopefully having a written copy of my life story will be a lasting legacy for my whole family. It is a lovely thing to have. It did me a lot of good to talk and write about my life, which has been wonderful."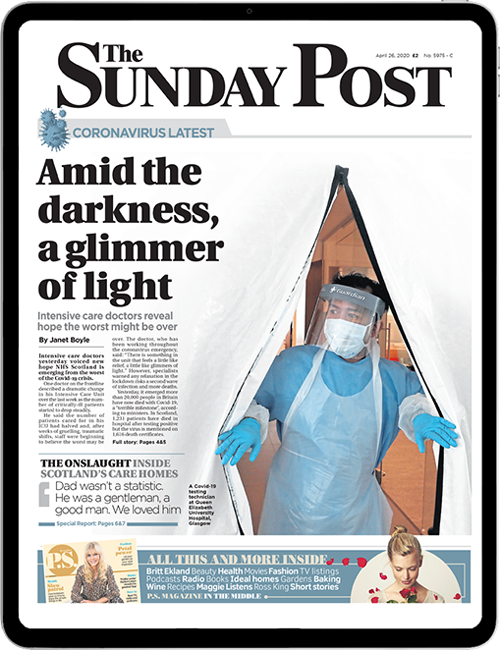 Enjoy the convenience of having The Sunday Post delivered as a digital ePaper straight to your smartphone, tablet or computer.
Subscribe for only £5.49 a month and enjoy all the benefits of the printed paper as a digital replica.
Subscribe