In the ancient Japanese art of kintsugi, broken pottery is mended with gold or silver seams, embracing the objects' cracks and flaws as part of their beauty.
It was this notion that inspired the latest work from contemporary dance duo Errol White and Davina Givan, which is finally premiering at the Edinburgh Fringe after being delayed due to the pandemic.
Performed and choreographed by the married couple, Worn explore the ways in which our bodies are affected as time progresses and the marks that become part of our life stories.
White explained: "The layers of those experiences are laid upon the body through its life and we're looking at that from a positive point of view.
"I remember when I was touring when I was much younger, I cut my finger up, exposed a tendon, and every time I touch that particular area, it takes me back to that moment.
"These marks are connected moments in our life that are present and absent at the same time. It's an exploration of the body as a marker of your life.
"Like the pottery, it's about the broken beautiful, the empowerment of your life, and your body as a vessel of that."
It's just under two weeks until we begin our 6-day run of #Worn at @dancebase as part of their 2022 Fringe programme at @edfringe!

📅16-21 August, 7pm
📍 Studio One, Dance Base, Edinburgh
🎟️ https://t.co/j20UDXW42y#Worn2022 pic.twitter.com/VHARenXMHR

— White & Givan (@whiteandgivan) August 3, 2022
The show promises to engage audiences on a physical and emotional level through the couple's strong physical presence, paired with dynamic and tender choreography.
After a run at the festival, the show will go on an autumn tour taking in all parts of Scotland, from the Borders to the Highlands.
"It's exciting and nerve-racking in the same breath," Givan said. "It just feels really lovely to actually see the floor again and get used to that world because there's so many elements involved.
"We could keep it ticking over physically as much as we could over two years. But when you add the lights, sound, the costume, all those collaborators, it comes together.
"The show is us, but it's not about us. It's for everybody. We let it have that space for things to evolve, so it's almost like we're excavating the piece out of somewhere."
The theme of self-acceptance and embracing who you are is something the couple are familiar with themselves having performed around the world together and individually for many years.
Both in their early fifties, they focus more on the experience they have rather than perceived notions of being past any physical peak.
White said: "I think dance still struggles with the idea of age within its profile. If you look at most elite sports, you get individuals who are physically at the top of their games well into the late 40s, 50s.
"I think gradually we're catching up within our industry and I think it's positive. I don't want to do what I did when I was in my 20s, and that's not to say that physically I can't go to those places still, it's just the choices I have now are very different.
"I'm looking at and exploring different ideas. I think it's important that we mature performers who are working in an elite way, are represented to a certain extent because I think we have to show the lifecycle of the creative.
"I think if you're starting out at 21, if you feel like your career will stop as a performer in your 30s, then is that really a path you want to go down?"
Givan added:  "We are dance artists and our age is part of our journey and extremely important as that brings a wealth of experiences and knowledge.
"However, we don't want it to be the thing that defines us, steering people away from the deeper layers within the heart of Worn that are complex and subtle."
Both coming from working class backgrounds, White from Bransholme in Hull and Givan growing up in Edinburgh's Craigmillar, they are keen to promote dance as an accessible and worthwhile art to get involved with.
"From our point of view of class and age, I think we need to address that a lot more within the UK," White said. "If you look to Scandinavian countries, to Europe, I think that's something within their culture and psyche, but we've still got a bit of time to go.
"We want to meet the people we were growing up with in our audiences. My dad was working class, worked in the docks, but he also turned down the offer to go to art college.
"Both Davina and I are working class. I believe, because of that, there is an important and valid reason for making sure that our work is seen by all individuals."
The duo also hope to encourage more people to give dance a chance, and discard any pre-conceived notion that it's 'not for them'.
Givan said: "I think a lot of the feedback is that people are a bit reticent because they don't understand it. You don't have to. It's not for understanding in that cerebral way.
"For us, it's more about how you feel in your experience and it might not be a great feeling but it's something."
Givan compares it to the way she fell in love with Paula Rego's 1998 painting Angel: "I didn't want to read too much about her process and what it was.
"I didn't like it at first I thought it was very severe, the woman with a sword in one hand in a sponge and the other is really striking, a sort of Victorian black dress with a yellow kind of over thing.
"And then the more I saw it the more I fell in love with it, And then I saw that vulnerability and the strength and the power are the same thing. So that kind of was really inspirational. So for me, it's about how it's for you not to worry too much about whether you know a lot about it."
On accessibility, White added: "It's about work being in the situation where people can see it and then opening that up to conversation. It doesn't matter what class structure you're from, you can begin to talk about what you felt it was affected you and how it makes you feel."
White and Givan have spent most of their lives in the world of dance, but say they tend to keep a degree of separation between work and home life.
Both share a lifelong love of the art, finding it a vital part of their expression and escapism.
White said: "I recently found out that I'm on various spectrums, I was a very energetic, really dynamic kid. I found articulating myself within academia – even though I was deemed to be a bright child – really difficult. I felt like I was being suffocated by the structures.
"First of all, I'd turn to sport and then I was a break-dancer. I think movement allowed me to explore language and expression which was not formal in its shape.
"As I've gone through the creative arts, I've kind of come full circle and become quite academic in certain ways about the way I think about structure. But without that initial moment of being able to taste and feel and touch and express myself, I wouldn't have found my way I don't think."
For Givan, it was when dance teachers moved to her local area and she began attending classes that she became hooked.
"I remember my first class and I remember them teaching me something and I was so afraid that they would come and talk to me. So I had to get it absolutely right," she recalled.
"From that moment, I think I was gripped with that. It was competition Highland dancing, which is really tough.
"I don't have the words to explain it, it's like it grips me and it will never go away. It's not easy. There's no such thing as born to dance, there's maybe born with some kind of affinity to that art form.
"I just feel that maybe there's a physicality in me that I feel that when  I'm exploring creatively what I can do with my body and the things that I can't do that I feel the world disappears. And that for me is a place where I like to be.
"I've recently found out I'm on the spectrum as well, which I've never ever considered before, but these things are all now more open."
---
White & Givan: Worn, august 16-21, Dance Base Edinburgh and then on tour. For more info visit whiteandgivan.com/feel-the-passion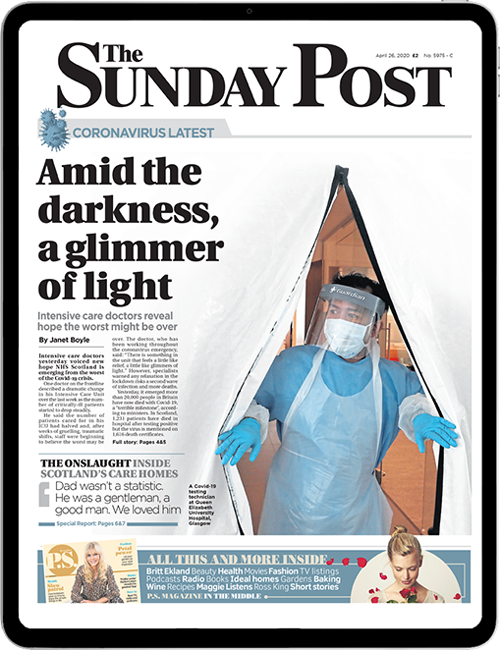 Enjoy the convenience of having The Sunday Post delivered as a digital ePaper straight to your smartphone, tablet or computer.
Subscribe for only £5.49 a month and enjoy all the benefits of the printed paper as a digital replica.
Subscribe