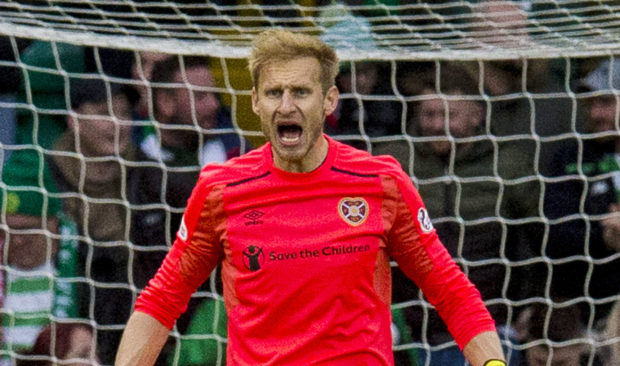 Blurry memories of a "magnificent" Czech Cup win – and the celebration that followed – will spur Hearts keeper Bobby Zlamal on against Partick Thistle at Firhill tomorrow night.
The 33-year-old, back in the side following Colin Doyle's blunder at Fir Park, is relishing his return, and says he sees no reason why the Edinburgh club can't progress to the semi-finals, and even go on to win the Cup itself.
"Why not? Anything can happen and we have to believe," he said.
"I won the Cup Final in the Czech Republic with Olomouc in 2012, so I would love to repeat that success here.
"Back home, the league is more important than the cup. But here I feel it is the same – or maybe the Cup is even more important!
"Certainly, winning with Olomouc was one of the best moments of my career.
"We played the Final in Plzen, which was miles from home, but we managed to beat Sparta Prague, one of the biggest clubs in the Czech Republic.
"The bus back took us four hours, and there were huge celebrations on board.
"We had a couple of beers – maybe many more! That was part of it all.
"When we arrived back, seeing the fans was lovely. It was the first trophy Sigma had won, and it was really important to them, as well as the club.
"For the players, it was a day and night never to be forgotten.
"As a Czech, I was well aware of Rudi Skacel winning the Scottish Cup (also in 2012) with Hearts, so these competitions matter a great deal, not only to supporters but to players as well."
Seven years on, the focus is on creating new memories, with the tie against Championship Thistle offering a clear path to the tournament's last four.
"We all know that our next game is huge," said Zlamal. "After starting really well, we picked up a lot of injuries and struggled a bit as a result.
"Now, the performances are getting better and better, and hopefully we can have a successful end to the campaign.
"At the same time, we are also aware just how big this tie is for Partick Thistle.
"They may be in the second tier, but for them this is a huge opportunity and they will do their best to grab it.
"So we will have to focus 100% and be ready for them.
"Last Wednesday we came so close to getting a draw against Celtic, which I think we would really have deserved.
"It was frustrating and disappointing that they scored with the very last cross.
"But I think if we give another performance like that in the Cup tie, then we will be successful."
On paper, Uche Ikpeazu would present Hearts most obvious threat in terms of spiking the Jags.
The striker, picked from the English lower leagues, gave the Celtic defence a very uncomfortable night on Wednesday, using his height and weight to great advantage.
Manager Craig Levein, though, has warned about expecting too much from his player so soon after his return from a long lay-off with a foot injury.
"Uche's been out for a long time, and it's about getting him back up to speed," said the Jambos boss.
"He's a big lump of a boy. He needs games and I've been careful with him.
"I thought he was out on his feet against Celtic, but it's funny. Sometimes it looks like he's knackered – then he'll find a burst from somewhere.
"Against Celtic, my players were all right at it, in terms of attitude, so that was good.
"Peter Haring coming back is a big plus. Christophe Berra was more like himself, too, after being off it a bit recently.
"Any game where you don't feel you got what you deserved, you need to use the frustrations of the players to turn that into a positive for the next game.
"There is a semi-final of a major cup competition at stake, so that in itself will sharpen the focus and minds.
"We can look back on the Celtic performance and use that to help their confidence.
"It's a big game for us and it's a chance for us to get to our second semi-final of the season. We've not done that for a while."