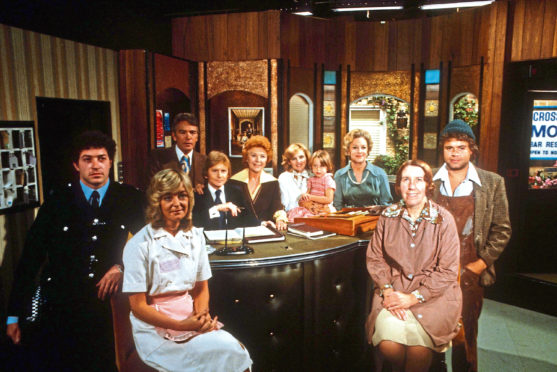 Soaps are easy prey for world-weary critics, but no programme in the genre was the target of such negative criticism as Crossroads.
Some reviewers regarded the acting as unstable as the scenery, but despite such criticism it was hugely popular with its loyal fans – and there were millions of those.
Viewers couldn't get enough of Crossroads and looked forward to their daily trip to the Midlands-based motel where the likes of Meg Richardson, wheelchair-bound Sandy, unreliable Amy Turtle and the rest of the motley crew lived their screen lives.
Between 1964-88, thousands of episodes were transmitted and enjoyed by fans with their seemingly quenchless thirst for all things Crossroads.
The soap was written by the successful team of Hazel Adair and Peter Ling.
By the time the last edition of their earlier creation, Compact, was aired, Adair and Ling had their scriptwriting teeth well and truly into Crossroads, where day-to-day events at the country's most famous motel soon became a staple part of life.
Lew Grade, who ran Associated Television, wanted to launch a half-hour daily serial and had received an idea from a writer. He asked Adair – who died in 2015, aged 95 – to read the proposal and report back.
She liked the idea, although Adair felt it lacked depth for a daily serial, so she sat down with writing partner Peter Ling and formulated plans for what became Crossroads, which Lew Grade saw as a vehicle for Noele Gordon.
The writers presented their idea and awaited Grade's verdict. After reading the four pages of storyline ideas and character profiles, he gave the green light.
"The budget was even more pitiful than what we had on Compact, which we were still writing at the time," recalled Adair. "We had £750 per programme. Everything, including cast and our fees had to come out of that. All Lew Grade provided was the studio and technicians."
The meagre budget caused headaches for the writers: "We couldn't do half the good ideas we'd come up with because there simply wasn't the money."
The initial working title of The Midland Road, due to its fictitious location between Birmingham and Stratford-upon-Avon, soon changed.
"I'd always thought of the letter 'C' as being lucky. We'd had the success of Compact and four of my children's names began with 'C' so we came up with Crossroads because it was set at a crossroads," Adair explained.
The basic premise revolved around Meg Richardson, a mother-of-two who couldn't afford to run the family home when her husband died.
On hearing a motorway was being built through her land, she took full advantage by converting her house into a motel.
For millions, teatime wouldn't have been the same without the regular trip to the Crossroads Motel but, initially, the programme was only shown in some regions, as Peter Ling – who died in 2006, aged 80 – once explained.
"We didn't cover the entire country for some time. When the London region finally started receiving it, we had to do a special production with Meg Richardson talking to the camera explaining the story to date in order to establish who she was and how they came to be there."
The most talked about motel in history was set in Kings Oak, a fictional village in the Midlands, and opened its doors in 1964.
Running to over 4,500 episodes, it became a legend of the soap world despite continual scathing attacks from the press.
Part of the appeal was its unique charm, something the more recent shortlived revival (2001-2003) was unable to recreate.
Cherished by a faithful following, Crossroads quickly became the subject of endless wisecracks.
Tony Adams – who first played estate agent Mr Perkins in 1968 before, a decade later, appearing as wily accountant Adam Chance – recalls: "Critics said the programme was as exciting as watching paint dry."
However, catching up with motel gossip became addictive for viewers. Yes, the scenery may have wobbled and characters would vanish for months without trace, but fans weren't concerned because the show's foibles were part of its charm, explaining why – at its peak – audiences of more than 17 million were commonplace.
Peter Ling felt much of the criticism from papers was unjust, particularly as the soap developed. "Whereas on tape you could stop, rewind and redo things or simply edit, Crossroads' episodes were on film where there was little chance to do any editing.
"They were recorded as if live and went out without any form of editing. If something like the scenery fell down, the only thing you could do was go back to the beginning and start the whole episode again."
Crossroads contained its share of major, headline-hitting storylines – some, believe it or not, ahead of their time.
Lynette McMorrough, alias frumpy waitress Glenda Brownlow, became something of a pioneer in soapland when her character had a test-tube baby, played by her real-life daughter, Emily.
"In many ways, it was forward-looking, particularly with the storylines it tackled. I have nothing but good memories of playing Glenda, despite the fact she was always moaning and her life was full of doom and gloom," laughs McMorrough.
The show also featured a rape storyline. To ensure the episodes were as realistic as possible, advice was sought from the Birmingham police regarding the way rape victims were treated and how the matter was handled.
"As well as being a sensational storyline, we tried making sure people learnt more about the whole subject," stated Peter Ling, who recalled the moment he realised just how important Crossroads was to people.
"My daughter, then a teenager, always sneered at the programme. One day, we were on the pier at Hastings, in one of the amusement arcades. The woman giving change for the machines said: 'Excuse me, are you Peter Ling?' When I confirmed I was, she replied: 'I've been watching Crossroads ever since it began.'
"She was a spinster, all her family had died and she lived alone. She added: 'At the end of the day, I go home, make myself a cup of tea and some supper, switch on the set and watch Crossroads – the characters have become my family. I live through them, really.' That's what she did every day.
"When we left the pier, my daughter said: 'I'll never laugh at the programme again.' It made her realise that for some people it was terribly important in their lives."
Despite Lynette McMorrough's own character falling foul of the show's legendary lapses in continuity – Glenda went off to the loo and wasn't seen for seven months – she, too, feels critics were overly harsh.
"Some journalists were very scathing about particular actors and always wanted to knock the show."
A target for regular criticism was motel cleaner Amy Turtle, brought to life by Ann George. The worst gossipmonger this side of Spaghetti Junction, she was rarely spotted without her obligatory duster, lurking in the shadows in order to be in earshot of people's conversations.
She became the focus for one of the programme's most bizarre storylines when old Amy was accused by a foreign guest of being a former KGB spy – storylines don't come any better than that!
Because Ann George would occasionally forget her lines, they were scrawled all over the back of beer mats she overturned while dusting the bar.
The pressure was full on while filming Crossroads. Exacting deadlines and the lack of editing facilities, particularly at the start of the show's run, meant it wasn't just actors fluffing lines that caused directors to pull their hair out in frustration – temperamental props didn't help, either.
The motel's resident chef for eight years, Shughie McFee, was played by Angus Lennie, who never forgot his encounter with a carving knife.
Briefed on how best to slice a cucumber, Lennie reached for the knife and filming began, but it wasn't long before things went wrong. "Everything seemed fine until I looked down and saw blood everywhere," laughed Lennie.
Among the soap's most famous faces was Jane Rossington, alias Jill Harvey, who appeared in the opening scene, back in 1964, uttering those immortal words, "Crossroads Motel, may I help you?"
She, too, recalls many hiccups during filming. "I was in a scene talking to Stan (Jill's husband at the time) when suddenly the sponge cover came off the microphone above our heads and fell on the floor between us. I picked it up, put it in my handbag and carried on!"
To be continued in part two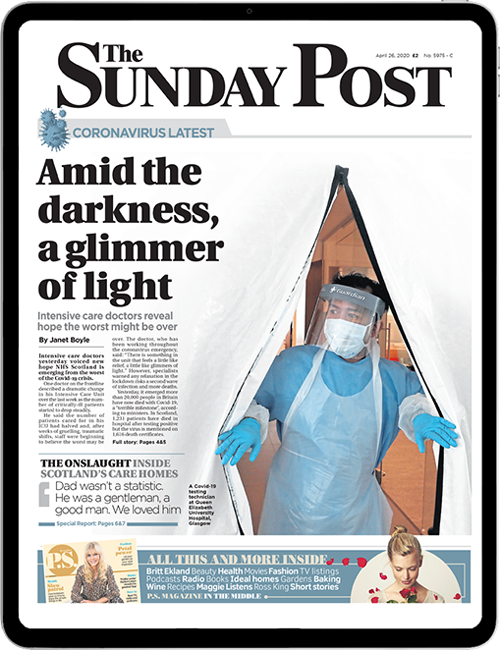 Enjoy the convenience of having The Sunday Post delivered as a digital ePaper straight to your smartphone, tablet or computer.
Subscribe for only £5.49 a month and enjoy all the benefits of the printed paper as a digital replica.
Subscribe