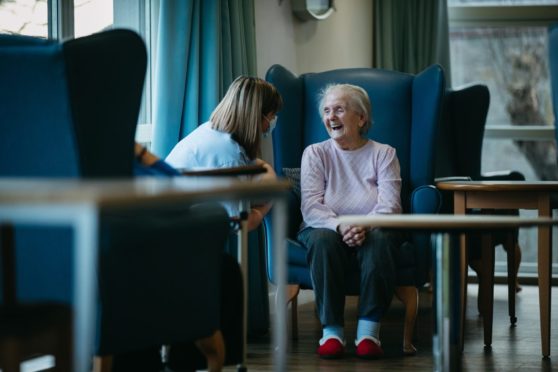 The devastating toll of the coronavirus pandemic has been detailed for the first time by the largest Scottish care home group.
Staff have spoken of the stress they suffered after 41 elderly residents died during outbreaks at 10 of Balhousie Care Group's 26 ­facilities. That trauma has left some suffering ongoing problems with depression, and in some cases still needing treatment for conditions such as night terrors.
The operator said 160 residents and 146 staff contracted the virus in the past year and the additional financial burden of the pandemic is estimated to be £500,000.
The deaths of more than 3,000 elderly residents have been linked to Covid-19, the majority in the first wave when hospital patients, many who had tested positive, were transferred to care homes in their hundreds. The Scottish Parliament voted last year for an immediate judge-led inquiry but the Scottish Government has said the time is not right to begin this process.
Balhousie is the first Scottish care home group to reveal detailed figures and chief executive Jill Kerr has called on other operators to do the same. She said: "We felt the time was right to be fully transparent with how the last year has impacted us, in the hope that other care providers will follow.
"The public and politicians need to understand more fully what we as care home operators have been through and continue to go through and how the Covid-19 pandemic has reshaped our sector forever."
The Sunday Post can also reveal Scotland's information watchdog is investi­gating whether the Scottish Government's records department should be compelled to release data showing how many residents died in each care home.
National Records of Scotland (NRS) has refused to provide a breakdown of deaths by care home but the Scottish Information Commissioner has confirmed an ongoing probe into that decision. A ruling could be made this week.
One of Balhousie's worst outbreaks came at its Lisden home in Kirriemuir where nine residents died. One carer at that home admitted working through the crisis left her with anxiety and depression.
The staff member, who asked to remain anonymous, said: "I am seeking mental health counselling to help with continuing night terrors and stress.
"It was emotional coming home after work. I was scared for my family and felt I was putting them at risk being around them and working in the care home.
"But the hardest thing was the decline in the residents after contracting the virus. It was like a domino effect."
A care home manager, who also asked to remain anonymous, said: "Caring for dementia patients who were Covid-positive was horrific. It was just so difficult. You could say a hundred times: 'Let's get you back to your room' to keep them away from other residents. But it was very difficult."
Balhousie chief executive Jill Kerr said the pandemic has had a devastating impact on staff, residents and their relatives: "The emotional toll has been huge. I couldn't be more proud of how staff have stepped up to the enormous stress, extra work and responsibilities thrown at them.
"The last year has seen staff have to expand their skill-sets to get to grips with new practices, from wading through extra paperwork and gathering statistics to getting to grips with ever-changing infection prevention and control protocols.
"To date, 10 out of our 26 homes have had positive cases, five of these in the last month. Every day we live with the danger of the virus entering one of our homes. This last wave has been particularly virulent and we are under no illusion as to how quickly it can bring a care home almost to its knees.
"Staff are absent, the ­remaining staff are caring for residents and supporting each other, and there is still a home to be run."
As well as the emotional toll, the pandemic has had a huge financial impact on the care home company. Almost £250,000 was spent on personal protective equipment and additional cleaning measures, state-of-the-art thermal imaging equipment to take temperatures cost £170,000, and £100,000 was spent on sick pay.
Kerr said: "Although our business has been damaged both emotionally and financially, we will recover. The sad fact is that many of our fellow care providers won't. We already know of smaller providers who simply don't have the capacity or financial leverage to cope with the additional pressures that have been put on the care sector."
Balhousie chairman Tony Banks said public confidence in the care sector was at an all-time low. He said: "We completely accept that the coronavirus crisis has put massive extra pressure on the NHS and that they deserve all the praise and support they've had. But some words and actions of support from politicians for care homes is needed too.
"Our reputations have ­suffered hugely this last year. It's time for the governments, both Scottish and UK, to invest in a campaign to boost public confidence in care homes, much as they have done with their campaign to promote the NHS."
Covid-19 deaths in care homes must be reported to the Care Inspectorate and that data is shared with the Scottish Government. The National Records of Scotland collects its own data from death certificates but neither the Inspectorate nor NRS publishes statistics that show the number of deaths in each care home.
The Care Inspectorate said: "Where publication could substantially prejudice the health and safety of care service employees and residents, the commercial viability of care services and their ability to care for people we have a duty to take this into account."
Alan Wightman, of ­pressure group Covid-19 Bereaved Families For Justice, said: "Commercial confidentiality is no reason for not publishing Covid death rates. In reality, those seeking a care home have very little choice. It depends on which homes in the vicinity have a vacant room and, to a lesser extent, on who is paying the fees."
NRS said: "We have no ­current plans to release Covid related mortality data for individual care homes."
The Scottish Government said: "Data on deaths in individual care homes are collected and held by National Records of Scotland not the Scottish Government. Any decision on the release of these data is therefore for NRS."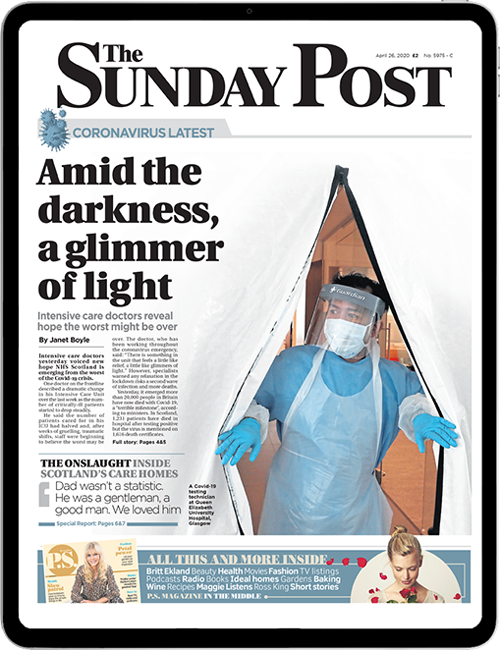 Enjoy the convenience of having The Sunday Post delivered as a digital ePaper straight to your smartphone, tablet or computer.
Subscribe for only £5.49 a month and enjoy all the benefits of the printed paper as a digital replica.
Subscribe