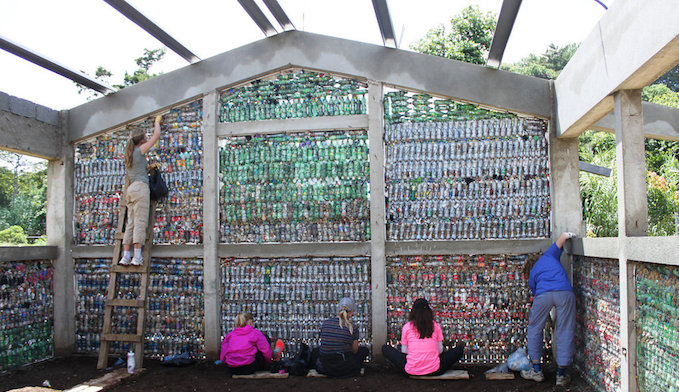 Crisp packets, polystyrene, plastics around fruit and vegetables. Despite our constant bombardment of the perils of plastic, un-recyclable packaging is still everywhere, and unavoidably destined for landfill. 
But now, there could be a solution.
Meet the ecobrick – an extremely easy, cost-free remedy to the unavoidable problem of un-recyclable plastics.
Simply a plastic bottle stuffed full of clean and dry plastic material to a set weight, ecobricks are a rapidly growing trend in areas across the globe hit hard by plastic pollution, including the UK.
The Ecobricks UK Facebook group now has over 30,000 members and the amount of collection points for the bricks jumped from five collection points to 85 in just one week.
And now Scotland is embracing the movement, with ecobrick projects popping up across the country.
Putting done-with plastics to use, rather than sending them to an already saturated sea of waste, ecobricks are simply cemented together like traditional bricks to create a whole host of structures from furniture to buildings.
Sophie Lejeune, founder and managing director of Glasgow's Society Zero, a company specialising in reducing waste, said: "Ecobricking is so beneficial because it highlights the issue of waste in our throwaway culture.
"The increase in people ecobricking has also seen the rise in conversation around this topic and allows people to identify what items we currently bringing into the home and where to make changes.
"Individuals have also seen a dramatic decrease in the rubbish that they are sending to landfill."
In 2017, Scotland alone generated two and a half million tonnes of waste. But the country's recycling efforts are also rising, surging 60% in 2017-2018. The hard part is tackling the non-recyclable products, which is where small solutions like ecobricks can be utilised most heavily.
And the trend is growing here. Sophie said: "Ecobricks projects are slowly but surely popping up all over the Scotland. There's spots now up and running in Helensburgh, Buckie and in Brora in the Highlands."
Scottish ecobrick drop off and collection points are also beginning to emerge. One of these will be the EcoLarder in Edinburgh, officially opening on 20 November.
Stephanie Foulds, co-founder of the Eco-Larder said: "Once we open, we will also be hosting an ecobrick event to demonstrate how to make an ecobrick and be asking people to follow specific guidelines."
The hope is that Scotland and the UK could eventually follow in the footsteps of countries like the Phillipines and Indonesia, where ecobricking has become an integral way of recycling and reusing waste products to build multiple structures.
Canadian Robert Bezeau has even had the ambitious idea to create an entire village made solely from ecobricks. The village, on the island of Isla Colon in Panama, will include 120 homes, a boutique and an eco-lodge once it is complete.
Hug it Forward a pioneering charity creating educational facilities with plastic waste and ecobricks, have been facilitating bottle classroom projects with more than 100 communities in Guatemala and two in El Salvador.
If you'd like to get involved in the movement and make your own ecobricks, it's very easy explains Sophie: "Just take plastic you would usually throw away, cut it up and stick it in a plastic bottle. The amount of plastic that you can fit inside a bottle is astonishing – it will take you a while to make one and they are solid.
"These can then be built alongside mud and straw to make planters, benches, ponds – anything you want – removing harmful waste material from the biosphere and putting it to good use."
Find out more about the ecobrick movement at www.ecobricks.org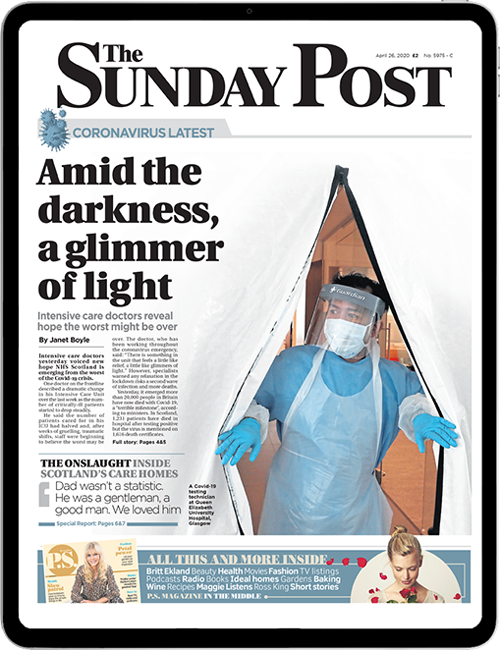 Enjoy the convenience of having The Sunday Post delivered as a digital ePaper straight to your smartphone, tablet or computer.
Subscribe for only £5.49 a month and enjoy all the benefits of the printed paper as a digital replica.
Subscribe