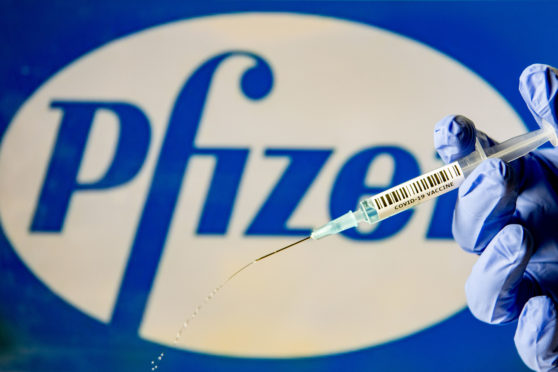 The first vaccinations against Coronavirus will begin in Scotland as soon as December 8, Nicola Sturgeon has said.
On Wednesday morning, the UK became the first country in the world to give approval for use to Pfizer and BioNTech's Covid-19 jab.
Shown in studies to be 95% effective and working in all age groups, 40 million doses have been ordered for use across the UK.
That's enough to vaccinate 20 million people, with 10 million doses expected to be available for use in the UK shortly for priority groups, including healthcare workers.
The first approved vaccines are expected to be delivered in the UK from next week, with doses to be delivered in Scotland across this month.
Ms Sturgeon told Wednesday's coronavirus briefing: "If we receive the first doses of the vaccine as soon as we're expecting to, and there is no reason at this stage to doubt that, I can confirm to you the first vaccines against Covid will be administered in Scotland on Tuesday 8th December. That is just 6 days from now.
"I'm going to say that again. The first vaccines against Covid will be administered in Scotland on Tuesday 8th December.
"So you can perhaps understand why I've probably smiled more in the last few minutes than you've seen me do in the last several months."
Ready to start
Ms Sturgeon said this may be "the beginning of the end" of the pandemic, but urged Scots not to be complacent.
She said: "Today is genuinely a good day. We're not at the end of the pandemic yet… we cannot and must not ease up in our efforts to control it.
"But today does feel like it may well be the beginning of the end of this horrible experience.
"For that reason, I am sure I am far from the only one this morning who feels a lightness of heart that I haven't felt for some time."
The best news in a long time. @scotgov ready to start vaccinations as soon as supplies arrive https://t.co/C1HDWCLccd

— Nicola Sturgeon (@NicolaSturgeon) December 2, 2020
Scotland's chief medical officer Dr Gregor Smith said it is "wonderful news" that the Medicines and Healthcare products Regulatory Agency (MHRA) has approved the vaccine.
He said on Twitter that it is just the first of several vaccines in the pipeline, and its approval "begins to change everything for our future".
National clinical director Professor Jason Leitch tweeted that "science, collaboration and logistics has got us to this day".
He added: "It's a very important moment. There will be months of roll out until normality but it's a crucial step. Thanks to all."
Remarkable science, collaboration and logistics has got us to this day. It's a very important moment. There will be months of roll out until normality but it's a crucial step. Thanks to all. https://t.co/8UTuPNDsx8

— Jason Leitch (@jasonleitch) December 2, 2020
Light at the end of the tunnel
Approval of the vaccine comes nine months after coronavirus arrived in Scotland.
The virus has changed the way we live our lives, with most of the year being spent in and out of lockdown restrictions to help control the spread.
It will be delivered in two doses, taken around 21-28 days apart.
Public health expert Professor Linda Bauld said she is "delighted" the first of the vaccines scientists have been working on has been approved for use.
She told BBC Radio Scotland's Good Morning Scotland programme that while she welcomes news of the vaccine's approval, it will be a "major logistical exercise" to vaccinate the country's adult population.
Prof Bauld said: "After hearing the results of these four vaccines we have early preliminary results for, then just waiting for the regulators to act, and the MHRA has been looking at data on the Pfizer vaccine for some time, now they are able to approve that for use and we have done that incredibly quickly.
"It's really encouraging news."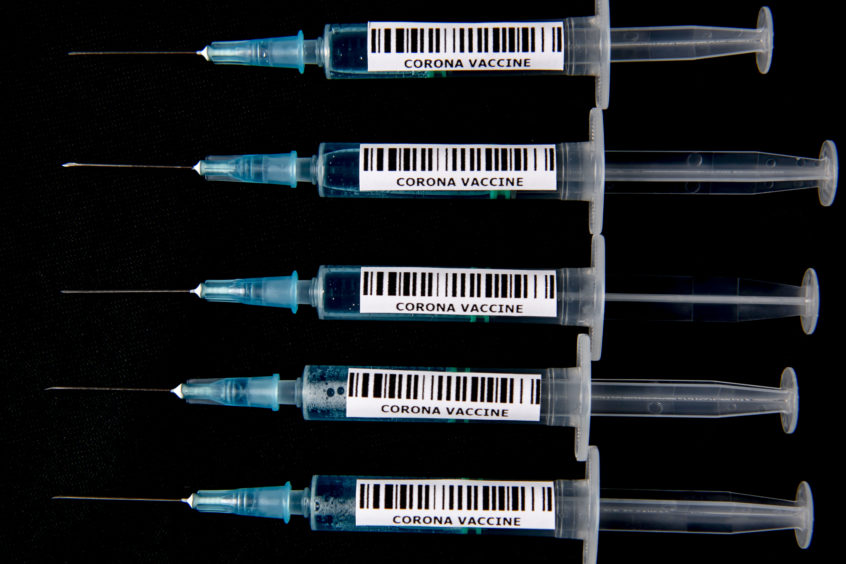 She said as many as 4.4 million people in Scotland could be vaccinated, adding that the Scottish Government hopes to vaccinate at least one million by the end of January.
She said: "Other vaccines will get approval now, I would be pretty confident the AstraZeneca/Oxford one will as well, so Pfizer will not be the only show on the road, if that makes sense.
"But I would imagine we will see things gearing up very quickly in the next few days."
Speaking about when life could become more normal, she added: "I would be very optimistic that by the spring there will be much more we can do.
"It's going to take some months though to get this to everybody and we need to keep that in mind."
---
The logistical challenge
By Ella Pickover, PA Health Correspondent
Work has been going on behind the scenes to ensure that staff are ready to start delivering jabs to the most vulnerable, as well as health and care workers, as a priority.
Distributing the vaccine will be a huge logistical challenge, with the Pfizer and BioNTech doses requiring storage between minus 70C (minus 94F) and minus 80C (minus 112F).
It has been suggested that the vaccine vials will be stored in hospitals and wholesalers which have appropriate freezers.
The typical GP practice will not have the facilities to store the vaccine at this temperature.
Vaccine transport has also been taken into consideration – it needs to be transported at sub zero temperatures and handled extremely carefully.
Help is on its way.

The MHRA has formally authorised the Pfizer/BioNTech vaccine for Covid-19.

The NHS stands ready to start vaccinating early next week.

The UK is the first country in the world to have a clinically approved vaccine for supply.

— Matt Hancock (@MattHancock) December 2, 2020
Pfizer's manufacturing site in Puurs, Belgium, is being used for European supply.
The vaccine will be delivered by planes – Pfizer has already ruled out ocean transport due to timings.
The company has created special suit-cased size containers fitted with temperature and GPS trackers to ship the vaccine.
Once the vaccine supply arrives in the UK it will undergo quality checks to ensure it has been shipped safely.
The vaccine will then be unloaded and moved to storage freezers where it will undergo a further temperature check.
Supplies will be shipped to hospitals.
It is believed that at first the rollout will begin in hospital sites with sub-zero freezing capacity.
Health Secretary Matt Hancock said this morning that 50 hospitals across the country are already set up and waiting to receive the vaccine.
Meanwhile officials have also taken into consideration other factors such as personal protective equipment for staff delivering vaccines.
People will be offered vaccination appointments – they shouldn't immediately call their GP requesting a jab.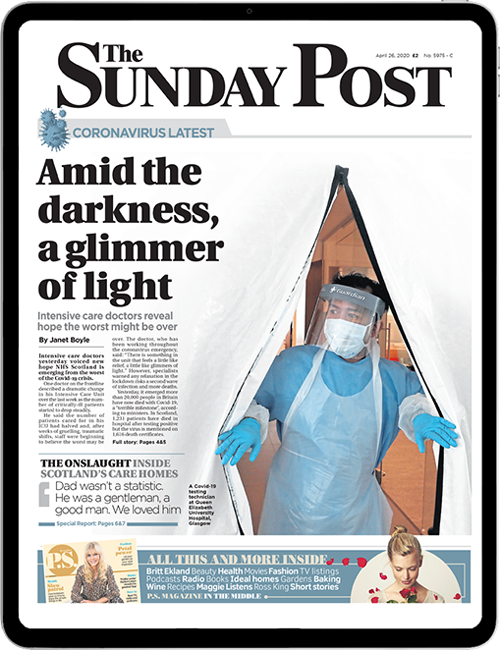 Enjoy the convenience of having The Sunday Post delivered as a digital ePaper straight to your smartphone, tablet or computer.
Subscribe for only £5.49 a month and enjoy all the benefits of the printed paper as a digital replica.
Subscribe