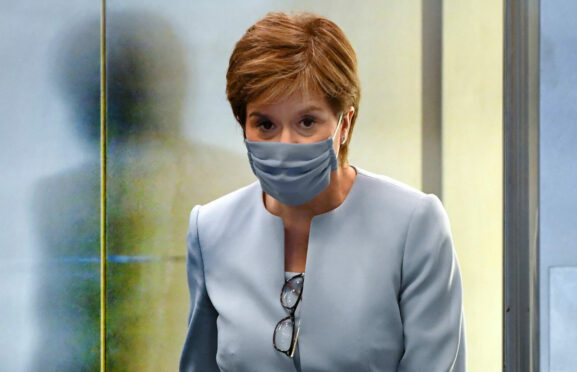 Nicola Sturgeon has said that she hopes Scotland will still be able to move to Level 0 by July 19 despite a continued high level of Covid cases.
The first minister will announce to Holyrood on Tuesday if plans for the country to move to the lowest level of restrictions can proceed later this month as planned.
Speaking at a coronavirus briefing on Thursday, she said there was cause for optimism as case rates looked to be slowing down.
But she stressed that there would be no "abrupt end" to protective measures as is set to be the case in England.
"I very much hope we will be able to move ahead as planned," she said. "The apparent slowing down in the case numbers gives me more cause for optimism about that than I might have had a week ago.
"But nevertheless, between now and Tuesday we will continue to monitor the latest data on cases, but also on hospitalisations and death to see whether that weakening of the link between cases and severe illness is continuing."
Sturgeon said that measures such as wearing face coverings, physical distancing and hand hygiene would be likely to "continue to be important mitigations… perhaps for some time yet".
She added: "No matter what our decision is next week about the move to Level 0, there won't be an abrupt end to these basic protective measures when we do move to Level 0.
"We hopefully are seeing a slowdown in the rate of increase we have had in the last couple of weeks, that is good news.
"The vaccination programme continues to go well, we have got drop-in clinics in every part of mainland Scotland to encourage people to come forward for vaccination.
"So we have cause and reason to continue to be optimistic. But this is a moment in our path out of this pandemic for us to be careful and cautious."
Only about 3% of people who catch coronavirus now end up in hospital, down from 13% earlier in the pandemic.
But the first minister stressed that "we cannot simply throw all caution to the wind and no longer worry at all about rising levels of infection".
She said: "It is still the case that 3% of a high number of cases will still put significant pressure on our NHS – that is a matter of basic arithmetic."
The pressure is "already being felt" in the health service, the First Minister added, saying some hospitals were having to "scale back a bit" in some areas.
She said: "While it is still the case, and this bit hasn't changed, vaccines are offering us the way out of this, hopefully soon, this is a moment for care and caution."
England's end to restrictions
A move to Level 0 in Scotland on July 19 would coincide with the date where all restrictions are set to be lifted in England.
Speaking about the approach by Boris Johnson, Sturgeon said: "It is worth pointing out the path the UK Government is embarking on for England – which is entirely a matter for them – a path of not just lifting all restrictions from July 19 but also removing the requirement for basic mitigations like face masks, and doing so against the backdrop of sharply increasing case numbers is something of an exception.
"While I totally understood the desire some have for us to follow suit in every single step, we have to think carefully about the steps we do take at this juncture.
"My job is not to take the easy decisions in a quest for popularity, it is to do what I think is most likely to keep the country as safe as possible as we get to the end of the vaccination programme.
"Over the next few weeks, as we complete the vaccination programme it is really important that we don't let the virus outrun us."
August 9 is the planned date for the next stage of easing beyond Level 0 in Scotland.
'Good progress' with vaccines
Sturgeon said the vaccination programme "continues to make really good progress", adding that this was a cause for optimism.
But she added: "For now though that optimism needs to be balanced by concern at the high case numbers we have seen recently."
However she said there was a "suggestion that the recent surge in cases may be to some extent levelling off".
Case numbers are 1,432 lower than were reported last Thursday, Sturgeon said, adding that the seven-day average also appeared to show a "slow down in the rise of positive cases".
The first minister said: "The is encouraging news but obviously case numbers remain high and that is a worry."
Today's figures
Scotland has recorded four deaths of coronavirus patients in the past 24 hours and 2,802 new cases.
The death toll under this daily measure – of people who first tested positive for the virus within the previous 28 days – is now 7,744.
The first minister told a Scottish Government coronavirus briefing the daily test positivity rate is 8%, down from 10% the previous day.
A total of 401 people were in hospital on Tuesday with recently confirmed Covid-19, up 14 in 24 hours, with 38 patients in intensive care, up four.
So far, 3,800,864 people have received the first dose of a Covid-19 vaccination and 2,825,886 have received their second dose.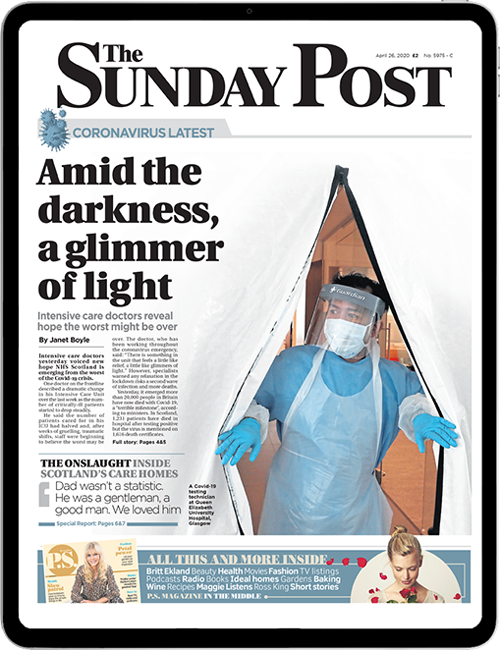 Enjoy the convenience of having The Sunday Post delivered as a digital ePaper straight to your smartphone, tablet or computer.
Subscribe for only £5.49 a month and enjoy all the benefits of the printed paper as a digital replica.
Subscribe