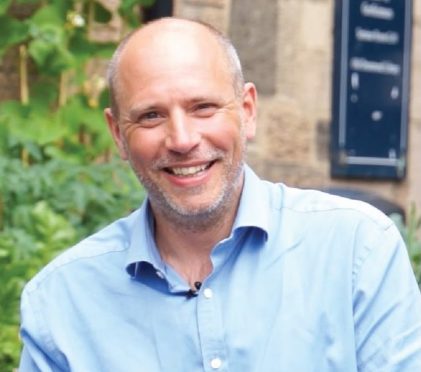 In these dark times, a leading climate change expert has revealed a glimmer of light as he hopes the coronavirus pandemic will bring a new focus on tackling emissions and slowing down the damage to our environment.
Speaking ahead of Earth Day on Wednesday, which marks the 50th anniversary of the world's largest environmental movement, Professor Dave Reay said parallels between climate change and the spread of coronavirus show how nations need to work together to in order to sustain positive change.
"The coronavirus crisis has show us just how connected we are with everyone in the world, and there is a real parallel with climate change – just like COVID-19, environmental pollution doesn't respect borders," explained Professor Reay, who lectures at the University of Edinburgh.
"And the way we respond to this virus and climate change also has parallels. We need international activity rather than single nations acting by themselves – or not acting at all. I think we are waking up to that.
"The current situation also gives us a bit of an inkling around how some of our lifestyle changes, such as less traffic and fewer flights, can have a positive impact on our environment. When we do get through this – and we will – the opening of our eyes to the benefits of switching away from fossil fuels might just stay with us."
According to recent satellite imagery from NASA and the European Space Agency, many countries are seeing massive temporary drops in nitrogen dioxide, which is produced as a result of traffic and fossil fuel use, with eastern and central China seeing a 10% to 30% reduction, and levels in northern Italy dropping by around 40%. Here in the UK, road traffic fell by more than 70% last month to the lowest number since 1955.
As a result, politicians and scientists are now calling for economic recovery plans to focus on "green" policies, utilising clean, environmentally-friendly innovations to drive job and business growth post-pandemic.
The academic, who is also policy director for ClimateXChange, a centre which provides independent research and analysis on climate change to the Scottish Government and other bodies, said temporary improvements need to be maintained long-term if emissions targets are to be met.
He said: "At the moment, the forecast for this year is global emissions are going to be down somewhere between 5% and 10%, which is a huge cut. Normally levels go up because we really haven't tackled climate change in terms of cutting emissions. And this year, they're going to go down – and quite substantially. But the big question is, 'Will that be sustained?'.
"When governments put together investment packages in 2008 after the banking crisis, most of the stimulus [measures] were all about going back to the 'old normal', investing in fossil fuel and other traditional parts of the economy.
"But now EU nations, including Scotland are putting together green recovery plans. They're looking at how we can actually make investment to get the economy going again, but in a way that's more environmentally sustainable. And that's really positive, if it can happen around the world.
"The emission cuts we're seeing this year are going to be big. But the reality is if we're to reach the Paris Agreement climate goals, we need to see those kind of cuts every year for this decade. So, sustaining emission cuts will be down to, what the new investment packages are, and whether we can make it a green recovery, rather than going back to business as usual."
Although the United Nations Climate Change Conference (COP26) set to be held in Glasgow later this year has been postponed, and the Scottish Government's publication of its own Climate Change Plan update has been delayed, Dave admits many world leaders will still look to Scotland for future green goals.
"Scotland has been looked at for quite a few years now because we are realising our climate change targets, which are really ambitious," he explained.
"If we want to get to net zero emissions by 2045 in Scotland, that means creating jobs in the green economy. And this [current crisis] is an opportunity to really supercharge that and create lots more opportunities around renewable energy, electric vehicles, tree planting and more – lots of things need to happen for net-zero, and actually Scotland can can lead the way."
He added: "A few years ago, one of the ministers down south said, 'Everyone has had enough of experts'  – that kind of thinking was wrong at the time, but it's never been more wrong now.
"At the moment we're seeing how important expertise of researchers is when it comes to addressing things like the COVID-19 crisis, and climate change. So, I really hope the legacy is more use of the evidence, and when policies have been put in place, they are based on good research."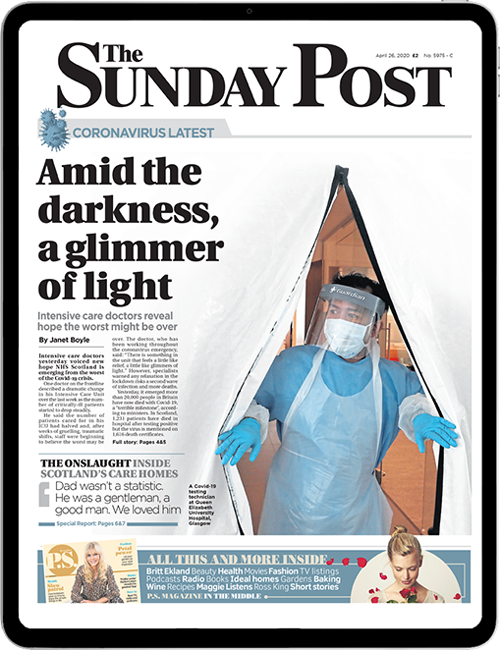 Enjoy the convenience of having The Sunday Post delivered as a digital ePaper straight to your smartphone, tablet or computer.
Subscribe for only £5.49 a month and enjoy all the benefits of the printed paper as a digital replica.
Subscribe