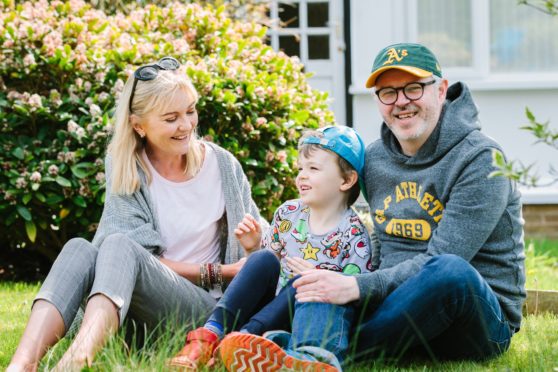 Juggling home-schooling, work deadlines and ­adapting to family life in lockdown has been stress-testing many ­families across Scotland.
But for families of children with autism, adjusting to a new routine adds special pressure that has left many feeling adrift, isolated and struggling to cope.
Grow Communications, a social enterprise that supports families of children with complex learning difficulties or behavioural disorders, says ­young people and their parents require specialist support to survive the Covid-19 crisis.
"Families tell us they feel cut adrift and isolated," said Jude Philip, a speech and language therapist with Grow. "Some parents are reporting very worrying behaviour in their children caused by increased stress and anxiety. Some children refuse to go outside because they fear the world is dangerous.
"Others have a loss of appetite and exhibit increased physical aggression towards siblings and parents. Some children are lashing out and even self-harming, and parents have told us they have been getting hurt by their child."
Grow provides speech and language therapy, clinical psychology and psychiatry, and also occupational therapy.
Last week, it received £26,000 from the Scottish Government's Wellbeing Fund to offer families tailored support, such as one-on-one video counselling and multi-disciplinary therapy, alongside the Perth-based organisation Motorvate Therapies.
"Many families were already struggling before the crisis and have been hit hard by the loss of resources like schools and other support networks," said Jude.
"Most of our staff were furloughed so this funding is key to us offering free, tailored, lifeline support."
There are 56,000 people ­diagnosed with autism in Scotland, including 9,500 children and young people aged under 15.
On May 4, the Scottish Government announced a £200,000 funding boost split between national charities Scottish Autism, and the National Autistic Society Scotland.
Scottish Autism has seen a stark increase in parents and carers contacting its advice line since lockdown began. The £160,000 allocated will allow the charity to operate its advice line seven days a week, 8am to 8pm.
Joanna Panese, who leads the charity's autism support team and advice line, said: "Many parents are concerned about how to maintain a new routine, achieve good sleep patterns and manage stress and anxiety. This crisis is having a huge impact on the emotional, physical and mental wellbeing of autistic children and their parents."
Drastic changes to children's daily routine, like home-schooling, can have a huge impact.
"Children miss the structure and predictability school provides and that also impacts their normal home routines," added Joanna. "Many parents have to juggle working from home with additional care-giving responsibilities.
"All of this causes increased stress and anxiety. Many parents are asking us to help them explain to their children what Covid-19 is and why they can't go to school or see their family and friends."
But children with autism and their families could still be impacted after lockdown measures are eased, warned Jude.
"Before Covid-19, a quarter of our caseload was young people, mostly autistic children, who weren't in school when lockdown began, for a variety of reasons," she said. "Parents are worried because it was already a battle to get them into school before social distancing measures.
"Once lockdown starts to ease we expect the number of children struggling to get a place in a school to increase. This will impact parents expected to return to the workplace."
---
Niall's Story: 'Luckily, Niall keeps himself entertained so he's coping well'
Home-schooling son Niall has been one of the toughest challenges of lockdown for Damian Reilly.
Niall, six, was diagnosed with autism three years ago and attends the Carlibar Communication Centre in Barrhead, near Glasgow for children with additional support needs.
"Niall's class only has four other pupils, all with autism, so it is focused on his needs," said Damian, 44. "They use a lot of technology and sensory learning, which is hugely beneficial but hard to recreate at home.
"Here he's in a completely different sensory environment so it's been hard to get him to focus on learning.
"I hope that kids with additional support needs are prioritised in getting back to school when the restrictions are lifted because they're really missing out."
Damian juggles studying for his Open University degree in psychology and counselling with caring for and home-schooling Niall.
Every Thursday, Niall is out on the doorstep of the family home in Clarkston clapping for mum Hannah, who works as a nurse in the intensive care and high-dependency units at Queen Elizabeth University Hospital.
"Luckily Niall is very comfortable with his own company and keeps himself entertained so he's been coping well with isolation," said Damian.
"It's been tough for Hannah but Niall is a very affectionate and happy wee boy and always cheers her up.
"He's shown no interest in the coronavirus so he never asks about her work. She's able to completely switch off from work as soon as she gets home."
Damian welcomes increased support for families such as his own.
"The great thing about Scottish Autism is they provide tips on mundane things that most people take for granted, like how to encourage Niall to wash his hands," he said.
"He doesn't like going in the shower or putting his hands under the tap.
"Getting him into a routine of keeping his hands clean has been something we've had to build up to. Their website has been a source of tailored advice and information we can trust."
Dylan's Story: 'That moment won't happen again. It's unique… just like me'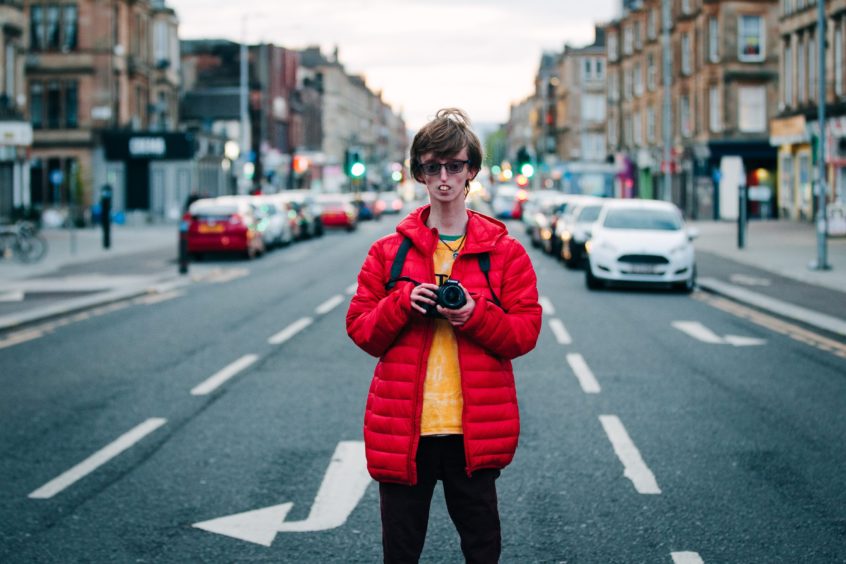 Dylan Lombard is using his love of photography to help him focus on the positives during lockdown.
The 16-year-old from Shawlands, in Glasgow, has autism and MDP Syndrome, an extremely rare condition that means he is unable to store fat under his skin.
Dylan first developed a passion for photography four years ago as it offered an escape from the bullying he was experiencing at school.
"At first I struggled to accept looking different. It has always affected how people interact with me," said the teenager.
"I started taking photographs as a way to take my mind off things, as a coping mechanism.
"I find it challenging to make friends and communicate with people but photography allows me to tell a story without words. It's helped me stay positive and become more confident.
"I feel proud when I take photographs. They remind me of how I have coped with having autism but also used my disability to show other people how I see the world."
Current social distancing measures mean Dylan feels more comfortable taking to his neighbourhood's relatively empty streets, where he documents the city in lockdown.
"I go out early each day to take photos as my daily exercise," said Dylan. "My autism means I don't like it when it's noisy or there's big crowds of people, so I've loved taking photographs during lockdown because the streets are so quiet.
"Taking photos is like a switch that turns off the rest of the world. I can freeze time and give myself space to think and breathe. Along with my family, it has helped me cope and stay positive."
Dylan has just completed his Higher grade photography and hopes to eventually turn his hobby into a career. Already his work has featured in exhibitions and been published in his school magazine.
"I never would have thought other people would appreciate my view of the world," Dylan added.
"That moment in my pictures will never happen in the same way again. It is unique, just like me."
Nathaniel's Story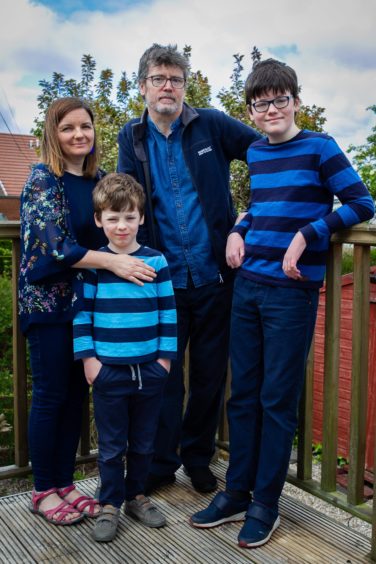 Two weeks ago, the Hutton family reached crisis point.
Mum Fiona was left to provide 24-hour care for her autistic son Nathaniel, 13, husband Mervyn, 48, and their youngest, Benjamin, seven.
Fiona, 47, a former nurse, said: "We began shielding early because Mervyn has MS. If I became ill there would be no one to look after the boys."
Nathaniel was diagnosed with autism two years ago.
"He is exceptionally bright," said Fiona, of Wallacestone, near Falkirk, "but, without the routine of school, his anxiety has gone through the roof. He's frightened of going outside. Even just being in the same room as someone can overload him.
"He's been in a near-constant state of fight or flight and having more meltdowns and shutdowns during lockdown.
"During a meltdown, he might need to hit something to release this pent-up energy, or in a shutdown he is totally withdrawn. Both leave him feeling emotionally and physically exhausted."
Mervyn's mobility and mental health have also suffered as he can't access his regular respite, art therapy and physio appointments. Benjamin had also felt the strain. Luckily, he was offered a school placement.
"We're a really good team but our situation had become so intense," said Fiona. "Benjamin was getting quite frustrated and that isn't his nature. It's a relief to know that he's getting some normality at school and I can go at a slower pace and finally have some time to recharge.
"Nathaniel has had his best days too because he's excited about Benjamin coming home from school. We're all feeling a lot more optimistic."
Stuart's Story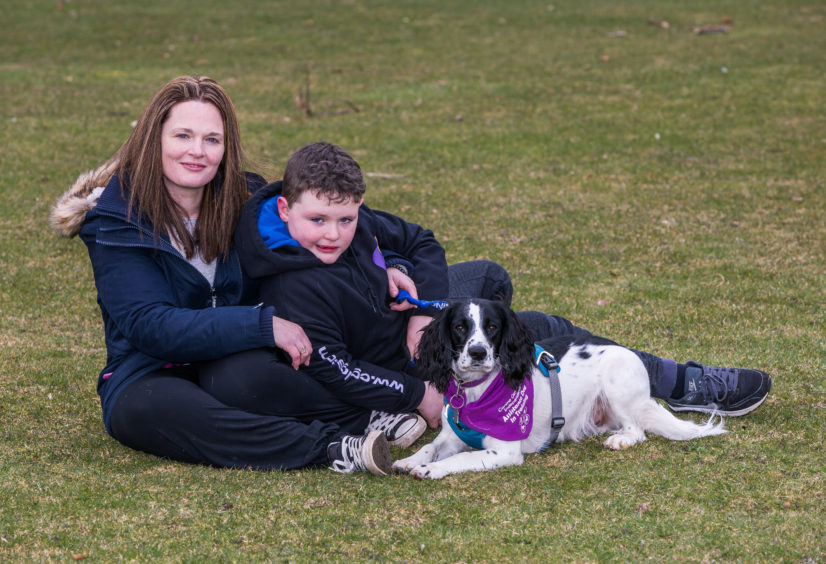 Single mum Lisa Moir, who was diagnosed with autism last year, admits adjusting to life in lockdown with her 11-year-old autistic son Stuart has been tough.
"Stuart was coming to me for answers and I didn't have any," said Lisa, a senior autism practitioner with Grampian Autistic Society in Aberdeen. "At first he thought it was a holiday and didn't understand why he couldn't go outside, couldn't go to school, why he had to wash his hands."
Lisa, 40, is grateful for support which allows her to continue to work.
"My autism means my brain never shuts down. Continuing to work has been vital for my mental health."
Lisa has taken care of her son on her own since her husband passed away in 2012. And in recent weeks the stress of a drastically altered routine has brought out Stuart's creativity in a way she could never have imagined.
"I've seen Stuart's innovative engineering side blossom, something he gets from his dad," said Lisa.
"He's recreating everything he remembers down to the finest detail, in 3D models, like his baby cot mobile and the house we all used to live in. It's amazing that he's making these memories come alive.
"Stuart is my inspiration. This has been tough but we'll get through it together."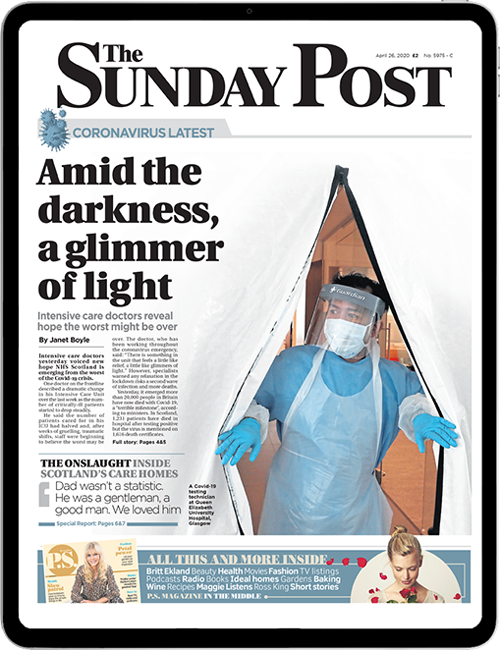 Enjoy the convenience of having The Sunday Post delivered as a digital ePaper straight to your smartphone, tablet or computer.
Subscribe for only £5.49 a month and enjoy all the benefits of the printed paper as a digital replica.
Subscribe