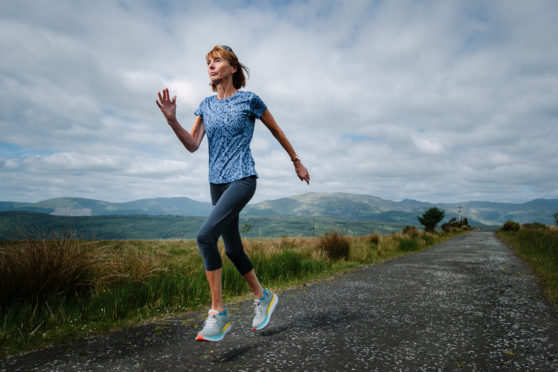 As Jan Fellowes laces up her trainers, pops in her earphones and sprints out the door, any troubling thoughts quickly melt away.
Like many Scots recently, the retired psychiatrist has found peace of mind during her daily jogs, to the extent that she has now run more than 500 miles since lockdown was imposed.
As a cheap and convenient workout that complies with social distancing, jogging has become an even more popular form of exercise and escape during the coronavirus crisis. And as well as its obvious fitness benefits, running is also great for your mental health.
"It gets rid of any worries or stress. Running on my own, I seem to think of everything and nothing at the same time," said the 65-year-old. "It's very good for de-stressing, especially if you are juggling a busy job and being a parent, which I was when I started, it gives you time on your own."
Incredibly, Jan has now completed 17 marathons around the world over the last 15 years despite only taking up running in her mid-40s. "I had started going to the gym. Someone there mentioned the Glasgow Women's 10k and I thought it would be a good challenge. I started training with a fellow mum and went running after the school run," she said.
"I was fit when I started so I could go out and do two miles, albeit very slowly. If you are going from couch to 10k, I'd recommend increasing your distance a little every week over three months. I did my first 10k in 54 minutes and was hooked. I did another one a week later and knocked a few minutes off my time. That improvement was a big motivator. I've been running non-stop ever since."
Jan now holds the prestigious Six-Star Medal, awarded to athletes who have completed the big six world marathons: London, Boston, Tokyo, Berlin, Chicago and New York City. This will be the first year she has not run a marathon since her first in the Big Apple in 2005.
Jan had been due to take part in this month's Rio Marathon, which has now been rescheduled tentatively for October. And her dream of running a marathon in seven separate continents has been put on hold.
"I've been on the waiting list for the Antarctic Marathon for two years. Only 200 people get to run it a year, so now I need to wait. It's disappointing to not be doing Rio. It's a shame as I felt very fit and prepared for it.
"I've been running more than ever during lockdown. I've been out on my own five days a week, doing eight miles at a time, mainly because it's about the only thing I can do right now."
Pre-lockdown, Jan ran with Helensburgh Amateur Athletic Club and comfortably kept pace with members 20 years her junior.
"Life doesn't narrow as you get older and that positive perspective keeps you young mentally, too.
"I recommend people join a running club or jogging group when restrictions are lifted. It's a great motivator and very sociable too. At 65, I do feel much fitter and healthier than some of my peers.
"Anyone can do it if they take it at their own pace, no matter your fitness, age or size. Run for a couple of minutes, or as long as you can, then walk for a couple of minutes and then run again and build it up from there. The more you practice, the better you get."
Jog Scotland's Sue Gyford said: "Going out for a run floods your brain with endorphins, which make you feel good. Over time the mood-lifting effects can build, leaving you feeling more positive and less anxious."
Around 10% of Jog Scotland's 8,000 members are aged over 60.
"It can help prevent heart disease, stroke, diabetes and certain cancers. It helps slow the natural decrease in muscle mass that happens as we age," added Sue.
"And running can increase your strength, improve your heart health and lungs so everyday activities like going upstairs, chasing after grandkids or carrying your shopping becomes easier."
---
Get off the couch and on the road
Need inspiration to get off the couch and go running? You're not alone. Here are Sue's beginner's tips.
Start slow: Follow a couch to 5K or beginner programme app. Build up very gradually, walking and running. This will give your joints, ligaments and tendons time to get stronger as well as your heart, lungs and muscles.
Be good to your body: Take days off between your runs, warm-up and cool down, pay attention to twinges and walk when you need to.
Don't overdo it: Remember your joints need time to get stronger through gradually increasing the amount you run so don't try to do too much, too soon.
Join a club: Once lockdown lifts, think about joining a group or club. Jogging with other people helps with motivation and enjoyment.
Best foot forward: Visit a specialist running shop (once they reopen) and purchase shoes that suit your gait. Unsuitable shoes can result in all sorts of twinges and injuries in the knees, hips and back.
Stay safe: Current official advice is that you should keep two metres away from someone running beside you, and if running in single file, should increase the distance to five metres between runners.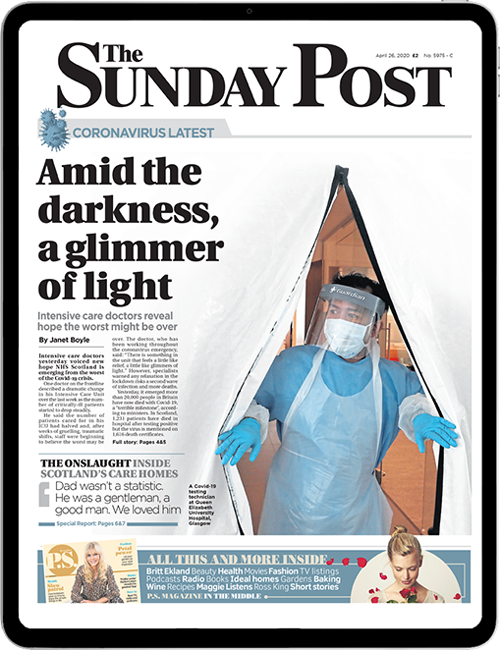 Enjoy the convenience of having The Sunday Post delivered as a digital ePaper straight to your smartphone, tablet or computer.
Subscribe for only £5.49 a month and enjoy all the benefits of the printed paper as a digital replica.
Subscribe