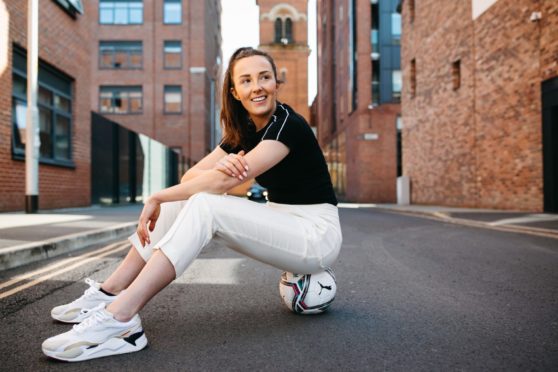 The five-year-old girl repetitively kicking a football against a green board in her family's garden harboured what appeared to be an impossible dream.
On the back of her shirt was the name of Zinedine Zidane, the French World Cup winner, now manager of Spanish giants Real Madrid.
Caroline Weir loved Zidane's style and skills – but it was also true, as she honed her shooting skills growing up in Dunfermline, that she had no famous women footballers to idolise.
Yet, whenever anybody asked what she planned to do when she grew up, her answer was always the same.
"I always wanted to be a footballer," explains the 25-year-old, who now plays for top English club Manchester City.
"I had some kind of self-belief from an early age, although I don't know why. I wanted to see how far I could get. It wasn't the done thing, and it was against the odds, so I didn't feel like I had anything to lose. A lot of it just stems from the love of playing football."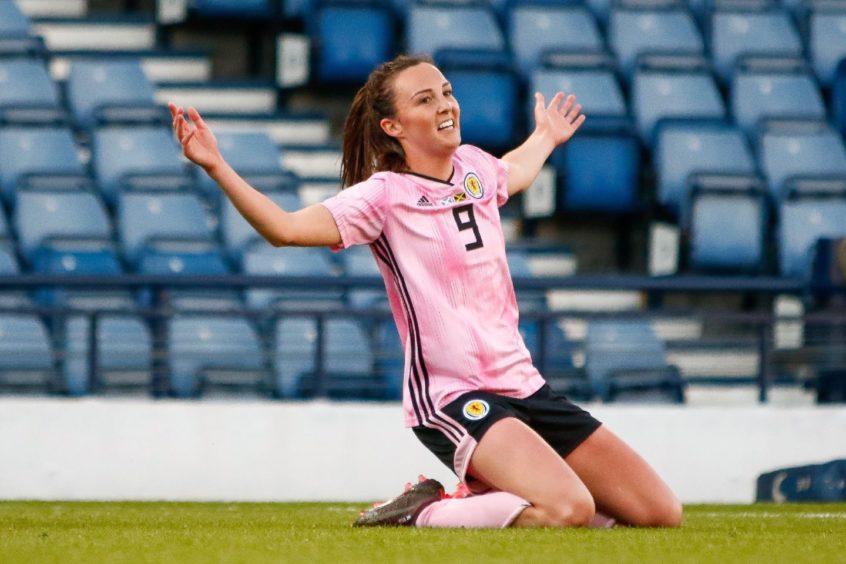 Today there are many more female role models for budding young players to choose from, Caroline being one of them. The midfielder belongs to the first generation of Scottish women footballers to play professionally in the UK.
Caroline and Erin Cuthbert, who is three years younger and plays for Chelsea, are the best of about 40 Scots who are paid to play the game they love.
Thanks to Scotland qualifying for the 2019 World Cup, the women's game has been given a boost in popularity. A record-breaking Hampden crowd of almost 19,000 cheered on Caroline and her team-mates in their friendly with Jamaica which served as a send-off before the competition.
Playing in the World Cup was a dream come true for Caroline: "That was something I dreamed of as a kid and, as a Scot, it's not something we expect – especially as a female. Winning the FA Cup final at Wembley with City in 2019 was another great moment. Also scoring for Scotland against Jamaica at Hampden, and for my club against Manchester United at the Etihad."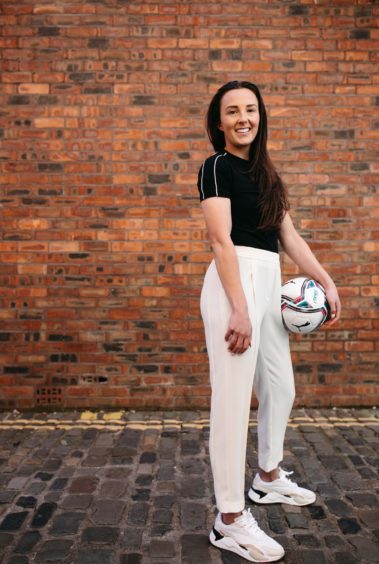 The Scotland side, led by Shelley Kerr, failed to make it to the second round but it started a ripple effect still felt. Three years on and highlights of Scottish women's league football are being screened on TV for the first time. Sky Sports has also secured the rights to show up to 44 live matches from the Barclays FA Women's Super League next season. Further games will be shown on BBC1 and BBC2. Caroline says the TV deal is a game-changer.
"It's exactly what the game needed to keep it pushing on to another level. We see the guys on television all the time – of course people recognise them. Kids watch them and grow up with them. I would love to have had women's games on BBC growing up. If girls – and also boys because it's important they see women footballers on TV – can watch a lot of games it's a huge thing."
Caroline, who has two older sisters, Morven and Kirsten, and a younger brother, Robert, was encouraged to pursue her dream by parents Lindsay and Mhairi. It was her dad who put up the board in the family garden and painted it green with white goals. And when his youngest daughter wouldn't stop practising he even provided a floodlight and put down some AstroTurf.
"Although it wasn't huge, it was like having an all-weather pitch," she recalls when P.S. catches up with her during a gap in her busy training schedule. "It allowed me to practise all year round."
There were no girls' teams in Dunfermline, so Caroline signed up with the local Elgin Star boys side when at primary school. She was the only girl in the side, and the seven-a-side league.
"Deep down I liked the fact I was the only girl," she says. "There were comments that would come from boys – why have you got a girl playing for your team, those sort of things.
"When you hit 11 or 12 it gets more difficult. Girls that age don't want to be playing sport in front of boys.
"I do remember feeling a bit embarrassed about it. As I went through high school I didn't tell a lot of people about my football. Most of my friends would know, but it wouldn't be something I would openly speak about. I was just that girl who played football who nobody took much notice of – which I was OK with."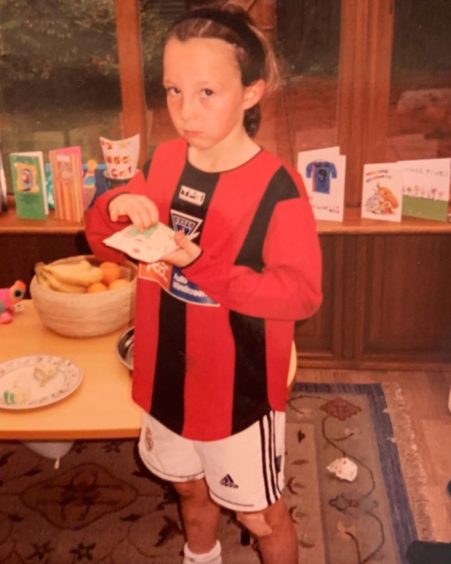 The break came when she joined the girls' set-up at Hibernian, aged 10. She made her first appearance for the Edinburgh team's senior team against Scotland's best side, Glasgow City, in 2011 – a month before her 16th birthday. But the odds were stacked against earning a living playing football.
A football scholarship in the US looked a likely option but, as she was about to leave high school, an unexpected opening materialised.
Shelley Kerr, manager of Arsenal, was keeping a close eye on her progress at Hibs. "I had a girls' holiday in Maguluf and the next week I was moving down to Hertfordshire to join Arsenal," she recalls. "It was a huge change for me. I came from a stable, big family with a lot of people kicking about in the house. It was a big adjustment."
Spells at Bristol City and Liverpool followed, but then she joined Manchester City in 2018. City were the first in the UK to embrace the "one club" philosophy, with women players given the same status as the men – even if commercial realities mean they get paid far less.
It's fair to say that unlike their elite-level male peers female footballers will not be able to retire on their current wages and, with a view to the future, Caroline has taken a media studies course at Staffordshire University. It's the same course Strictly star and Match Of The Day analyst Alex Scott, a former Arsenal and England footballer, graduated from before moving into TV.
"It's not something I'm definitely saying I want to get into," says Caroline, "but it's an interesting option to have."
Having made it to the top of her game, Caroline is determined to give something back. She is one of a number of top players who donate 1% of their earnings to Common Goal – an organisation that uses the power of football to tackle gender equality and youth unemployment. She is also a Girls United ambassador.
"The two charities are basically about empowering women, gender equality, the kind of topics I'm passionate about," she said. "The idea at Girls United is that I'll go to coaching sessions and work with them. It's about giving girls skills and confidence.
"It's super-important for girls to feel they can achieve anything. They have two really good hubs in Mexico and south London. We've had a few conversations about Scotland – it would be great to get something going in Dunfermline. I would love to be a part of that."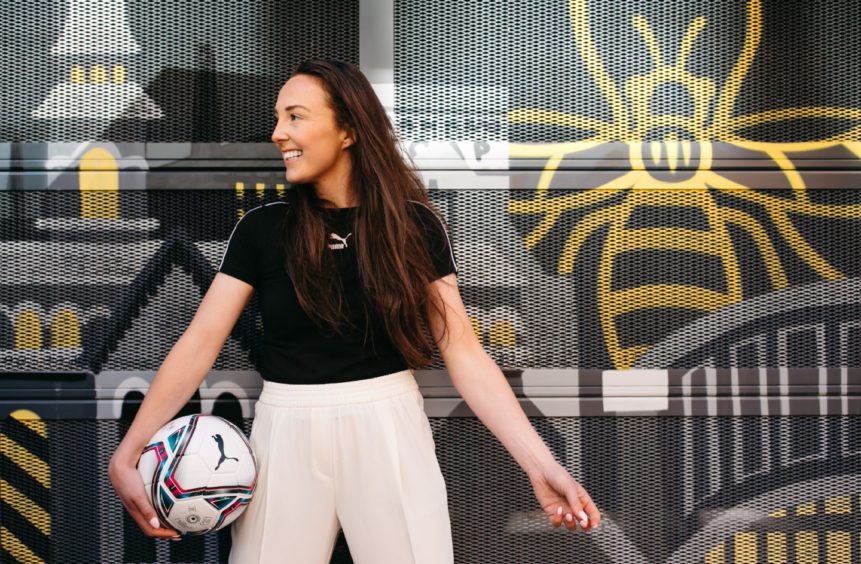 Off the pitch she says she is in a relationship, but isn't willing to expand.
"Would you ask me that question if I was a male?" she asks. "I've got a boyfriend. That's it."
She is, however, more forthcoming on the subject of having a family, acknowledging that, while having a child would never interrupt a male player's career it's not that simple for women.
She says: "The reality is it's something female athletes have to think about so you can't ignore the topic. I'm 25 now and see myself having a family one day.
"It's not something I'm having to think about at the moment, but much as I love football there are other things I want to do and having a family is one of them."
With Manchester City currently in second place in the Women's Super League, she can expect her profile to rise even more.
The world of football is moving on. Young girls in Scotland can now proudly wear the name Caroline Weir on the back of their shirt.
---
Women's game takes off
The success of the 2019 World Cup – the games in France were watched by 1.12 billion TV viewers – has helped women's football move into the mainstream.
It still faces vile misogynistic abuse, but the systematic attempts to suppress it have largely disappeared.
Women's football was banned from men's grounds for 50 years by the Football Asssociation. They took action because a women's game at Everton's Goodison Park attracted a crowd of 53,000 in 1921 – and they didn't like that.
In 1971 the European governing body, Uefa, instructed all its members to recognise women's football. The motion was passed by 31 votes to one. Shamefully the association out of step was the Scottish FA.
The same year the Scottish Women's Football Association was formed.
In 1972 the first ever Scotland international game was played with the home side losing 3-2 to England in Greenock.
It wasn't until 1998 that the sport was fully admitted into the SFA fold.
Despite this it continued to be belittled by many football administrators – but the success of the side in qualifying for the 2017 Euros and 2019 World Cup changed perceptions.
Glasgow City, Rangers and Celtic now have fully professional players, while Hibs have several on part-time contracts.
City, founded in 1998, have won the Scottish title for the last 13 seasons.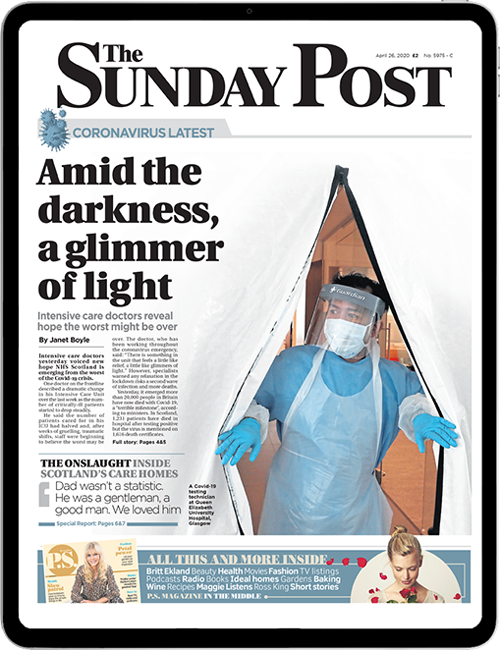 Enjoy the convenience of having The Sunday Post delivered as a digital ePaper straight to your smartphone, tablet or computer.
Subscribe for only £5.49 a month and enjoy all the benefits of the printed paper as a digital replica.
Subscribe