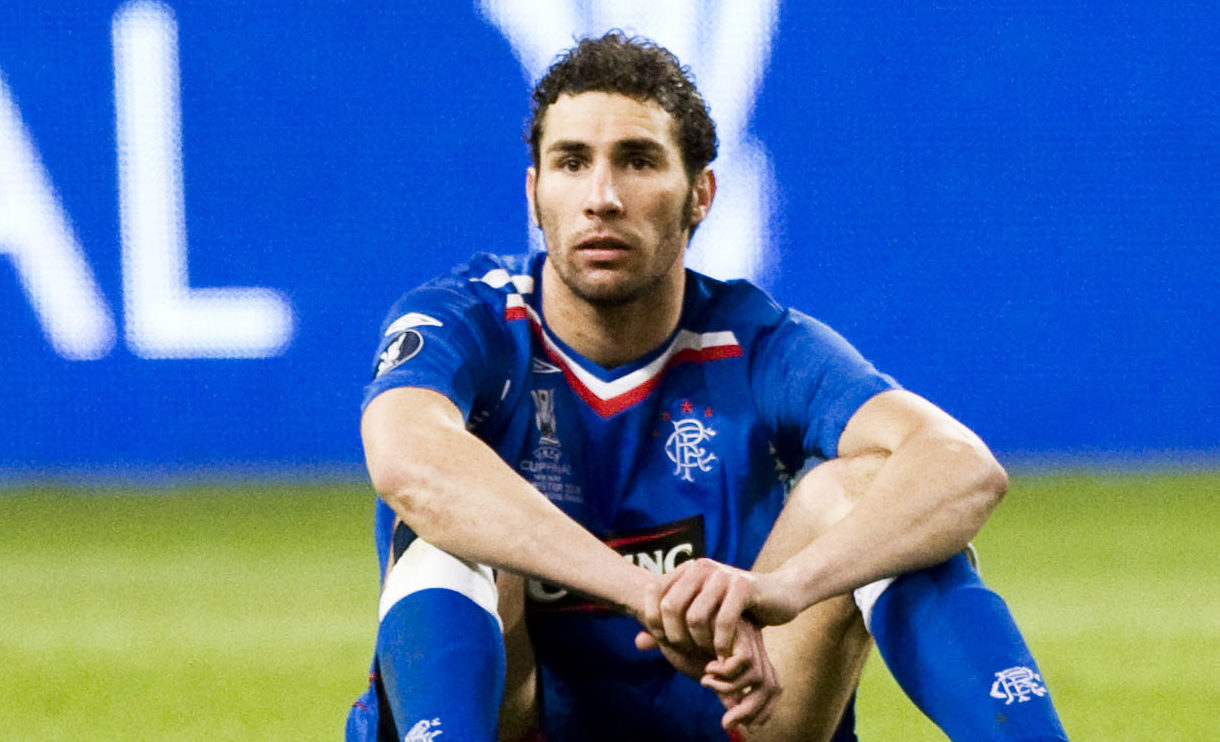 CARLOS CUELLAR has backed Steven Gerrard to make Rangers a force to be reckoned with in Scotland and Europe again.
And the Spaniard admits that, one day, he'd love to be manager of the Ibrox club.
A decade may have passed since he swapped Glasgow for Aston Villa, but the Spaniard still keeps a close eye on the goings-on at the Light Blues.
The defender watched on in horror as they lurched into liquidation and were relegated to the bottom tier of Scottish football in 2012.
Their return to the top flight has been far from smooth, with Brendan Rodgers' Celtic side clinching back-to-back Trebles.
It's a far cry from the side Cuellar starred in that saw off Werder Bremen, Sporting Lisbon and Fiorentina on their way to the 2008 UEFA Cup Final.
However, the 36-year-old believes the appointment of the Liverpool legend as manager could bring the good times back to Ibrox, despite his lack of managerial experience.
"With all the knowledge and experience he has from playing, he is the right man to be there," Cuellar insisted.
"He played for one of the best clubs in England, and for many years in Europe. He's also had some of the best managers around to learn from.
"I hope he can impart that knowledge to the players, and they learn from it. If they do, then he will be successful.
"Hopefully next season they will be back again to fight with Celtic to win the league, and start competing again in Europe. That's part of Rangers' history."
The Spaniard spent just one season in Scotland following his move from Osasuna, but the Ibrox club left as big an impression on him as he made on the pitch during his brief stay.
Cuellar played 65 games that season – a club record for a single campaign.
His performances earned him cult status amongst the Rangers support, and plaudits from the pundits as he was crowned the Scottish Football Writers' and Scottish Premier League Player of the Year.
He departed for Aston Villa in a £7.8m move to chase his ultimately unfilled ambition of playing for the Spanish national side.
But there's a part of him that has always regretted leaving Ibrox, and he has dreamed of a return ever since.
About to turn 37 and currently playing for Beitar Jerusalem in the Israeli top flight, Cuellar fully admits he's unlikely to be top of Gerrard's wish list to shore up a porous Rangers defence.
But the defender has ambitions of one day replacing Gerrard in the manager's seat.
"It's the club that I have in my heart," Cuellar said.
"I knew it was a big club and all the history behind it. But you only realise how big it is when you are inside it.
"When I played at Ibrox with Osasuna in the UEFA Cup, and sampled the atmosphere, I thought: 'Wow! I need to come here'.
"For me, personally and professionally, it was my best year ever. I only have good memories.
"I'd love to go back to take some role in the club. If you want, you can give Steven Gerrard my number and tell him to call me!
"I would run back to Rangers.
"I'm probably a bit old now to go back as a player, but it's my dream to come back one day as the manager of Rangers.
"It was so hard to leave because I felt that I was going to be at Rangers until my last day in football.
"But the coach of Spain, Vicente del Bosque, told me that if I wanted a chance, I needed to play regularly in one of the top leagues.
"It was the main thing that made me move. To play for your national team is the biggest achievement you can get in your career.
"I took the risk and it didn't work out. But I was so close."
The Spaniard was an integral part of Walter Smith's side that came agonisingly close to securing Rangers' first European trophy in 36 years.
Time has healed some of the wounds since the loss to Zenit St Petersburg in Manchester, but Cuellar admits he's still too emotional to view a recording of the match.
"We were so close. I was touching the UEFA Cup with my fingers, but in the end we lost," the defender said.
"I was really angry afterwards because I thought we were going to do it. I felt it was such a big missed opportunity as I didn't think we were worse than Zenit
"I couldn't watch the game again because I would probably cry. I cried then, and if I was to watch it again, I will cry more because I can analyse it better
"But, looking back now, I am so happy and proud to have had the opportunity to play in that Final.
"It was like playing at Ibrox because we had 30,000 people inside the stadium in Manchester with us.
"We were very lucky to have such a support.
''I remember in big games – even when we were down – you could feel the crowd always supporting you. It gave you extra energy.
"That's probably why I was so angry after the game. I felt so sorry for all the people who made all that effort to come and enjoy the day.
"But even though we lost, the Rangers supporters were proud of the players because we never let them down.
"We didn't have any big stars, but we played like a team and were so good.
"We played for each other, we supported each other and we were all pulling together in the same direction."
Cuellar helped Rangers lift the League and Scottish Cup during his debut season.
But their campaign ultimately ended in heartache as the Gers lost out to Zenit before Celtic pipped them to the league title on the final day.
And the Spaniard believes a decision from SPL bosses not to postpone a league fixture – which left his side needing to play six games in 15 days – cost Rangers a historic quadruple.
"We asked the league for extra time to prepare for the UEFA Cup Final because it was something important for the country,'' Cuellar recalled.
''For a Scottish team to be one of the best in Europe was going to be great for the reputation of the league.
"But they said they weren't going to move any of our games, and it killed us.
"If we had another week or four more days to recover to prepare well for Zenit, then the result might have been different. Our legs would have been fresher.
"Zenit were given more time to prepare but that's what people normally do in the leagues.
"In Spain, the league tries to help you as they want the teams to succeed and make the country and league proud. But the SPL did the opposite.''
Following spells with Villa, Sunderland and Norwich, Cuellar looked set to retire after his contract with Spanish second division side Almeria came to an end.
However, he's enjoying a new lease of life in Israel following a spell with Hapoel Ironi Kiryat Shmona.
"Beitar are always fighting to win the league," said Cuellar. "The aim is to retire as a champion, but I would not rule out playing on.''