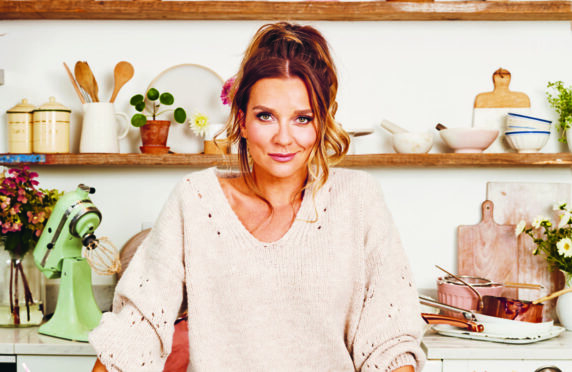 When asked for the secret to their success, most celebrities will say it's all down to luck. Candice Brown is no different.
As we chat on the phone about everything from The Great British Bake Off to running a pub during the pandemic, the television personality and all-round foodie expert often describes herself as "lucky" and seems genuinely humbled by the success she has found since winning television's most popular baking show.
She won the series in 2016 and since then has penned two cookbooks, secured a regular cooking column in a national newspaper, competed on further reality shows, and demonstrated recipes to crowds of thousands.
It's clear hard work and determination – two qualities perhaps earned during her first career as a PE teacher – have played a role so why do her accomplishments still seem a surprise?
"It's so cliché to say, but I never thought any of this would happen in a million years," explained the 36-year-old, who made it to the series seven final alongside Andrew Smyth and Jane Beedle.
"For me, baking was just something I loved and did to clear my head. It was my way of coping. I just adored Bake Off and always loved the idea of taking part. I never thought, 'I could do that, I would be better' – it was always just a case of wanting to be a part of the show. So, now, to think that I'm part of that Bake Off family is just… Honestly, it still blows my mind.
"When I look back at the things I've done since I know how lucky I am. I work hard and I keep pushing and learning because I know I am just in such an incredible position. It blows my mind every single day."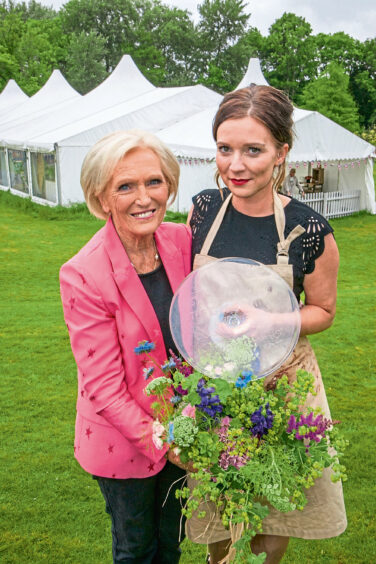 The kitchen, Candice admits, has and always will be her happy place. Spending her days developing recipes and writing cookbooks is a dream come true, and the theme of her latest collection of recipes is an attempt to share the joy and calmness she finds in each sponge cake, brownie, pie and pastry.
Happy Cooking, published earlier this month, features comfort food, nostalgic dishes, and "keep-your-hands-busy cooking" – or recipes for fidgety hands and overworked brains. As she says in the book, they are self-care recipes with calming processes that help to see her through tough times and grey days.
"There is therapy in cooking and baking," Candice explained. "For me, I've always used cooking as almost an all-consuming project. I talk about this in the book. It's like when you go into the kitchen knowing the recipe is going take all afternoon, you follow the process, start from nothing and build up something beautiful and tasty.
"Even if it's not beautiful, it's still going to be tasty, and there's a reduced pressure if you going into it saying to yourself, 'OK it didn't work perfectly but I've used the process for some me time'.
"Being a little bit methodical and experimenting can be such a release – it really is for me every time I cook or bake."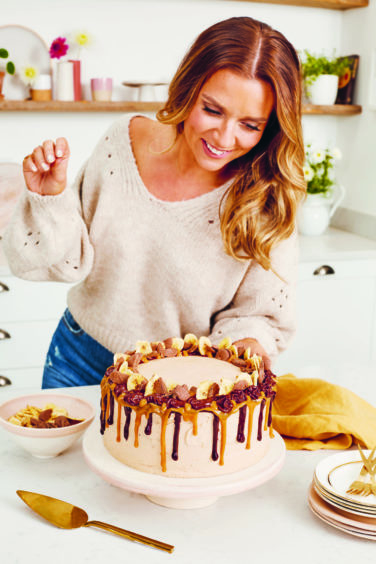 Recipes include quick pick-me-ups, such as one pan double chocolate cookies, the aforementioned busy bakes, including one of Candice's favourite dishes, khachapuri ("Cheese, drippy egg yolk and bread is just pure comfort isn't it?"), and cakes from her childhood. Think jam and coconut sponge and, every school canteen's favourite pudding, angel cake.
And having been tried and tested, she the recipes can withstand a little bit of experimentation – or, well, mistakes.
She continued: "With food, I think people are more open to just throwing something in, but with baking people get more scared about deviating from recipes – and I always say you should!
"My cookbooks all have the corners of the pages folded down or things written on them or scraps of paper added because I'm still developing some of those recipes. Even from my first book, I'm still adding bits in or changing and adapting the process.
"That's what I try to get across – if you don't have something in the cupboard, swapping is fine.
"And you know what? If it doesn't work, just don't tell anyone. Or tell them it's meant to have a hole in the middle!
"If something's causing me stress or taking too long, then I will normally put it to the side and move on to something else. My food and baking is about ease; chuck it all in, hope for the best and it should taste nice."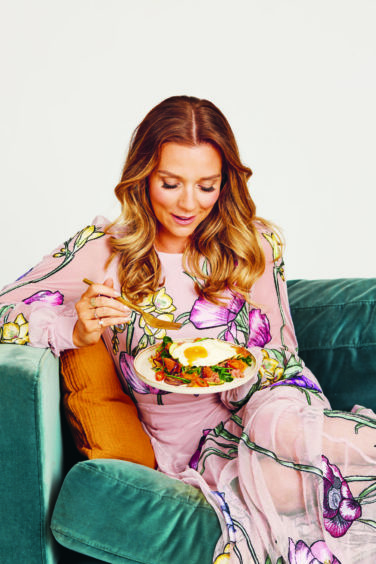 Baking may, at first glance, seem to be Candice's first love, but having grown up in a pub run by her parents (which she recreated in gingerbread during her time on Bake Off), she also enjoys working outside of the kitchen.
At the end of 2018, Candice and her brother, Ben, bought The Greenman Pub in Eversholt, Milton Keynes, where unbeknown to customers, special puddings of the day are often recipes Candice is tinkering with for future cookbooks.
The pandemic hit their little country pub hard, and she admits the shock of numerous lockdowns is still having an impact on their fledging business.
She said: "You couldn't write it, could you? I still sit sometimes and think, 'What just happened?' – or is happening still.
"We shut three days after our one year anniversary. It was like, 'OK what do we do now?'
"You adapt and think fast, basically, in order to survive. At one point, we couldn't pay our staff. One of the worst things I've ever had to do was ask our staff whether we could pay them some of their wages now and then some later. We never thought we would have to do that.
"We did takeaways and deliveries and opened when we could. We literally did whatever we could to survive and, luckily, we have. I wouldn't say we kept our heads above water… Maybe just our eyebrows."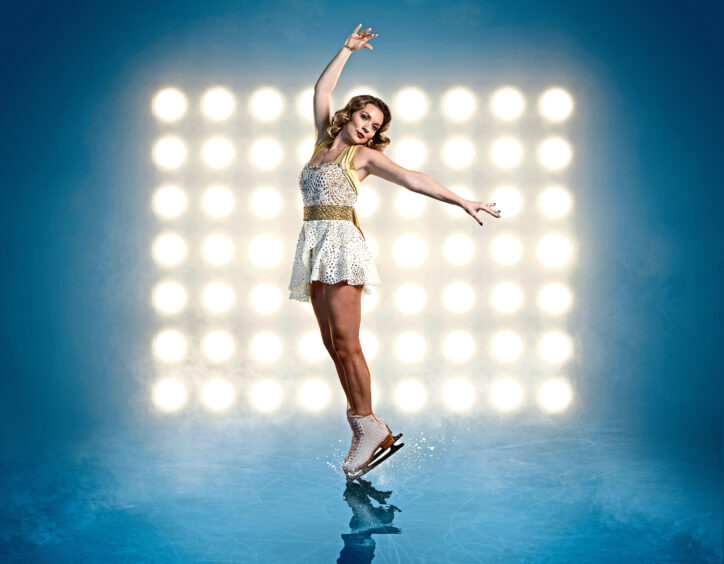 Having left teaching behind, Candice has turned her hand to a range of projects since Bake Off, including a short-lived stint on the 2018 series of ITV's Dancing On Ice. She was the first to be eliminated from the show, so I have to ask; what was more nerve-racking, ice skating on live TV or facing the judgment of Paul Hollywood?
"I mean they both they both contain icing…" she replied bursting into laughter. "The ice skating was pretty terrifying but I got one of my best friends, Matt [Evers, her professional partner] out of it.
"Honestly, I just love learning and I love a challenge, so that's where I can't say no. On Saturday, for example, I'm off to trek 100 kilometres of the southwest coast across five days for charity."
Although her career has moved in a different direction, Candice admits teaching was the foundation for her future success, and she is thankful to have had the opportunity to develop her passion.
She said: "Do I miss teaching? I do. But it's also becoming a really difficult job, and lots of incredible teachers are leaving the profession because they are not being looked after. That's something I'm really passionate about.
"Teachers are shaping the future nurses, doctors, leaders, and there is so much pressure on you to tick boxes when there are less resources, less time and less money. It's tough.
"But I learned so much from it, and I suppose I kind of use my skills in a different way now. I was very lucky to have the most incredibly supportive school. They really allowed me follow my dreams."
---
Happy Cooking by Candice Brown, Ebury Press, £22, is out now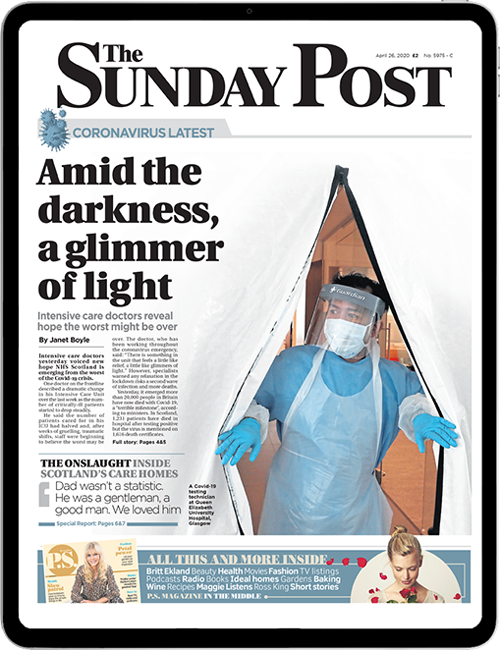 Enjoy the convenience of having The Sunday Post delivered as a digital ePaper straight to your smartphone, tablet or computer.
Subscribe for only £5.49 a month and enjoy all the benefits of the printed paper as a digital replica.
Subscribe