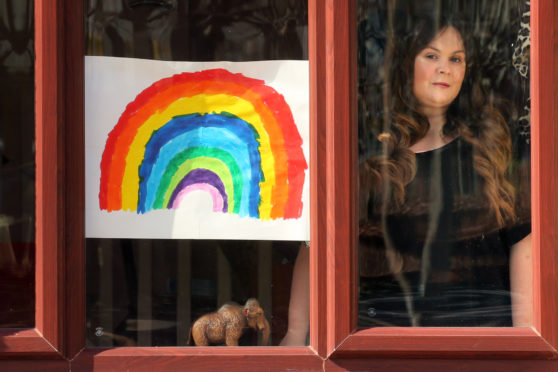 The mental health of cancer patients is under threat as they are forced to make agonising decisions about treatment, experts warned yesterday.
Charities have voiced ­concern for patients being forced to choose whether to continue chemotherapy, which compromises the immune system, or to stop therapy in a bid to boost their body's defences against the coronavirus.
Dr Tom Berry, head of Scotland for Breast Cancer Now, said: "For people with incurable cancer, chemotherapy can help keep spread at bay. But decisions will have to be made about whether it is the right thing to do to continue in this time of coronavirus.
"With chemo, your blood cells quite often can get very low, which means you are more susceptible to catching various infections and your body is less capable of dealing with them.
"So they will need to look at whether the small benefits brought by chemo outweigh the risk of contracting coronavirus, of which the consequences could be more severe."
Andy Anderson, head of Maggie's Edinburgh centre, added: "For certain people with advanced disease, the option of chemo is particularly limited because of extra concern about infection risk.
"It's going to result in some very hard and painful decisions. In every consultation there are conversations about treatments, the pros and cons.
"It needs to be looked at how any treatment is going to affect the person's wellbeing, stamina, levels of fatigue and visits to hospital. This pandemic comes with so much still unknown about it and the uncertainty is creating an extra level of complexity for these patients.
"It's a really challenging time for people in an end-of-life situation. They want to prolong their lives and quality of lives, but the question now is at what cost?"
There has been no national directive to stop chemotherapy for certain groups of people. However, many patients will enter into discussions about alternative or delayed treatments.
It was announced last week that routine screenings for breast, bowel and cervical cancers will be paused to reduce unnecessary spread of the virus and free up staff and resources who could help out elsewhere.
Meanwhile, new clinical trials, which could prolong the lives of people with incurable cancer, are being temporarily suspended.
Marion O'Neill, head of ­external affairs for Cancer Research UK in Scotland, added: "What we know is that patients in Scotland will continue to receive vital treatments, but there is a possibility some treatments will have to change because of the risk."
While some patients will shelf chemo, others will have surgery earlier, before the coronavirus peaks, and a number of patients will see surgeries postponed, the charities advised.
The type of surgery might change, scans could be doubled up to reduce the number of hospital visits, and more intense radiotherapy and extended hormonal treatments could be on the cards. "The NHS decision to suspend cancer screening programmes was a hard one for them to make," added Ms O'Neill. "These can pick up cancer before symptoms show.
"About 6% of cancer ­diagnoses come from screening programmes. Proportionally that's a small number of cases.
"It's not about ­deprioritisation of cancer patients, it's about decisions being made for patients with their best interests at heart." Mr Anderson warned of the impact on mental health.
"There is fear and a huge amount of anxiety. Coronavirus is adding a different level of distress, and not just for cancer patients but their families, too," he said. "We got an inquiry from a man whose wife is in hospital at end-of-life care and he can't go to visit her.
"Incurable cancer patients are having to stay away from the people they love at a time when they need support and probably want to spend time with them more than ever. At Maggie's – and all other cancer charities – we're here to help people understand the risks of Covid-19, but we're also here to help with the emotional impact."
Dr Berry added: "Cancer treatment is already a turbulent and painful experience. All cancer charities have made rapid changes to make sure patients are supported, but just in different ways. We've had to move from phonelines and online support to virtual calls. All we can do is hope this period doesn't last too long."
The Scottish Government said: "The impact of Covid-19 on cancer patients is a top priority. Our national Covid-19 cancer treatment response group has met twice and is providing ongoing advice and support.
"Patient safety remains an absolute priority and Covid-19 is a significant new risk in relation to cancer treatment.
"For that reason, many patients – in discussion with them – will be offered alternative or delayed treatment plans.
"We understand how ­distressing that can be, but these new approaches are to minimise concerning risks to them.
"Any cancer patient worried about symptoms should call their existing cancer treatment helpline or the national cancer treatment helpline.
"Patient information ­leaflets have been disseminated through the NHS and are regularly updated with latest advice."
---
Lisa's story
When Lisa Fleming was diagnosed with secondary breast cancer, it was already too late.
"There was no primary diagnosis," said Lisa, from Edinburgh. "I didn't find a lump. It was only after I asked my GP to check out a stretch mark that I was sent for a scan.
"The scan showed cancer had eaten its way into every bone in my body, even my skull.
"By the time I was diagnosed, I had a broken neck and spine and had to undergo life-saving surgery."
That was in May 2017. Since then, the 36-year-old has endured 14 surgeries and regular chemo. It's gruelling but has helped Lisa, mum to Cameron, 7, outlive her initial bleak six-month prognosis.
"It's almost three years later, but I'm still going strong," she said.
"Like all cancer patients, I get on with life as much as I can.
"It has been a rough ride, and it has taken its toll on me physically and mentally, and my family, too.
"But now there's coronavirus, and that's terrifying for cancer patients like me who already don't know how long they're going to be here. Thankfully there doesn't seem to be much change to my treatment for now, except for a spinal op being cancelled in recent weeks and a day of scans last week to save me as many visits to hospital.
"But this is the time I need people more than anything. And I can't see my mum and dad, or my best friend who has been my rock during this journey.
"It's isolating because I can't meet up with fellow cancer patients. These meetings are like a lifeline. Sometimes it's the small things that keep us going.
"On scan results day I have my family around me. This time I've had to do it alone on a call to my oncologist. Luckily, the results were stable but for all I know they could be calling to tell me my treatment has stopped working and there's nothing else they can do for me, and nobody can give me a cuddle."
Lisa, who set up the Make 2nds Count charity, which has raised more than £400,000 to fund research into secondary cancer, added: "The guidelines to stay at home are in place for a reason and the quicker people follow them, the sooner social distancing can be relaxed and people like me can leave our homes and live for the limited time we have left."