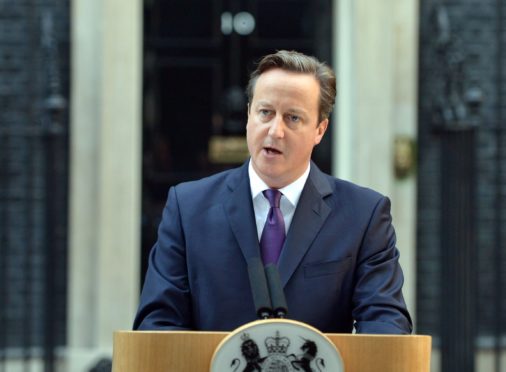 David Cameron regrets announcing "English votes for English laws" just hours after the Scottish independence referendum vote, according to friends of the former prime minister.
He broke his three-year post-resignation silence yesterday in an interview to launch his autobiography, in which he apologised for the division and uncertainty caused by Brexit.
Two chapters in his memoir, for which he was paid £800,000, cover the Scottish independence referendum in 2014 when, it is understood, he regretted announcing plans to limit Scottish MPs' power at Westminster hours after the result was announced.
Cameron was widely criticised for declaring his English Votes For English Laws (EVEL) policy outside No.10 just after 7am as he welcomed Scots voting 55-45 vote to keep the Union.
A source said: "In hindsight, he did feel timing could have been better but it was important that other parts of UK were not forgotten."
On the morning of September 19 2014, Cameron stood outside Downing Street and linked the promise by pro-Union parties of more devolved powers for Scotland to plans with limiting Scottish MP voting rights on English legislation.
EVEL saw MPs representing Scottish constituencies being entitled to speak on legislation but not to vote.
He made the statement at 7.10am, despite being warned just two hours earlier by Better Together leader and former Chancellor Alistair Darling that it would feed support for the SNP.
Cameron congratulated Darling in their telephone call for "a well-fought campaign" and promised to deliver extensive new powers for Scotland, but said it was important to achieve a "fair settlement" for the rest of the UK.
Darling warned him not to make the announcement in the "febrile atmosphere" of the immediate aftermath of the referendum, which saw Scotland vote by 55% to 45% against independence. Cameron's decision was later condemned as "trying to snatch defeat from the jaws of victory" by Lib Dem Danny Alexander.
The following year the Nats won 56 of 59 Westminster seats and SNP membership soared to make them the second biggest party in the UK, overtaking the Tories. And in 2016 Cameron stood down as prime minister after Britain voted to leave the EU, despite a promise not to if he lost.
Yesterday, promoting in his book For The Record in an interview with The Times, Cameron admitted that he failed in his bid to keep Britain in a reformed EU and is "truly sorry" for the uncertainty and division that followed the Brexit referendum.
He criticised Boris Johnson and Michael Gove for their part in the Leave campaign, accusing the pair of behaving "appallingly" and effectively "trashing" the Government.
Cameron also said they had "left the truth at home" regarding Turkey joining the EU and the claim that Britain sends £350 million a week.
He described Johnson as "easy to work with" but admitted that there had been "issues" between the pair.
Meanwhile, one of Boris Johnson's Cabinet ministers said she would vote to remain in the EU if given the chance in a second referendum.
UK Culture Secretary Nicky Morgan said she would vote to stay in the EU "for the same reasons that I felt very firmly back in 2016 and I campaigned for Remain".
Cameron was accused last night of "brazen hypocrisy" by the SNP.
SNP deputy leader Keith Brown said: "In 2014 the people of Scotland were promised by the likes of David Cameron that a 'No' vote meant Scotland would be an equal partner in a UK in the EU.
"That promise has been destroyed by his Brexit referendum policy that was solely based on trying to stop Tory party splits.
"It's now brazen hypocrisy for him to stand against the right of the people of Scotland to decide their own future because of his incompetence."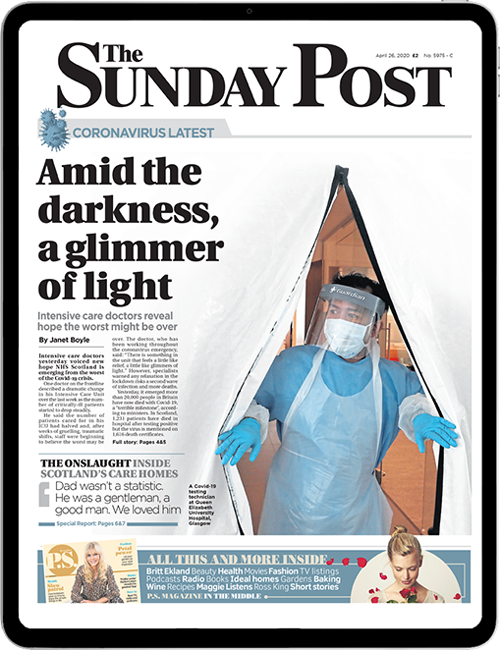 Enjoy the convenience of having The Sunday Post delivered as a digital ePaper straight to your smartphone, tablet or computer.
Subscribe for only £5.49 a month and enjoy all the benefits of the printed paper as a digital replica.
Subscribe